How India Is Teaching 300 Million Kids to Be Environmentalists
In an enormous undertaking, schoolchildren nationwide are learning about climate change and the environment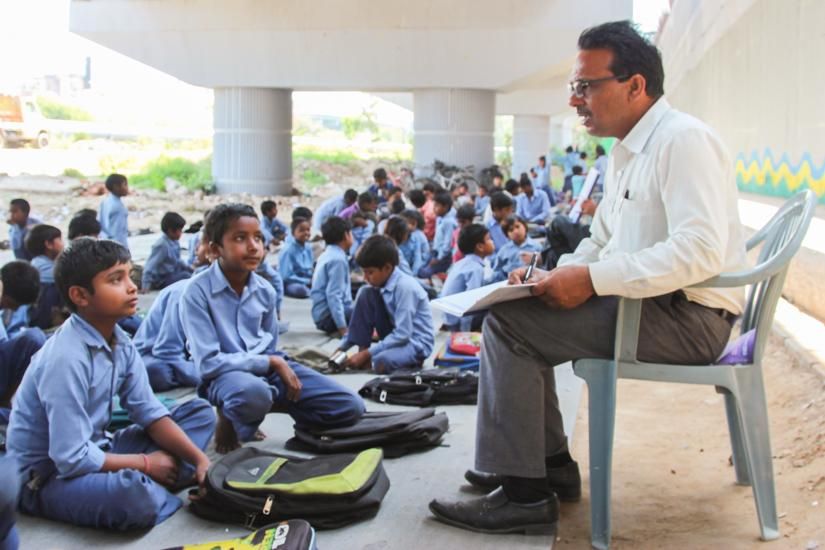 On a dusty patch of ground beneath a concrete overpass, about a hundred children, the sons and daughters of rickshaw drivers and farm laborers, sit cross-legged on dirty mats, in bare feet or flip-flops, learning their letters and numbers—and the basics of environmental protection.
A few miles and a world away, on the manicured green campus of a private school just outside New Delhi, eager pupils in crisp white uniforms tend a medicinal herb garden, make bags from discarded newspaper to supplant plastic ones and soak up the knowledge they'll use to pester their parents about conserving electricity and water.
Every one of India's 1.3 million schools, as well as all of its 650-plus universities, are required by a Supreme Court order to educate each young Indian about the environment and sustainability. Driving the program is a belief that teaching these topics is key to addressing India's many severe ecological problems, from polluted air and water to a disease-spreading lack of sanitation.
"They are going to grow and become professionals, leaders, so if you ingrain these principles when they are a kid, I'm sure it stays with them," says Anumita Roychowdhury, research and advocacy director at the Centre for Science and Environment in New Delhi.
In a vast nation that struggles even to teach all of its children to read, the scale and ambition of the effort are staggering. And in many places, its success is still patchy at best.
The schools doing environmental education best have made sustainability a school-wide, hands-on project rather than just another topic for children to write reports on, says Bernard Combes, a sustainability education expert at UNESCO, the United Nations' science, education and culture agency, in Paris.
"It's not just because you're doing your biology course that you hear about it, it's something that the whole school has taken up," he says. "Some students are not interested in science topics, they're more into debating or social studies."
That approach, Combes says, could be useful in many countries. "Science education in many places, it's just so boring." Taking lessons beyond the school grounds is another way of generating excitement, he says. In the Sundarbans mangrove forest in eastern India, for instance, youngsters work to educate villagers about how to co-exist with tigers.
"They use drama, they use play, they use art, then they themselves become kind of messengers about this, and I think that's a really a great way to inspire kids," he says.
If done right, environmental education can help shake up schools whose reliance on outdated teaching methods discourages students from questioning, says Kartikeya Sarabhai, director of the government-supported Centre for Environment Education. Taking on issues like how to adapt to a changing climate, or how to protect the environment while also reducing poverty, can help develop critical thinking skills, argue many sustainability educators.
For now, though, that's a far-off hope. Twelve years after the 2003 court directive, the government is failing to adequately train teachers on how to incorporate sustainability issues, says Sylvia Almeida, a science education lecturer at Monash University in Australia who has studied Indian environmental education. Outdoor time, hands-on activities and discussion of the social and economic aspects of humanity's relationship with the natural world are all envisioned as crucial to environmental education, but they simply do not happen in many poor schools, she says. 
Outside of wealthy private schools and schools that are getting help from expert organizations, much environmental teaching instead comes straight from textbooks, she says. Large class sizes, lack of funding and a tradition of rote learning make adding another element to curricula very difficult, Almeida adds.
"It's very easy to say 'You do this and you do this.' But how are they being supported to do it?" Almeida asks. "Where is the time, where is the flexibility? The classroom I visited, 100 students on tiny, cramped benches, barely enough to move your elbow—what kind of creativity can we expect from teachers in environments like this? We talk about innovative ways of teaching, outdoor learning: How can a single teacher take 75 students outdoors?"
It took about three years from the time of the court order for all India's schools to even get textbooks with environmental content, Sarabhai says. But training every teacher is an enormous task, he says. While all teacher education programs now cover the subject, many of those already on the job still have not been through such training.
"That really slows the process of change," Sarabhai says.  "India is on its way to having a very good program, but it's going to take another several years before you can say it's in place."
Today, just 10 percent of schools are teaching environmental issues well, Sarabhai says. It will be 2020, he estimates, before teacher training is complete and every Indian school has an effective environmental education program. For now, his group provides support and resource materials to 200,000 schools, and other environment-focused organizations support smaller numbers. There are non-school initiatives too, like the Science Express train, which has reached 11 million children since 2007. 
 Many Indian teachers were themselves taught through rote methods, and until their training improves, the system will not change, says Almeida. One teacher training college she visited "was wrapped in a time machine that went back 15 years," in contrast to the same university's state-of-the-art medical and engineering schools.
"It was an old building, the library was a long corridorish library, full of wooden benches," she says. "Two computers in the entire institution, one in the library and one with the principal."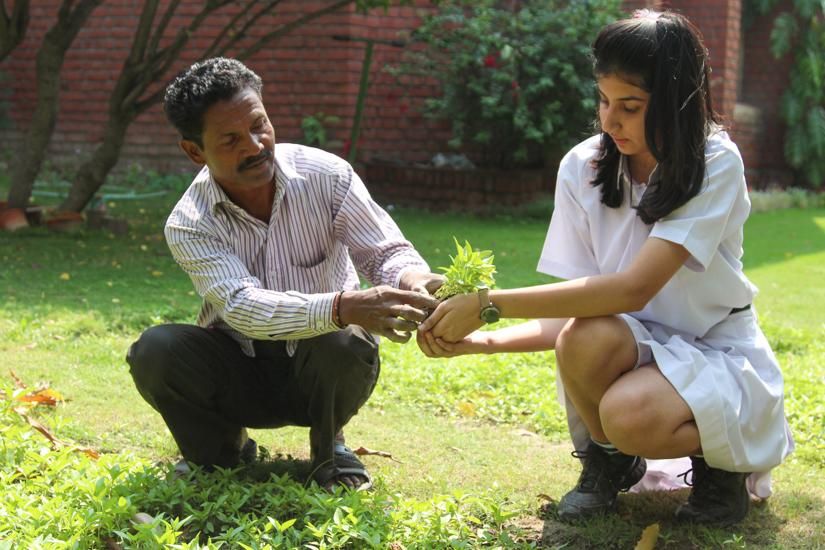 Teaching approaches, of course, depend on a child's age. While the youngest take nature walks and middle-schoolers tend gardens, older children study the carbon cycle and learn about the causes and effects of climate change.
And as with everything in a nation starkly divided by class, students' experiences also vary widely depending on their schools' resources. At the Free School Under the Bridge, an outdoor, donation-supported classroom beneath the elevated tracks of the Delhi Metro, teacher Laxmi Chandra says he talks to students about climate change, the ozone layer and the chemical composition of the sun.
"It is important to teach the children that nature is the most important part of life," Chandra says. "They can study hard and become a doctor or engineer, but first they need to know the importance of the environment."
Some issues have to be approached differently in India than in wealthier places. Sarabhai's group, unwilling to lecture those living at subsistence level about reducing consumption, rewrote one UN climate slogan, "Kick the CO2 Habit," as "CO2, Pick Right!"
"How would you like me to go to a school in village that doesn't have an electricity connection and say 'Kick the habit?'" he asks.
Unlike environmental groups in rich nations, which focus largely on cutting the impact of consumption, environmentalism in India has always been closely linked with anti-poverty efforts, and that is true in schools too, he says.
Using resources wisely comes naturally for those who have little, and Sarabhai says that is a strength that teachers can build on. He often encourages principals to let their school's environment club keep the savings that result from members' energy conservation drives. The principals are usually stunned, he adds, when they see just how much money they've promised.
Sarabhai says that success stories and potential solutions should always be discussed along with problems. Educators across India have replaced the idea of an environmental footprint with that of a handprint, as a symbol of the positive actions an individual can take. "Our hands represent our strength," says the Hyderabad 10-year-old who came up with the idea, Sarabhai recalls.
With interest in teaching about sustainability growing in many parts of the world, the handprint has been exported to nations including South Africa and Japan. "This can-do approach and this hope could be shared globally," says Mahesh Pradhan, head of environmental education at the U.N. Environment Programme in Nairobi, Kenya.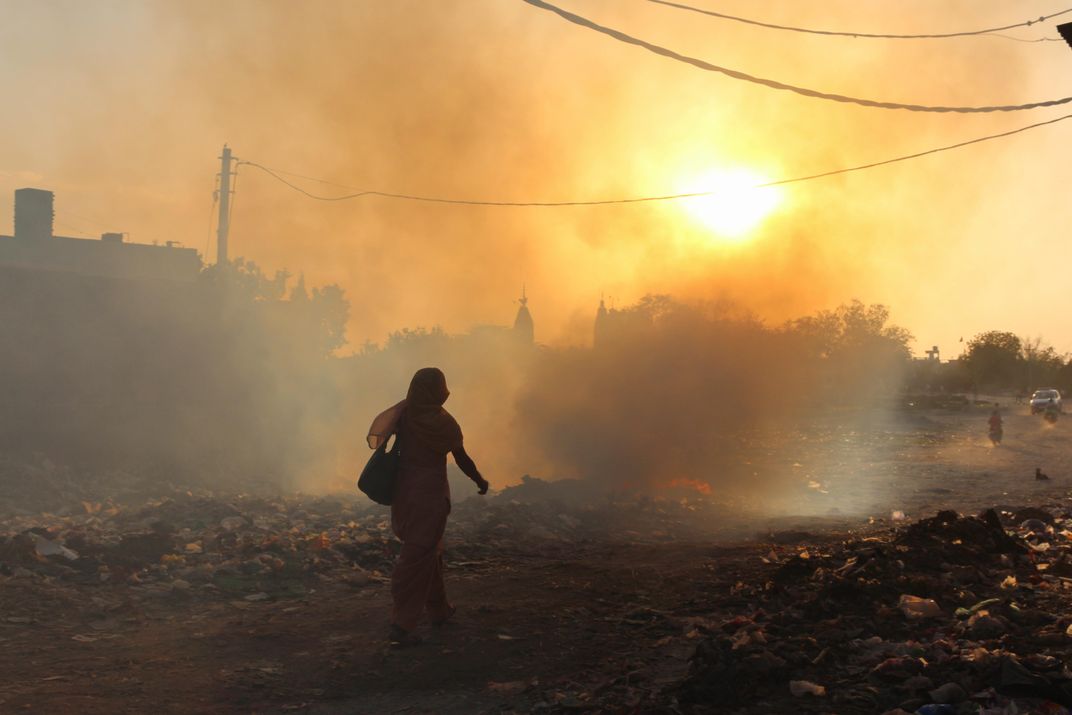 On the lush campus of Delhi Public School Noida, a private school in the capital's suburbs, an eager group of 10-year-olds, all members of the Eco Club, boast proudly about their clean-up drive at a local market and the school's paper recycling machine and composting pits.
"Environment is a value as important as honesty, respect to elders," says 17-year-old Rashim Bagga, the club's vice president. 
While it is hard to quantify the impact educating young people has on the environment, sometimes the results are clear, says Roychowdhury, of the Centre for Science and Environment. Children in the 1,000 schools her group works with have learned how widespread firecracker use on the Hindu festival of Diwali worsens already-toxic air pollution in many cities.
"It's a religious event, it's a social event," she says. "These things have to be done through awareness. The kids have gone and told their parents, 'We are not going to do fireworks.' So that's where you really see change."
The Society of Environmental Journalists funded travel for this story.