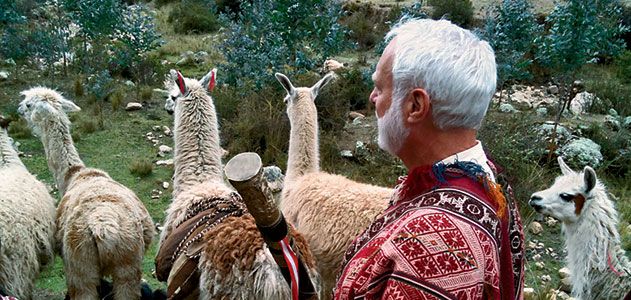 Mysteries of the Incas remain, but we continue to learn about their great civilization. Though the 16th-century Spanish conquistador invasion ended the Inca Empire, the legacy of the Incas lives on in their architectural triumphs—precise, remarkably engineered stoneworks rising high in the Andes—and in the cultures of their descendants.
Earthquake-resistant masonry, sophisticated urban drainage systems and accurate astronomical observations are some of the achievements revealed in the ruins at Machu Picchu, the royal Incan retreat and religious shrine. Machu Picchu was only one of many cities, provincial supply centers and seats of government that were connected by one of the most astounding accomplishments of its time, the Inca Road. On a recent trip to Peru, National Museum of the American Indian (NMAI) colleagues and I saw this great road firsthand; it will be the focus of a NMAI exhibition, tentatively scheduled for 2015.
The Inca Road was built by engineers and laborers working with bronze and stone tools and llamas. At the height of the Inca Empire, it integrated nearly ten million people from a hundred nations. Today, much of the 24,000-mile network is still used by South America's indigenous peoples. The road's backbone, the 3,700-mile Qhapaq Ñan, runs the length of the Andes, connecting Santiago, Chile, to Quito, Ecuador.
Our own journey began at Cuzco, one of the highest cities in the world and the Inca Empire's former capital. We traveled from there to Machu Picchu and then to Ollantaytambo, a central administrative center and a kind of gateway to Machu Picchu. The people of the colorful market town of Pisac welcomed us, as did the textile weavers in the Andes village of Chawaytiri (altitude: 12,000 feet), whose citizens graced us with generous hospitality. We participated in the village's Procession of the Llama and walked with these Inca descendants along a section of the Inca Road. This area was named the Sacred Valley by the Incas because they saw its abundant, sustaining water sources—rivers, rain and snow—as an affirmation of the connectedness of all life.
NMAI archaeologist Ramiro Matos has described the Inca Road as "threads interwoven to form the fabric of the physical and spiritual world." The road unified disparate beliefs, cultures and nations—as does the Smithsonian. I hope that you will visit NMAI's Inca Road exhibition online or in person, and that this ancient engineering marvel will spark your sense of wonder as much as it did mine.
G. Wayne Clough is the Secretary of the Smithsonian Institution.