How Waffle House Uses Twitter to Help Recovery Efforts
FEMA themselves admit that they look to the omnipresent chain to see where the damage is the worst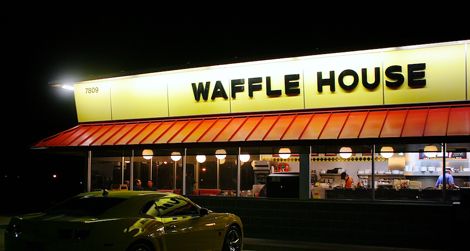 Editor's Note, October 7, 2016: In 2012, Smithsonian.com reported on how the breakfast chain Waffle House was used to measure recovery efforts after Hurricane Isaac struck the Gulf Coast. In the wake of this year's devastating Hurricane Matthew, read more about the "Waffle House Index."
Some 3,000 people evacuated Plaquemines Parish outside of New Orleans early Wednesday as Tropical Storm Isaac quickly became a monster of another name: a Category 1 hurricane that slammed into Louisiana with 80 mph winds sending water over levees and flooding areas throughout the Gulf Coast. Things have calmed down—maximum sustained winds have since decreased to 45 mph—but a peek at the Waffle House Twitter account is one of the best ways to tell which region has been hit hardest by Isaac.
It's no news that the Waffle House has got some moxie when it comes to natural disasters. During Hurricane Katrina, the chain shut down 110 restaurants from Tallahassee to New Orleans. Seventy-five percent of them reopened within a couple days of the storm. "We're a 24-hour restaurant anyway," Waffle House spokesperson and vice president of culture, Pat Warner says. "We don't know how to close."
FEMA Director Craig Fugate has joked that he watches a "Waffle House Index" to determine the severity of a disaster by the state of a Waffle House in a community. By seeing how much of its menu Waffle House is serving, he says he can tell just how bad it's been with these three zones:
GREEN: Open and serving a full menu
YELLOW: Open but serving from a limited menu
RED: Location is forced to close
Furgate believes in it so much so that he owns a Team Waffle House Shirt.
But what started as a joke, has become something so much more.
"We started incorporating the social media last year with Irene and what we found was that people not only in the affected area but people who have family in these cities and haven't heard from anybody look to that as another source of information about the storm." Warner says. "We did it mainly to let our folks know which restaurants were open at first, but after Irene we realized what people were using it for so we really have paid attention to that."
The crew has been tracking the storm since it was first spotted near Cuba and by Tuesday afternoon, the Waffle House response team including Warner, set out from Saraland, Alabama to bring aid to the 100 or so restaurants in the Gulf Coast region. The caravan includes two RVs equipped with satellite communication, a trailer with portable generators for restaurant coolers and a pickup truck with a fuel tank on the back.
While it's great that the company has figured out a way to serve hash browns in a hurricane, what's more important, Warner says, is the efficiency in informing communities in danger. From the "War Room" located in the company's headquarters in Atlanta, Georgia, communication specialist Meghan Irwin and her team monitor storms the minute they on spotted on the radar.
"With a title like "War Room," the room itself might underwhelm you," says Warner. "It is a conference room with the maps taped up on the wall, a speakerphone and about 7 computers to monitor local news reports. Meghan is constantly scanning government websites, closures and curfews and tweeting it out immediately."
Here is a roundup of tweets from @WaffleHouse over the last three days that maps out the damage of Isaac:
View the story "How Waffle House Used Twitter to Help Recovery Efforts from Isaac" on Storify
While providing tactical support to their own stores may seem crassly commercial, the reopened Waffle Houses serve an important role for the devastated communities; often, its the only place in town to get a much-needed meal. "People see that we're open and they say, 'Okay, we're working through this.'" says Warner. "Our customers want to regain that sense of normalcy."
Warner and his team plan on checking on a restaurant near Lake Pontchartrain in Oak Harbor, Louisiana and then they'll head back to the restaurant in Slidel that they are using as a command center.