How to Turn 8,000 Plastic Bottles Into a Building
Peace Corps volunteer Laura Kutner demonstrates how she turned trash into the building blocks for one community's revival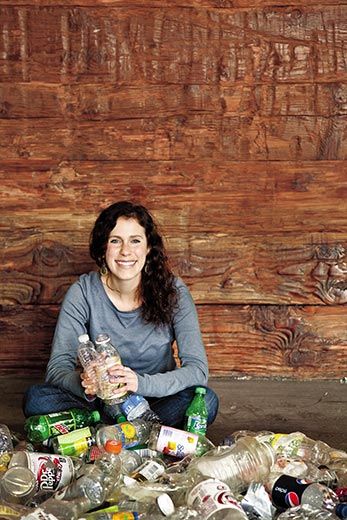 Laura Kutner wants your trash—specifically, your plastic bottles. And, if you can spare some time, she'd like your help using those bottles to build a wall.
The construction project, which will commence at this summer's Smithsonian Folklife Festival (June 30-July 4 and July 7-11), is part of a celebration marking the 50th anniversary of the Peace Corps. Kutner, 26, will be giving visitors to the National Mall an opportunity to recreate a project she led in Granados, a poor community in the mountainous region of Baja Verapaz, Guatemala.
When Kutner arrived there as a volunteer in July 2007, the area was known for three things: its marble production, ample fields of corn and an abundance of garbage. "Community members were fantastic about reusing items," she says. But with a single dump nearby and few ways of getting trash to it, heavy buildup was a recurring problem.
Sitting outdoors with a group of students one day, Kutner was drinking from a soda bottle and...Eureka! "I realized that the plastic bottle I was holding was the exact width of the metal frame that was sitting outside the school," she says, referring to a previous building project that had run out of funds. Kutner had read about communities elsewhere in Latin America using plastic bottles stuffed with compacted trash as building material. Perhaps, Kutner thought, the rest of the schoolhouse wall could be contructed using the same technique, but with the addition of steel rods to provide extra reinforcement.
Local engineers gave the plan their stamp of approval. "The idea that we could create this structure out of the waste that is lying around on the ground and not need as many funds as we would with traditional blocks was very appealing," Kutner says. "Everyone in the community loved it." Then the work began.
Bottles measuring 600 milliliters (about 20 fluid ounces) had to be collected, cleaned and stored. Kutner and school principal Reyna Ortiz held workshops to explain what trash should stuff the bottles—no biodegradables, like paper and cardboard—just plastic and aluminum wrappers. Ortiz required each student to fill 20 bottles and awarded points for completion. When the students exhausted all the trash in Granados, they went to neighboring villages to gather more. In all, they filled some 8,000 bottles. And on Valentine's Day 2009, construction of the wall began.
The workers started by filling metal frames—each measuring ten square feet—with bottles encased between sheets of chicken wire. Then they fastened together the front and back sides of the wire and covered the outside with concrete. Though Kutner was reassigned to San Miguel Dueñas, a town four hours south, just as the project was nearly completed, she was able to travel back and forth to see it through to the end. And in October 2009, the wall was finished. Since then, ten more schools have been built in Guatemala using the plastic bottle technique.
Kutner, who now lives in Oregon and plans to begin a graduate program in international development in the fall, says the Peace Corps is one of the few organizations "that really gets development work right. They teach you that if development work is going to be sustainable, it has to come from the community."