How to Make the Pies From Waitress and Other Movie-Inspired Meals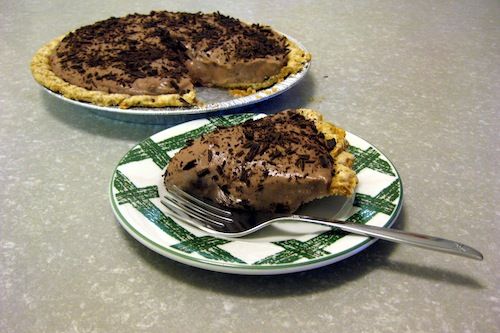 It's that time once again when people do last-minute shopping for their Oscar parties, which leads to the agonizing task of meal planning. For those of you who really want to work the themed party angle, check out Cooking with the Movies: Meals on Reels. The book draws inspiration from 14 films from all over the world—and from different periods in time—and provides menus that are true to the cinematic source material.
On flipping through, my eyes (propelled by my appetite) made a bee-line for the section devoted to the 2007 film Waitress. It's a deliciously dark comedy about Jenna (Keri Russell), a waitress with some formidable pie-making skills who is trapped in an emotionally abusive marriage. At key points in the film, we see her make pies whose ingredients and colorful names reflect Jenna's emotional state: "I Hate My Husband Pie," a bittersweet chocolate pudding filling that's drowning in caramel; "Pregnant, Miserable, Self-Pitying Loser Pie," which combines lumpy oatmeal and fruitcake; "I Can't Have No Affair Because It's Wrong and I Don't Want Earl to Kill Me" pie is a smooth vanilla custard. The movie is worth watching for the food photography alone—though as a whole, I thought it was absolutely wonderful.
For the book, the authors culled the pie recipes from publicity materials made for the film, so you can't get closer to being in Jenna's kitchen than this. I opted for the "Falling in Love Chocolate Mousse Pie," because it's a quick and easy means to getting a chocolate fix. I cheated a bit and used a prefab pie crust. It's good to learn how to make your own since it allows you to don that carefully-cultured martyred expression when you tell your friends you did everything from scratch. But for this kind of pie, the crust isn't the main event, so I'm all for saving time and cutting a corner. A blend of condensed milk, chocolate pudding, baker's chocolate and a whole pint of stiffly-whipped heavy cream, you can see my results in the picture above. It's rich and sweet—but only cloyingly so if you overindulge. A perfect, edible metaphor for the early stages of a romance. I also decided to top it off with shaved baker's chocolate to try to take off a little of that sweet edge—and to cover up a few spots on the pie surface where the tin foil smudged the custard when I wrapped up the pie to let it set up in the fridge. Presentation is everything, right?
I know some of you out there will be way more ambitious than I and take on things like the multi-course meal from Titanic (though the book adapts foods served on the actual ship as the movie took a few gastronomic liberties) or the decadent confections from Chocolat. But hopefully you'll be inspired to up the ante on how to cook for an Oscar party. (Perhaps serve up a simple danish and coffee combo for the morning after, á la Breakfast at Tiffany's?) And if you're looking for further inspiration, check out Lisa's post on delicious moments on film.