How a Tightknit Community of Ghanaians Has Spiced Up the Bronx
From fufu to omo tuo, Ghanaian immigrants are adding their own distinctive flavor to the New York City borough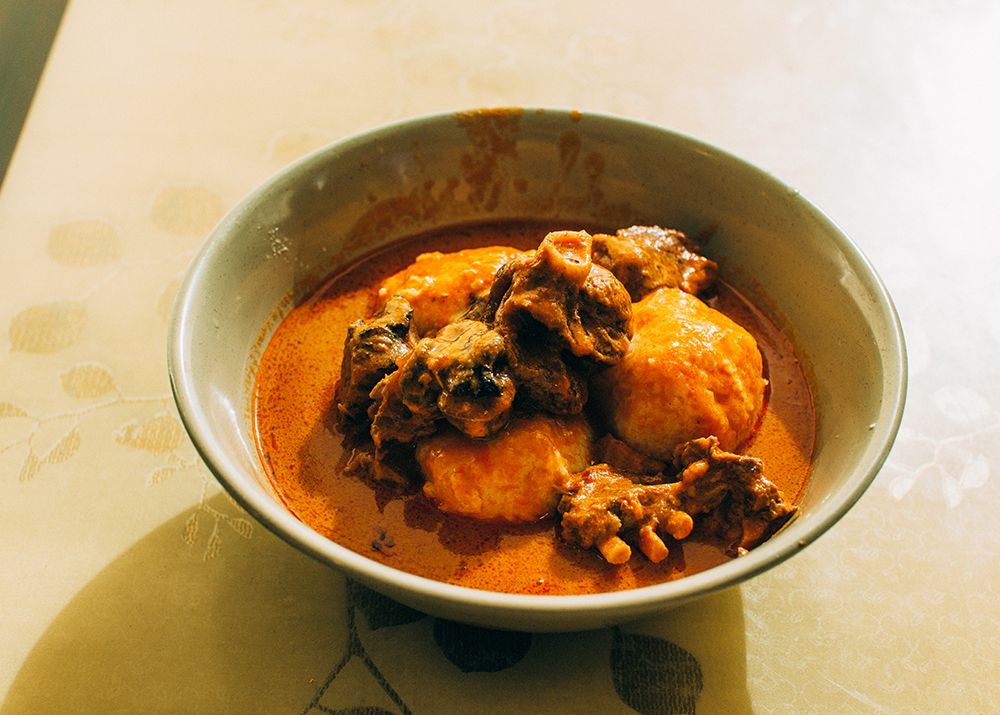 You have to eat it with your hands—it changes the taste if you use a spoon."
We were sitting in Papaye, the premier restaurant in the center of what may be the largest enclave of the Ghanaian diaspora: a population of perhaps 20,000 that's one of the biggest ethnic communities in the New York borough of the Bronx. And we were eating fufu.
Fufu is the pulp of cassava and plantain, traditionally pounded together with a giant mortar and pestle into a doughy mash and then plopped in the middle of a thick soup, this one made with spicy chicken. It wasn't the only thing on the menu—around us at the long table people were eating spinach spiced with ground pumpkin seeds scooped up with hunks of boiled yam; or omo tuo—mashed rice balls—with dried fish; or the fermented corn called banku alongside an okra soup. But fufu is Ghanaian food, and everyone was watching carefully. "Dip in your hand, and tear off a little ball," says Felix Sarpong, who had arranged this gathering of local community leaders. "Now roll it around in the soup, and then swallow—don't chew, just swallow." It goes down easy, with a spicy lingering burn. It's utterly distinctive, with a texture unlike anything you've ever tasted. And chances are awfully good you've never heard of it either.
"We're an invisible community," says Sarpong, a dean at a local high school who's also a music promoter—indeed, a promoter of anything that will bring attention to his fellow Ghanaians. "The American mainstream, they simply don't recognize this culture. This culture needs more spotlight. Ghanaians are so loving, so helpful, so kind. They're just invisible," says Sarpong, also known by the stage name Phil Black.
Indeed, the Bronx itself is New York's invisible borough—few visitors venture much beyond Yankee Stadium. And even if they did, they could drive the city's streets without realizing that so much of the population hails from this one West African nation. But if they have a guide, it's pretty obvious. Eric Okyere Darko, who moved to the United States after finishing law school and practicing law in Accra and who then passed the New York bar exam, piloted us one afternoon in his big Volvo SUV. (His immigration practice has prospered so much that he's made the move to New Jersey, but comes back across the George Washington Bridge pretty much every day). "So, look over there at the Agogo Movie House," he says. "Agogo is a town in the Ashanti region of Ghana—you know by the name that that's where they're from." Down the block is a bustling storefront filled with people sending money home; next door, the Adum African Market, with piles of pungent smoked tilapia, jars of cured pork feet packed in brine and stacks of giant Ghana yams.
Later that same day, Sarpong takes us to another Ghanaian enclave in the borough, a warren of streets around 167th Street that he calls "Little Accra." Two generations ago this was a Jewish neighborhood, just off the fashionable Grand Concourse. Then African-Americans moved here, followed by Dominicans; now instead of Spanish, it's mostly Twi that comes wafting through the stereo speakers. "This is all Ghanaian," says Sarpong. "Well, maybe a little Gambian. But you should have been here the day Ghana beat the U.S. in World Cup soccer. I mean, the streets were just full. The police wouldn't even maneuver."
Ghanaians have come in several waves to the United States, many arriving during the 1980s and '90s when the country was ruled by a military regime led by an air force flight lieutenant, Jerry Rawlings. "Economic and political conditions were very harsh," says Darko. "People could not speak their mind. And because of the unstable political situation, no companies were investing. When I was a student all we thought was, 'How soon can I go?'" Those early arrivals were followed by others—family members, or other Ghanaians who signed up for the country's annual immigration lottery. "Part of the reason that people kept coming is that Ghanaians abroad portray a certain image to those back home," says Bronx resident Danso Abebrese. "When a request comes for money, we try to send it—even if you don't really have any money to spare. And so people back home come to think, 'If you have enough money to send some to us, you must really be rich.'"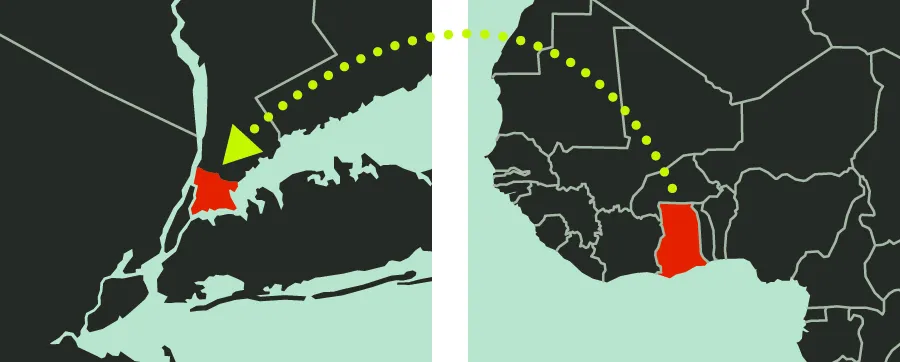 It's a culture with deep religious roots—most émigrés, like most Ghanaians back home, are Christian, but there's a substantial Muslim population as well—and one that places a premium on education. As a result, many have done well. The highest-status jobs in Ghana are likely doctors and nurses; Darko estimates that two-thirds of Ghanaians in the Bronx are working in the health care field, often beginning as home health aides and working to earn a nursing license. For those who've made it, a career in the U.S. often concludes with a return to the native country, there to live out the Ghanaian dream.
"I'm grateful for the well-paid job I've had here," says Abebrese, who gave up his career as a broadcaster on Ghana's national radio to come to New York and now works as an emergency room technician at a Manhattan hospital. It is lunchtime and he brings us to one of his favorite haunts, a sliver of a restaurant called Accra in the Morris Heights section of the Bronx, where plantains and chicken gizzards and turkey tail with yams and cowhoof soup and suya (deep-fried meat) are laid out on a steam table and doled out in big scoops, mostly to men getting off work. They eat silently, with focused determination.
"Back in Accra, then, I just lived in a rented room," he tells us, dipping pieces of kenkey—fermented cornmeal wrapped in a corn husk—into a spicy chicken stew. "Now I own three houses in Ghana. In three years, when I'm 62 and have my pension, I'll go home. I came here to work, and when the work is over I'll go." Felix Sarpong's parents, who spent four decades in the U.S., have returned as well; Darko says he is considering moving back, to use his legal expertise to help his native country. (It takes him just seconds to rummage through his iPhone and find a picture of himself sporting the powdered wig of a Ghanaian barrister.)
But not everyone who comes does so well. Darko says he knows former law school classmates who are driving cabs or working in hotels. "Some, I feel, should go back home, but you come here, you have children, a wife. You feel you're forced to battle it out."
With Sarpong we wander the streets around 167th Street, where barbershops and hair salons seem to be the center of community life. But almost any business will do: We crowd into Joe Boye Place, a narrow cellphone and convenience store filled with men sitting and eating the $5 plates of jollof rice and red beans prepared by the proprietor's wife. Ghanaian high-life music booms from the speakers and a Ghanaian news channel is on the TV. But the mood isn't entirely festive. "Back home we could relax," says Samuel Asamoah, who is hunched over the counter. He'd once made it as far as Rochester, New York, where he went to college, but the pull of his countrymen eventually brought him back to the Bronx. "Here we have to take overtime to send money back home. It affects the kids—their parents take out their stress on them. There are no activities for the older people. Lots of people back home, they have this idea of the American dream, and they sell everything to come. When they get here, it's heartbreaking for them."
Standing out front, Sarpong points across the street to a barbershop. "That used to be a bar; it was called the Chief's Spot, and it was one of the first Ghanaian hangouts in the city," he says. "I'd come here, and especially on the weekends, I'd see more and more of the Ghanaian kids standing outside, drinking liquor, talking crap. This was like 2002. When the Bloods and the Crips were really inducting people. And it was getting heavy. They weren't sure, these young people who had just arrived, how to conduct themselves. So they tended to emulate what they saw."
Sarpong, though, was old-school Bronx. He'd been here for the birth of hip-hop in the early 1980s. "KRS-One, Doug E. Fresh, these people performed at block parties in my neighborhood," he says. "So I saw what hip-hop did for the community—your stars came from right here. It was the voice of the people." He began recruiting kids out of the street life and into the music studio, finding them gigs around the Bronx. We met several of his protégés: K5!, a dance troupe he billed as "the all-city kings of azonto," a breakdance-inflected step born in Ghana; Francis Akrofi, a trumpeter borrowing equally from Louis Armstrong and the African great Hugh Masekela; and Young Ice, a rapper turned entrepreneur who managed to sell some of his Ashanti beads to the movie director and style maven Spike Lee. (He's also studying to be a pharmacy technician.) They were hanging out in the studios of Voltapower FM on the northern fringe of the Bronx, an Internet-based radio station that plays music from around the Ghanaian diaspora, interspersed with news of the funerals and "outdoorings"—birth celebrations—that are the biggest occasions on the émigré social calendar. ("You come, eat a lot and make a donation to the family," Danso Abebrese told us.)
"The point of the radio is to give these kids an opportunity to play their music," says Solomon Mensah, the evening's disc jockey, who goes by the stage name TBK (and who just finished his biomedical engineering degree at City College). At some moments—given the four-hour time difference—even more people are tuned in from Accra than from the Bronx.
***
The beat on those Accra streets used to be something a little different. "In the early evening before dinner," says Darko, "you'd hear the same thing from this side and from that side. You'd be hearing 'boom,' 'boom,' 'boom.'" That was the sound of people pounding out the fufu for their supper. "It's heavy work with a mortar and pestle. By the time you're done pounding, you're sweating."
As Ghana has gotten richer in recent years, though, the sound has dimmed. "People are building nicer homes, and they're refusing to let their tenants pound fufu because it breaks up the concrete blocks and tiles," Darko says. Ground, prepackaged fufu has begun to take its place, sparking a debate about which tastes better.
Most Ghanaian food takes a long time to prepare, says Samuel Obeng, who presides over lunch at his restaurant, at 183rd and Grand Concourse. It's 2 p.m. and he's just arrived from church, in a natty suit with orange tie and pocket square. He opened Papaye a couple of years ago, with a partner who ran a lunch counter six blocks to the south. "I told him, your food is good, but the presentation lacks professionalism. I wanted a restaurant for business clients, a place where you could talk business." Indeed, the menu describes the fare as "authentic and upscale African cuisine," but upscale doesn't mean expensive—the most expensive entree (fried yam with turkey tail) runs $12, and the signature appetizer, a kyinkyinga (goat) kebab, will set you back $2. The approach seems to be working: Kofi Koranteng, an investment banker at one end of the table, keeps count of the customer traffic during our two-hour lunch. "One hundred seventy-three people have come in," he tells Obeng. "If I know you, you're planning a second location."
The crowd around the long table exemplifies the intertwined community. Darko, the lawyer, is counsel not only to the restaurant but to Voltapower radio; Koranteng founded the radio station. Samuel "SupaSam" Boateng is one of Felix Sarpong's cousins and a music promoter in his own right, who says he has worked with hip-hop legend Puff Daddy. But the most iconically Ghanaian of all may be the Boakye siblings, brothers Kwaku and Kwabena and sister Maame. They arrived in New York 17 years ago, joining their parents—their father is a radiologist—who had gone ahead. "It was November," says Maame, "and our parents had jackets for us. But it was warm in the terminal, so we didn't know to put them on. The minute we walked out the door we were fighting for them."
They acclimated quickly, attending DeWitt Clinton High in the Bronx, a storied public school that has turned many a child into an American success story (think Robert Altman, Lionel Trilling, Richard Avedon, James Baldwin, Paddy Chayefsky, Judd Hirsch, Irving Howe. "Spider-Man" creator Stan Lee, Tracy Morgan, Bud Powell, Richard Rodgers, Abe Rosenthal. At any other school the guy who created both "Gilligan's Island" and "The Brady Bunch," Sherwood Schwartz, would be a star; at DeWitt Clinton, he's a few names down the honor roll from Neil Simon and Daniel Schorr. Not to mention Sugar Ray Robinson). To this list, add the Boakyes: The brothers both went the traditional route, studying medicine and becoming doctors; they've gone on to found the Gold Coast Medical Foundation, which finds equipment and supplies for hospitals around the developing world and sponsors trips to areas hard hit by natural disaster. Kwabena was in Indonesia after the tsunami and in Haiti two days after the earthquake; his brother has built an education network through Bronx churches that helps immigrants with basic health information.
It's their sister, however, who may end up spreading Ghanaian honor farthest and widest. She started out training to be a psychologist, but decided she wanted something more hands-on and took up cooking, earning a degree at the culinary school of the Art Institute of New York City. She was overseeing nutrition at an HIV/AIDS center when she met the celebrity chef Marcus Samuelsson a few months after he opened his Red Rooster restaurant in Harlem. She's been working by his side for the last three years as the Rooster has become world famous: The New York Times called it "among the most important" restaurants to open in the city in recent times, partly for its food and partly for its diversity. Boakye's been a key part of that diversity, reminding people of the Ghanaian connection to foods we've come to think of as American, like black-eyed peas. It's an unsurprising connection, considering that Ghana was one of the biggest sources of slaves for the Americas. Boakye makes dirty rice with the "stinky fish" that's one hallmark of her native country's cuisine, as well as a New Orleans staple. "And we've had peanut butter soup on the menu as a seasonal entree for a long time. It started off as part of the Kwanzaa menu, and people loved it so much that it stayed."
"My aspiration is to have Ghanaian food known worldwide," she says. "I want you to look at it and think it's something out of the food magazines. Ghanaian food is ready to break out." If there were investors interested, she says she'd try to bring the cuisine downtown—maybe there'd even be a sink to the side of the dining room, just like there is at Papaye, so you can wash your hands before and after the fufu.