How Posters Helped Shape America and Change the World
One enthusiast's collection, on exhibit at the Oakland Museum of California, offers a sweeping look at grass-roots movements since the 1960s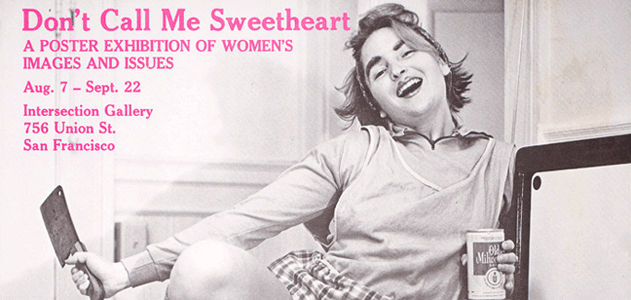 Introduction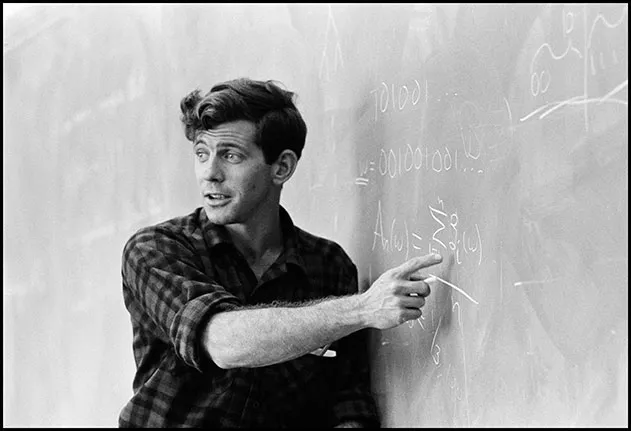 For at least 80 years, posters have been a powerful lever in America's tool kit for social change. Though no single poster changed national policy, many brought important issues to light—and helped sway lawmakers, candidates and Congressional leaders. Posters focused attention on South African apartheid, the Vietnam War and the environment. They coaxed us to rock concerts, and inspired us to Celebrate Earth Day and Boycott Gallo. More than a national phenomenon, they helped create solidarity between social justice groups all over the world.
As a student at Berkeley in the early 1960s, Michael Rossman (1939-2008) was a tireless activist, renowned for his part in organizing the Free Speech Movement. Rossman later taught science, wrote books and collected posters created by the vital social and political movements sweeping the nation since 1965. By the end of his life he'd amassed nearly 25,000 posters, on themes ranging from "Be-ins" to Black Power: an extraordinary window onto America's grass-roots democratic discourse.
An exhibition of 68 posters drawn from Rossman's collection—"All of Us or None"—is now at the Oakland Museum of California (an additional 1,273 may be viewed
online
). Here are a dozen highlights, all pre-1980.
Democratize Yellow Cab / Frank Rowe, artist / circa 1953 / 2010.54.2982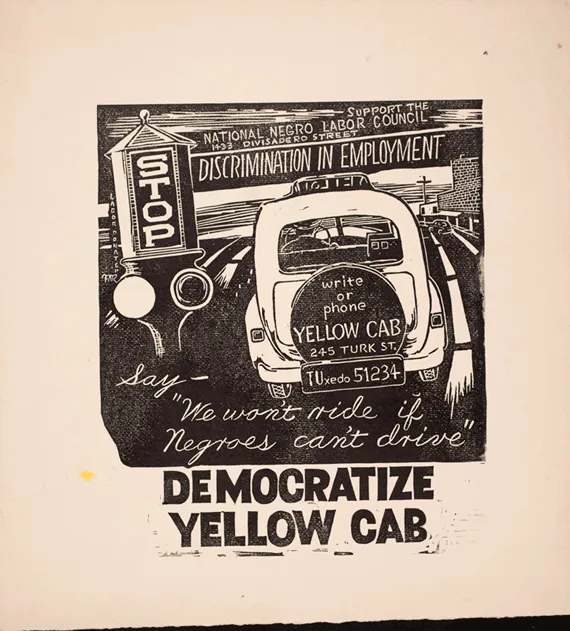 "Between 1932 and 1945," says
All of Us or None
curator Lincoln Cushing, "posters were a lively part of the American vernacular." Thousands were produced under the Federal Art Project, mainly to support the arts, national parks and sciences; many were created to support the war effort. Between 1945 and 1965, however, the fever pitch of McCarthyism and the prying reach of the FBI stifled this form of free speech. One striking exception was this 1953 anti-discrimination poster by Frank Rowe. Rowe, an art teacher and World War II veteran, lost his job in 1950 for refusing to sign a loyalty oath when applying for a job at San Francisco State College. Blacklisted from teaching for 19 years, he turned his graphics skills to the social justice movement. This watershed poster expresses outrage at the fact that—even in a "progressive" city like San Francisco—African-Americans were not allowed to drive Yellow Cab taxis.
Fist / Frank Cieciorka, artist / 1966 / 2010.54.1254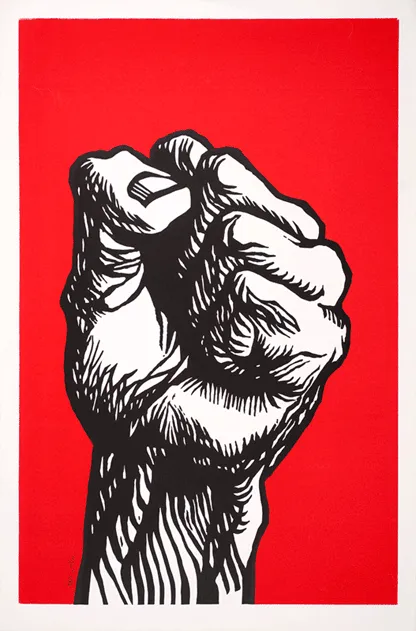 Both the civil rights movement of the 1950s and the Free Speech Movement of the 1960s used fliers and picket signs, which don't enjoy the wide distribution or easy-to-display impact of posters. This bold example—inspired by a 1965 woodcut by San Jose-based artist Frank Cieciorka—is nearly as iconic as the famous peace symbol. Cieciorka, who died in 2008, was politically active for decades. He traced his radicalization back to May 13, 1960—the day he saw a group of his friends, who were protesting the House Un-American Activities Committee (HUAC) hearings in San Francisco, "washed down the City Hall steps with fire hoses." Since that time, countless social justice groups—from the United Farm Workers to the Occupy movement—have adopted Cieciorka's fist as a symbol of outrage and struggle.
New Year's Eve / Bonnie MacLean, artist / 1967 / 2010.54.782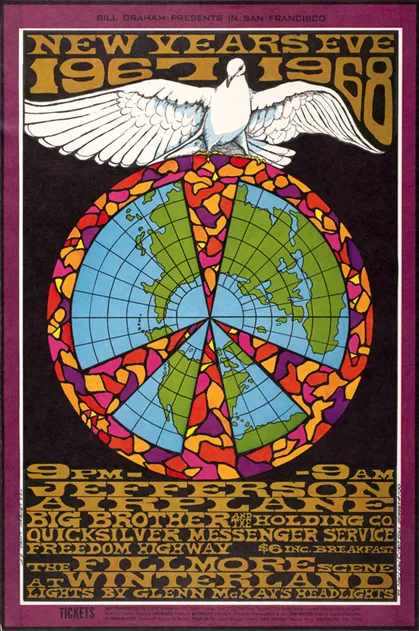 Cushing argues that poster production was jump-started in the late 1960s by concert impresario Bill Graham. With Graham's support, visually stunning (and highly collectible) posters were produced not for protest, but to promote rock concerts and counterculture events. This one was created by Graham's then wife, Philadelphia-born artist Bonnie MacLean. The two met in 1964, when the 21-year-old MacLean moved to San Francisco and took a job as a secretary at a manufacturing firm; Graham was her manager. This beautiful poster suggests welcoming 1968 with Janis Joplin, the Jefferson Airplane and Quicksilver—all for $6, breakfast included.
Human Be-in / Stanley Mouse, artist / 1967 / 2010.54.743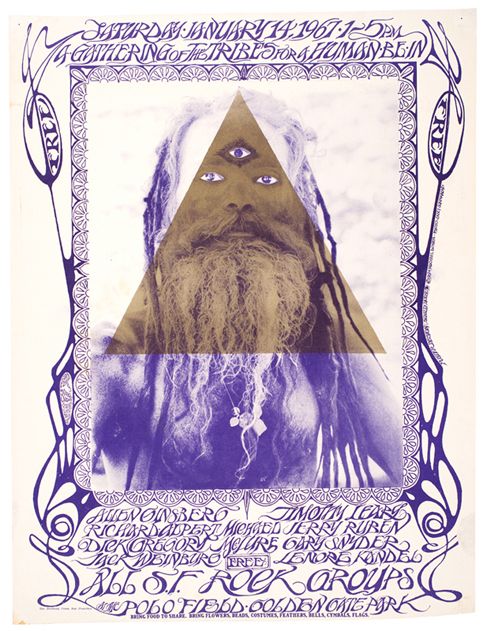 Visually striking, often mind-bending posters promoted the signature events that turned California into a mecca for spiritual seekers. Psychedelic drugs, music, flowers and a spirit of interdependence became the touchstones of a shared awakening that touched almost every aspect of American culture. This arresting lithograph was created at the Bindweed Press by the prolific Stanley Mouse, an artist considered by many to be the godfather of psychedelic posters. The roster for this San Francisco "Be-in" included Allen Ginsberg, Timothy Leary and Richard Alpert (who would soon change his name to Ram Dass).
Anti-Draft Week / Mark Morris, artist / 1970 / 2010.54.57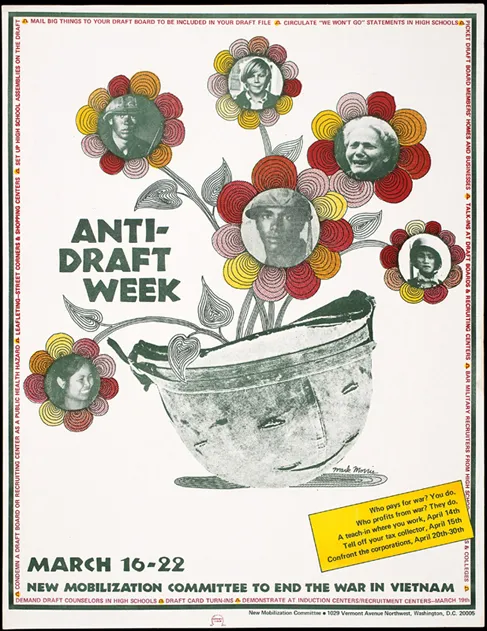 Cushing compares the process of selecting the posters for
All of Us or None
to "sipping water from a fire hose." A significant part of Rossman's enormous collection addressed one of America's deepest fault lines: the Vietnam War and the related bombings of Cambodia and Laos. The year this poster was printed, more than 6,000 Americans—and some 25,000 Vietnamese—died in the conflict. "Until 1968," notes Cushing, "even Martin Luther King Jr. avoided condemning the Vietnam War. It was when he saw images of the victims of napalm that he decided he had to take a stand. One of the tools a graphic artist uses to undermine the arguments for the war is to show victims like villagers and children. If you want to pull out all the stops, showing the human cost of the war is a very good tool."
Boycott Gulf / photo by B. Adjali / 1972 / 2010.54.226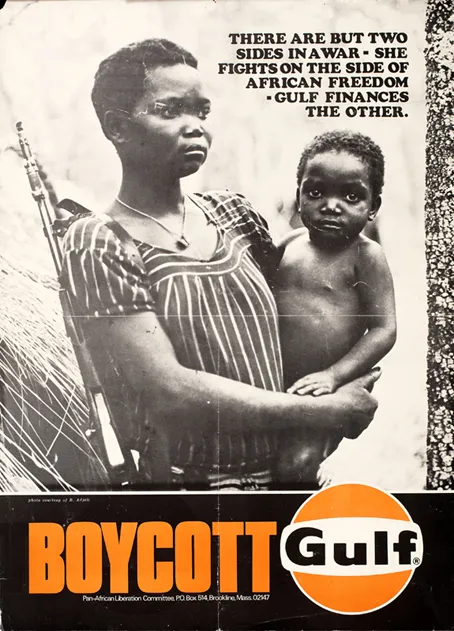 The Apartheid government in South Africa galvanized the social justice movement through posters, but it wasn't the only issue in Africa to do so. Gulf Oil's wells in the former Portuguese colony of Angola helped to back the country's oppressive military regime. Photojournalist Boubaker Adjali took this compelling photo, which—like the best political posters—illustrates a simple moral choice: Which side are you on? Poster-driven boycotts of big oil companies—like Chevron, Gulf, Total, Mobil, Unocal and Shell BP—combined with Congressional action, proved a successful tactic in South Africa and, later, Burma. This defiant example was created for the Pan-African Liberation Committee at Harvard University. The poster's date is 1972. Though the group did not convince Harvard to divest from Gulf, Angola gained independence from Portugal three years later. The devastating civil war between two competing liberation groups, however, did not end until 2002.
Nixon Impeaches / G. Duoos, Orbit Graphic Arts / 1974 / 2010.54.1171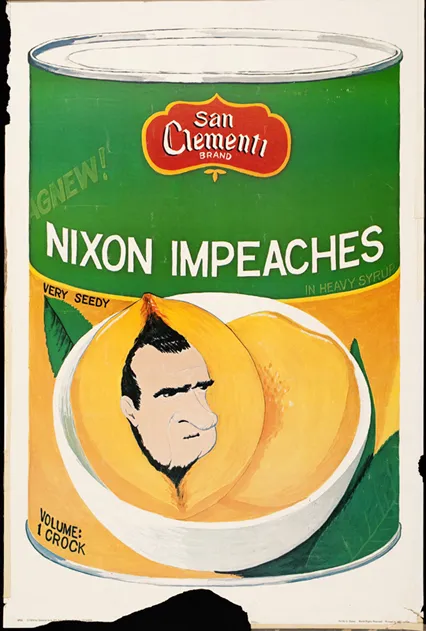 "Humor and satire can be very powerful tools," notes
All of Us or None
curator Cushing. "Political posters don't have to be serious to be effective." Every possible pun is brought to bear in this political satire poster—from a reference to Nixon's home in San Clemente, California, to a jibe at his hawkish vice president, Spiro T. Agnew. Richard M. Nixon did not wait to be impeached; he resigned his presidency on August 9, 1974. Less than one month later, in a "canned" speech, President Gerald Ford granted his predecessor a "full, free, and absolute pardon." As with many fringe and activist artists from the pre-Internet era, little is known about "G. Duoos"; the name may even be a pseudonym.
Stop Diablo Canyon / Public Media Center / 1979 / 2010.54.710
From the beautiful national parks posters of the Federal Art Project to the first Earth Day in 1970, the theme of environmental protection has inspired countless artists. Few posters in Rossman's collection are as vivid as this example. A cast of counterculture heroes—from Bonnie Raitt to Ralph Nader—turned out for this "Rally and Energy Fair," protesting Pacific Gas & Electric's plan to build a nuclear reactor right atop a geologic fault. The first of the two plants went online in 1985; the second in 1986. But renewal licenses were suspended in 2011, in the wake of the Fukushima nuclear accident in Japan. PG&E is currently conducting new seismic studies of the Diablo Canyon area. (In a 2010 study on Diablo Canyon, the Nuclear Regulatory Commission estimated the chance of a core breach due to an earthquake at 1 in 23,810.)
Bring the Monster Down / Doug Lawler, East Bay Media / 1972 / 2010.54.1247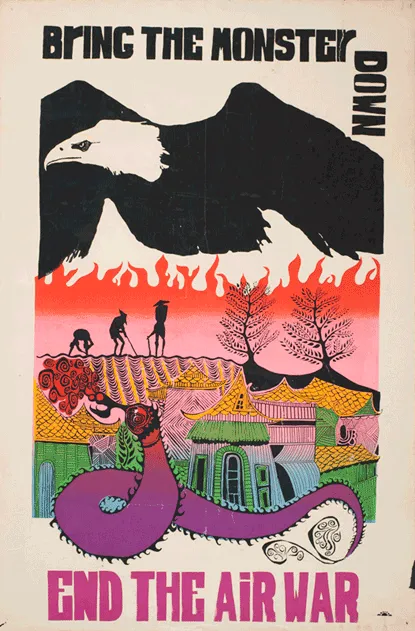 Popularized by Andy Warhol in the early 1960s, screen printing quickly became the medium of choice for social justice artists. "It was inexpensive and easy to learn," says curator Lincoln Cushing. From a small garage in Berkeley, California, printer Doug Lawler supplied powerful silk-screen posters to groups of many stripes. This dramatic example—protesting America's air war in Southeast Asia—was the signature poster of East Bay Media, selling for $2. The proceeds kept the important press going. One of the artists working with EBM was Frank Rowe, the designer behind the first image in this series. Barred from teaching in California public schools in 1950 because he refused to sign a loyalty oath, Rowe had been hired in 1969 by Oakland's Laney College. His course: "The History of Art as Protest."
Health Care is for People / Chicago Women's Graphics Collective / 1975 / 2010.54.1013
Some issues never seem to go away. Both the design and slogan on this poster are simple, but the issue of health care reform is as explosive in 2012 as it was when this poster was printed, 37 years ago. Founded in 1970, the Chicago Women's Graphics Collective was very skilled at marketing, and supported itself through sales of its many striking posters. Though it dissolved in 1983, the Chicago Women's Liberation Union maintains a website that narrates the collective's important role in the women's movement. One point of trivia, though. The symbol employed on this poster is inaccurate, due to a mix-up dating back to 1902 when the U.S. Army Medical Corps mistakenly adopted this caduceus as its symbol. Instead of a single serpent—which coils around the ancient Rod of Asclepius (the Greek god of medicine)—this one shows two: as on the staff of the Roman god Mercury.
Don't Call Me Sweetheart / Pam Valois, artist / 1978 / 2010.54.613
With a cleaver in one hand and a can of Old Milwaukee in the other, this stove-top feminist challenges a generation of Mad Men-era stereotypes. Jazz, poetry, spoken word and film were all part of this Jimmy Carter-era poster show at the Intersection, a popular San Francisco gallery and gathering place.
Iran / Leah Statman—Gonna Rise Again Graphics / 1978 / 2010.54.1157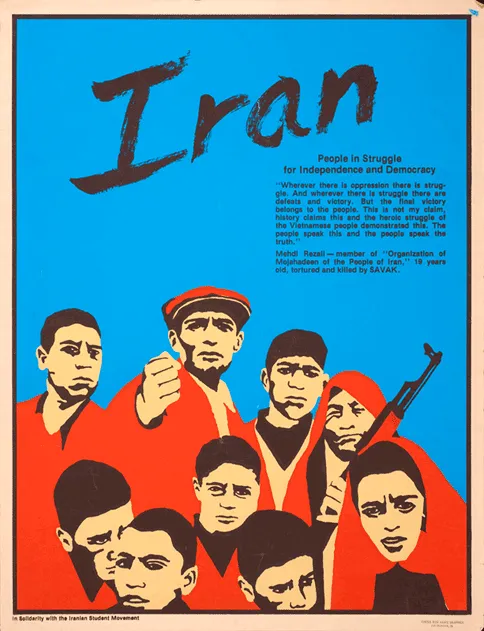 In 1978, the students and working-class people of Iran were engaged in a movement much like the recent Arab Spring. Their situation was comparable: Any opposition to the puppet government of the shah—Mohammad Reza Pahlavi—was met with arrest, torture and often execution. In 1979, a bloody revolution and purge deposed the shah and his supporters. Democracy, however, was not the result. Iran's new government, controlled by Ayatollah Ruhollah Khomeini, led the country down a path of Islamic fundamentalism. Today, Iranian society again finds itself polarized—as many students and educated professionals call for free speech, fewer religious restrictions, and democratic reforms. This poster (among many others) was created by Gonna Rise Again Graphics, a San Francisco collective formed with the intent of "supporting efforts to dismantle U.S. capitalism and imperialism." The gifted artist, Leah Statman, died in 2011 after a long second career as a marriage and family counselor.