How-deeeee!
Homely country togs defined a beloved Grand Ole Opry stalwart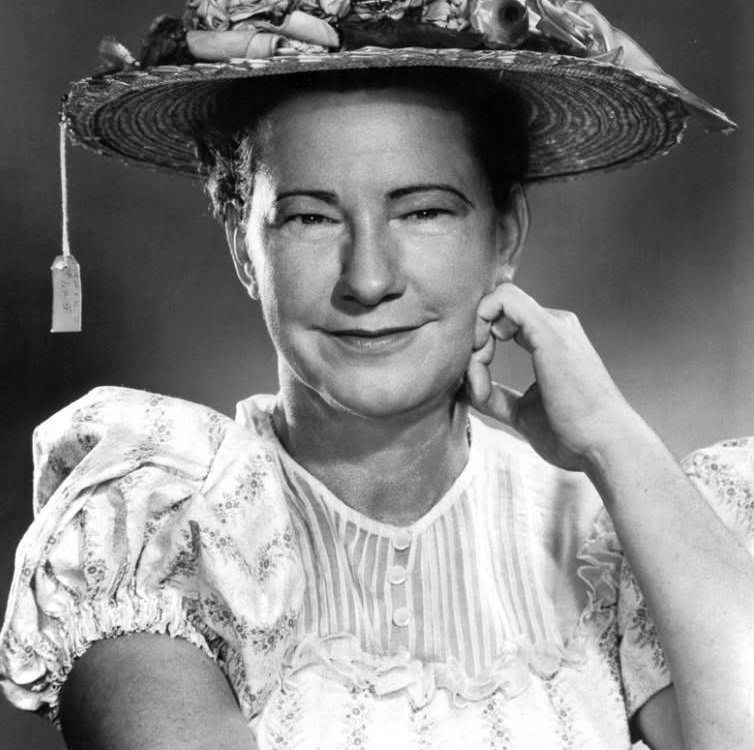 Sarah Ophelia Colley, who portrayed the character Minnie Pearl on country music's Grand Ole Opry for half a century, never intended to make a career of playing the endearing bumpkin she created.
Colley, the youngest of five daughters born to a prominent family in Centerville, Tennessee, and a graduate of the fashionable Ward-Belmont finishing school in Nashville, was an aspiring actress whose plans for a serious career in theater had stalled. When she introduced Minnie Pearl to the Opry audience in 1940, Colley believed the character represented a temporary gig. "She was just a stopgap until I could get what I wanted, something I would settle for until my real destiny came to pass," Colley wrote in her 1980 autobiography.
Before long, however, Minnie assumed a life of her own, and Colley, however inadvertently, was on her way to superstardom as a comedian. The homely elements of Minnie's costume—checked gingham dress with puffed sleeves and tight bodice, white cotton stockings, secondhand Mary Janes and, most notably, a dime store straw hat bedecked with silk flowers, a $1.98 price tag dangling from the brim—would become instantly recognizable to millions of country-music fans.
Several years before Colley's death at the age of 83 in 1996, she donated Minnie's getup to the Smithsonian's Museum of American History. "Minnie Pearl represented a wonderful intersection of rural comedy and modern media," says curator Charlie McGovern. "And all of that character's identity, the desire for respectability, the hope, the naivete, were symbolized in her hat. It became a trademark from the get-go."
Minnie Pearl debuted on the Grand Ole Opry on November 30, 1940, in a three-minute audition buried in the final hour of the Opry's four-hour program. Colley did not appear in costume for this tryout; instead she wore street clothes. "I still wanted to be Ophelia Colley, future dramatic actress, doing a comedy character part. I wasn't ready to be Minnie Pearl," she would recall.
Even the folks at Nashville's WSM radio, which broadcast the Grand Ole Opry, had their doubts: Would Opry audiences feel the character was phony, given Colley's pedigree? Would they take offense, perceiving in Minnie Pearl a put-down of country people? Not, it turned out, in the least. That late-night broadcast audition generated some 300 pieces of fan mail and led to Colley's regular Opry appearances.
"How-deeeee! I'm just so proud to be here!" Minnie declared each Saturday night from the Opry stage to a studio audience, relaying the latest happenings from back home in Grinder's Switch, an imaginary hamlet not far from Nashville, its name appropriated from an actual country railroad junction. She bore gossipy tidbits about relatives and friends—Brother, Uncle Nabob, Aunt Ambrosia, Doc Payne, Lizzie Tinkum and Hezzie, Minnie's ever-elusive and painfully dense "feller." When, for example, Minnie suggested to Hezzie that it was time they married, he answered, "Why, who would have us?"
Almost immediately, Colley recognized the homespun charm of Minnie's country togs. The costume had been cobbled together in a single afternoon in Aiken, South Carolina, when Colley, trying out Minnie's character in a series of performances on the road, spent less than $10 to assemble the look that would, with minor adjustments, define her character. "I dressed 'Minnie' the way I thought a girl would look who came to town from the country on a Saturday to do a little tradin' and a little flirtin'," Colley said. The signature price tag came a couple of years later, the result of a fortuitous oversight. After purchasing dime-store flowers for her hat, Colley forgot to remove the tag. During a performance, she turned her head; the tag spilled over the brim. A perfect gag: the audience loved it.
By 1942, Minnie had graduated to the Prince Albert Show, the half-hour, NBC network portion of the Opry, where the simple, good-hearted country girl with a flair for gossip, "kissin' games" and church socials became a fixture and developed a national following. From 1969 to 1991, the character was also a staple of the television series Hee Haw. In 1975, Colley became the first comedian to be inducted into the Country Music Hall of Fame.
If the humor was predictable, it was also sustaining. "For the rural working class, in a society that was changing radically, going into a second world war, moving into town, moving north, the country comic was a reminder of who they were, where they had come from," says Bill C. Malone, professor emeritus of Tulane University and one of country music's ranking authorities. "In a world that was becoming unfamiliar, Minnie gave them reassurance."
"In those days, radio performers were never really allowed to say anything to their audience; they were introduced and delivered their performance," says Charles K. Wolfe, author of numerous books on folk, country and popular music. "Minnie addressed the audience, getting them to see her as an individual."
Colley, say those who knew her, had little in common with Minnie. "She was the epitome of the old gentrified Nashville," says Wolfe. "Gracious, soft-spoken, always well dressed, nowhere near the simplistic, brash man chaser she portrayed." Colley and her husband, Henry Cannon, a pilot and businessman, lived next door to the Tennessee Governor's Mansion. (They had no children.)
Minnie Pearl retired in 1991 after Colley, at the age of 78, suffered a severe stroke. She died five years later of another stroke. The woman who had viewed Minnie as a stepping-stone toward a career in theater had grown to admire, love and even envy the bumptious, carefree girl who never aged. In the late 1980s, looking back on her career in a column she wrote for the Nashville Banner, Colley recalled: "I had no idea I would become hooked on laughter and become so fond of the fans and so fond of the character Minnie." Colley's father's advice, given to her as she first began working up Minnie's persona, had proved remarkably prescient: "You'll make a fortune off that someday, Phel, if you keep it kind."