How Billie Jean King Picked Her Outfit for the Battle of the Sexes Match
King beat self-proclaimed male chauvinist Bobby Riggs and her victory still stands as an accomplishment for feminism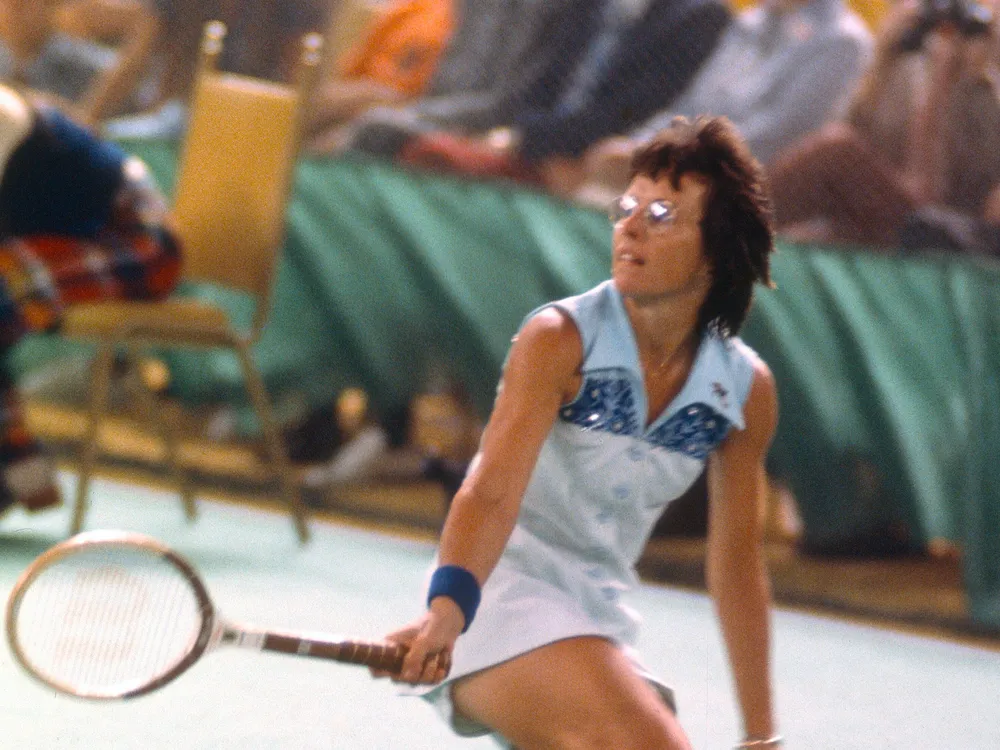 In the days leading up to Billie Jean King's monumental confrontation with self-proclaimed male chauvinist pig Bobby Riggs, the American public was spared few details about their $100,000, winner-take-all "Battle of the Sexes" tennis match, which took place September 20, 1973. Newspaper readers knew that the 29-year-old King was wolfing down 3 Musketeers bars and vitamin E, while Riggs, 55, was devouring fistfuls of vitamins and bushels of avocados. They knew which theme songs had been chosen for the event: "Conquest," from an old Tyrone Power movie, for Riggs, while King's choice, "I am Woman," would be performed live by Helen Reddy. They even knew that heavyweight champion George Foreman would present the trophy to the winner, that Howard Cosell would deliver play-by-play and that Surrealist artist Salvador Dalí would be among the spectators seated in the VIP section of the Houston Astrodome.
Riggs and King, however, remained curiously secretive about what they would wear. Riggs, the 1939 Wimbledon champion turned tennis hustler, kept reporters guessing until he emerged on the day of the match in a yellow polo shirt proclaiming him the spectacle's "Sugar Daddy." When King's designer, legendary British tennis couturier Ted Tinling, touched down at New York City's Kennedy Airport with her attire, he refused to submit his bags for inspection, announcing to customs officials and press alike that his client would discard any outfit exposed to the light of day.
Once Tinling was spirited off to King's Houston hideaway, he opened his luggage to reveal a silk-lined dress of opalescent cellophane threads stitched onto nylon. Resplendent in the shimmering fabric, King "looked great in it," the designer wrote in his 1979 autobiography, "and we were both delighted." But moments later, Tinling recalled, "her expression changed."
Three decades later, King vividly remembers that abrupt shift in her mood: "When I saw it, I said, 'Oh great.' Then I tried it on, and I said, 'No, Ted, I can't wear it.'" The dress, says King, was "too scratchy." As she explained to Tinling: "I can't stand anything like that; it's gotta be very soft next to my skin." So the designer's daring yet abrasive masterpiece would be seen neither by the crowd of more than 30,000 in Houston nor by the tens of millions who would tune in to the match on national television and via satellite across 36 countries. The dress would vanish from view and even from Tinling's personal collection. (To this day, its whereabouts remain unknown.)
Instead, King chose to wear the designer's backup option—a menthol green and sky blue nylon number whose color scheme payed subtle homage to the fledgling Virginia Slims women's tennis tour, launched two years earlier. To both King's and Tinling's relief, she recalls, it "felt absolutely perfect when I put it on."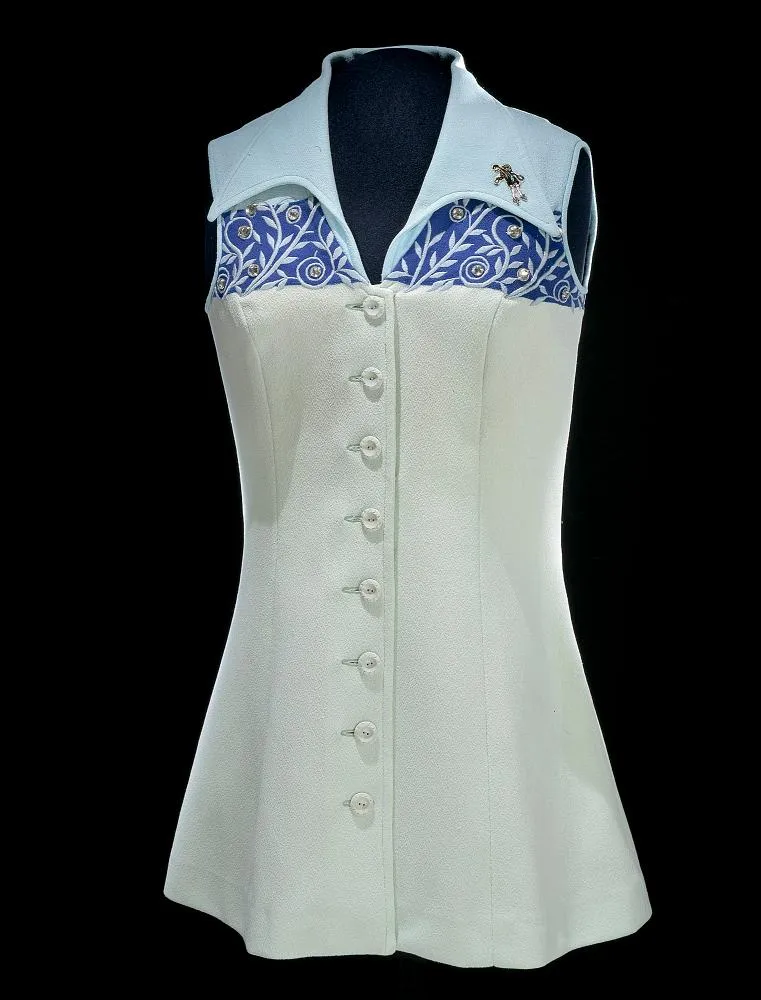 In the dress that day, she crushed Riggs with her serve and volley game, winning the match 6-4, 6-3, 6-3. "Pigs Are Dead...Long Live the King," read a headline in the Los Angeles Herald Examiner the next day. No wonder the dress earned a place in the collections of the Smithsonian's National Museum of American History. While not Tinling's first choice, the dress, says former curator Ellen Roney Hughes, "is still a pretty flashy item. You can see how Billie Jean dressed to take advantage of and enhance the publicity."
Tinling gets extra points for adding some eleventh-hour flash. Visiting the Astrodome, he worried that his creation might get lost in the glare of stadium spotlights, so, says Margaret Kirgin, a seamstress who worked with the designer until his death in 1990, "an editor of World Tennis [magazine] drove Mr. Tinling around Houston looking for rhinestones." On the morning of the match, the designer holed up in his hotel room, stitching rhinestones and sequins on the dress. "After that," Tinling wrote in his memoir, "I felt Cinderella Standby could really go to the ball."
During his career, Tinling would bring his perfectionist zeal to such clients as Rosie Casals, Chris Everett and Martina Navratilova. "He was very eccentric and very bright," says King. "You would notice him in a crowd because he was very tall. He had a bald head and was very thin, with very big hands."
Given the loaded symbolism of the Battle of the Sexes and King's own bitter memory of being excluded from a tournament group photograph at age 11 because, unable to afford a tennis dress, she was wearing a shirt and shorts, her choice of a posh Tinling creation was somewhat unexpected. King says she considered wearing shorts for the big match, but "I had gotten used to wearing dresses and I thought I looked better in dresses, actually."
History should note, however, that not for a moment did King contemplate facing Riggs in the reigning color of gender stereotypes. "I would never," she says, "have worn pink."