Holiday Gift Guide: Crafty Ideas From Recycled Food Packaging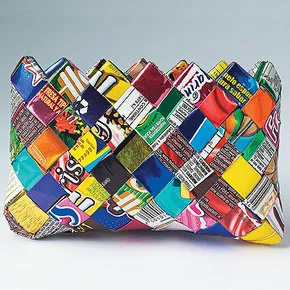 Did you ever make your parents a pencil holder out of a soup can covered in construction paper? I did, and I'm sure my folks treasured it...for at least a week or two, before putting it in the garage alongside the macaroni mosaics and the ashtray paperweight. These days, talented craftspeople are turning food packaging into far more sophisticated and creative wares that not only a mother could love. (But your mother might love them, too.)
The online craft and vintage marketplace Etsy is one of my favorite places to shop for handmade gifts, and some retailers are also getting in on the recycled product trend. Here are a few ideas for making it a green Christmas (or Hanukkah, though you're running out of time):
1. The perfect place for sweethounds to stash their candy money is this coin purse woven from foil candy wrappers. At the Smithsonian Museum Store—$25 each, or $22.50 for Smithsonian members. The store also sells "Can-Can" flower pins, made from recycled cans by Brazilian craftspeople. On sale for $15.99/$14.39.
2. Caffeinated colleagues will appreciate these reusable coffee sleeves fashioned from burlap coffee bean sacks ($5), at the Etsy shop ApRi, based in Providence, RI. ApRi also sells wallets and bags.
3. Along the same lines, college students can keep their electronics safe on the way to those all-night study sessions with padded laptop cases, sewn from reclaimed coffee sacks and other fabrics by a Baltimore seamstress. They're sold at the Labudde store on Etsy for $40–$48.
4. Some bottles are attractive enough to forfeit the return deposit. Bottlehood, out of San Diego, is one of a number of Etsy shops selling tumblers made from soda and beer bottles, like these IBC root beer glasses. Set of four for $25. Sedona's YAVAglass has a wide selection of upcycled glasses; I particularly like the Dry soda set, $28 for four. And the Smithsonian store sells soda pop tumblers made from discarded NYC restaurant soda bottles (sale price $20.97/$18.87 for set of four).
5. Help decorate the home bar or man-cave with a beer bottle chandelier from Barlite. They provide the holder; the gift recipient provides the empties. Small two-tier chandelier currently on sale for $299. For the same idea at the high end, Meyda Tiffany turns old wine bottles into Pottery Barn-worthy chandeliers and pendant lamps. They're custom crafted in upstate New York so, unfortunately, it's probably too late to make it by Christmas (though a bottle of wine and an IOU would do the trick). Inquire for prices and ordering information. VivaTerra, the eco-minded retailer, also sells table lamps made from repurposed French wine bottles. $219–$439.
6. Bottle caps are turning up in all kinds of jewelry: Little girls and tweens will love pendants and bracelets adorned with their favorite characters, whether Dora the Explorer or the Jonas Brothers. $8 each at the beads2jewellery shop, or search for countless other makers on the site. Retro bottle caps, like the Mountain Dew slipknot necklace at Toridawn11, appeal to teens and young adults. $6.50 each. Rebrewedcreations, from Philadelphia, makes more subtle and sophisticated bottle cap jewelry, like these "beerrings" with scrubbed-off graphics and elegant shapes. $20 a pair. There's even something for the guys: Milkweedandhoney, also in Pennsylvania, makes beer bottle cufflinks. (Not recommended for wearing to job interviews, unless the job is at a bar.)
7. With more and more wineries turning to synthetic cork or screw-top bottles, the real thing is taking on nostalgic value—and has many creative uses. A cool hostess gift or stocking stuffer (for the adults) would be a set of champagne cork magnets (actually made from the corks of cava, the Spanish version of champagne) by SublimeHouseWarming. $8 for a set of six. I also love this wine cork bulletin board by 4EyesAndEars that also recycles another endangered item, the letterpress drawer. $65.
8. One thing that's, unfortunately, in little danger of disappearing, is the ubiquitous plastic grocery bag. Luckily, some ingenious crafters invented "plarn" (plastic yarn), which can be crocheted into all kinds of objects. I particularly like these plastic bag baskets by BagsAgain, in Virginia. $10–$25 per basket.
Reduce, reuse, recycle, rejoice!
Editor's Note: Also check out our holiday gift guide of food-related children's books.