Here's What Happens When Neuroscientists and Designers Team Up to Explain Scientific Research
A new interdisciplinary project results in a moving sculpture, an animated piece, a song that evolves and more
The afternoon sun's warmth on your shoulders as you sat in the stands of a high school baseball game. A frightening scene in a movie you watched when you were a little too young. The first time you kissed a sweetheart. Memories, some important, some mundane, lodge themselves in the mind and can arise years later. Much of that process is still mysterious even though researchers have spent many decades studying the chemical cues, changing brain cells and flickering electrical patterns that encode memories in the brain.
Postdoctoral researcher Sam McKenzie studies how memories form at neuroscientist György Buzsáki's lab at New York University. But as fascinating as McKenzie finds the brain oscillations, genes and molecules involved in memory, he does admit that the subject is complex.
That's why he has partnered with programmer and artist Brian Foo to create a song that explains how memory works. This isn't a rhyming explanation à la "Schoolhouse Rock!" Instead, the way the song itself is built explains how memories form. They've created an interactive program where visual patterns are translated to musical motifs. Repeating a pattern encourages some motifs to grow stronger over time. The end result is an evolving, interactive song that serves as a metaphor for memory formation.
Foo and McKenzie are just one pair of several in a group of scientists and designers collaborating to explain scientific research. They are part of "The Leading Strand," a project named after a concept involved in the process of DNA replication. When genetic material is duplicated in a cell, the new, growing strand of DNA is called the leading strand. The concept, explains the project's founder, science-trained designer Amanda Phingbodhipakkiya, is "a continuous new formation of two parts coming together to create new things."
For the first phase of the project, the teams worked together for two and a half months to create engaging, innovative visual ways to communicate neuroscience research.
On July 13, an exhibition showcasing the fruits of those partnerships opens to the public at the Pratt Design Gallery in New York City. "Neurotransmission" features McKenzie and Foo's evolving song; a short documentary on the genetic, neural and biochemical factors underlying gender and sexuality; and a kinetic sculpture that demonstrates different models of how neurons fire, or send signals, among other projects.
In the future, Phingbodhipakkiya aims to bring together new cohorts of designers with scientists in other disciplines, such as climate change and genetics. The ultimate goal, Phingbodhipakkiya says, is "to expand our understanding of what's possible."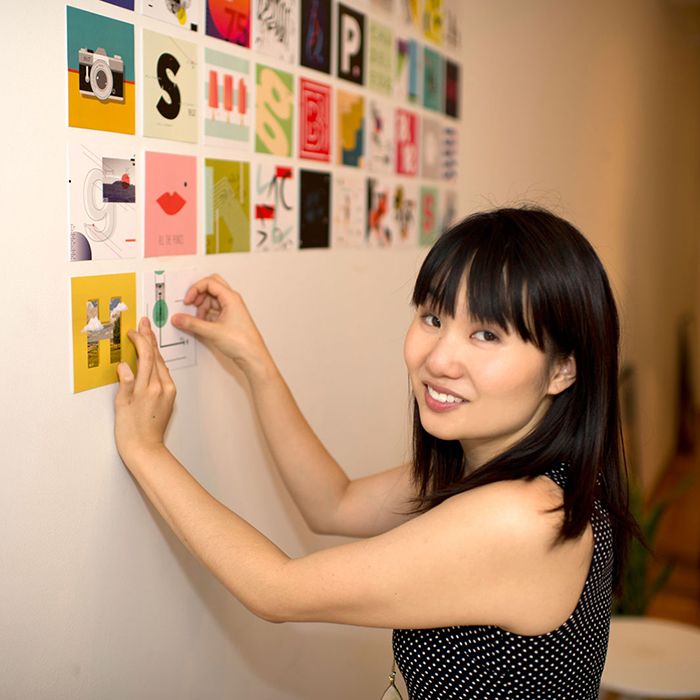 Phingbodhipakkiya's path to combining design and scientific discovery emerged quite naturally. While she has concentrated on "The Leading Strand" project since April, she is also the art director at Primacy, a design agency.
The now 27-year-old was a ballerina when she was younger, but a ski accident sent her into a long and complicated recovery. The trouble she had learning to move like she did before the accident sparked her interest in finding out how neurons give rise to movement. She decided to pursue a bachelor's degree in neuroscience and behavior at Columbia University and worked as a research assistant in a lab at the university's medical center under the direction of neurologist and professor of neuropsychology, Yaakov Stern. There, she learned about how cognition changes as people age. But she also found out how difficult it can be to recruit willing and able volunteers to participate in research.
"We weren't able to reach some populations that we were trying to get in, namely healthy, active, full-time working professionals," she says. In that trouble, Phingbodhipakkiya saw a clear need to help the public understand scientific research. That led her to her next career shift: "I got into design to communicate science and to help people understand the importance of basic science research."
A Master of Fine Arts at the Pratt Institute's Communication Design Program soon launched Phingbodhipakkiya's career as a designer. In the spring of 2016, she started "The Leading Strand" with the support of a TED Residency, a sort of incubator program for creative people run by the nonprofit conference series.
The residency gave Phingbodhipakkiya the freedom and time to devote to her passion project, "The Leading Strand." Each collaboration in the first cohort has produced something that will have a life beyond the Pratt Design Gallery exhibit. "Our goal is to make each experience a stand alone piece that is [a] delight to view and explore, yet maintains the rigor and nuance of the research," Phingbodhipakkiya wrote in a post published on Medium.
For Quartz, Anne Quito calls "The Leading Strand" a matchmaking service between scientists and designers aimed at explaining scientific breakthroughs. Phingbodhipakkiya says that she did spend a lot of time thinking about how potential partnerships could work. But she gives more credit to the hard work of the scientists and designers themselves.  "As [each duo] got to know each other better they would find the hook of the research and get to know what was most interesting," she says.
Phingbodhipakkiya started "The Leading Strand" with a neuroscience focus because that was where her scientific expertise and network lay. For one collaboration, her former mentor Yaakov Stern worked with motion designer Alisa Alferova to craft a kind of animation that explores how memory can fail. They explore the process using visual metaphors. For example, retrieving a bike from where it is parked is a simple task unless the memory retrieval process goes awry.  Instead of the location of the bike, the brain may offer up a flood of other tangentially-related memories—past experiences with the bike in question, walks along similar-looking streets, sightings of other bikes—that drowns the attempt to remember the location of the misplaced bike.
The kinetic sculpture uses ball bearings to represent firing neuron impulses. The ball bearings travel through a series of chutes, levers and pulleys and help users compare two different models of neuronal communication. Elaine Khuu is an industrial designer, so that's likely why her partnership with Andrew Bogaard, an MD/PhD candidate with Eberhard Fetz's lab at the University of Washington in Seattle, resulted in a kind of pinball-machine-like apparatus.
The film about gender and sexuality came from joining the creative forces of Vicky Du, a filmmaker, and Dhananjay Bambah-Mukku, a postdoctoral researcher at Catherine Dulac's lab at Harvard University. The film isn't just a straightforward presentation of Bambah-Mukku's work—it also explores the philosophical implications of his research as well as the young scientist's life, background and understanding of the world around him. "It's very artistic and beautiful," Phingbodhipakkiya says.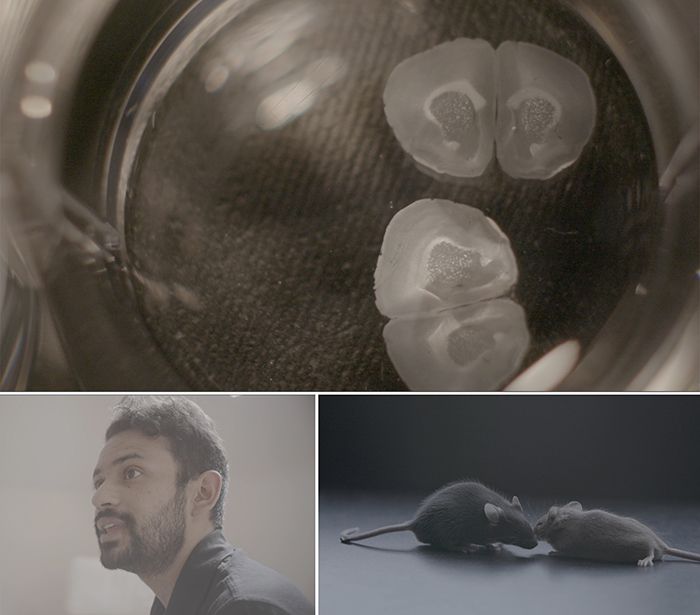 The final collaboration, between product designer Kelsey Hunter and postdoctoral researcher Julia Basso, who hails from Wendy Suzuki's lab at New York University, has produced a chatbot that helps its users live a healthy lifestyle. "The use of a lot of fitness tracking apps kind of falls off after a few weeks, when people lose interest," Phingbodhipakkiya says. The bot not only tries to engage its users but also tells them about rodent research in labs that has shown researchers the changes that exercise makes on the brain.
Four of the five "Neurotransmission" projects are digital and will live online after the exhibit ends on July 18. Phingbodhipakkiya is working on making sure that the fifth, the kinetic sculpture, will go on permanent display. The results of the unusual collaboration will continue to demonstrate the possibilities in uniting two seemingly disparate disciplines.
"I think people don't typically think of neuroscience and design together, but neuroscience is complex and the purpose of design is to elucidate very complex information," Phingbodhipakkiya says. "Ultimately, I think it is a very natural partnership."
Tickets to "Neurotransmission," the first exhibit for "The Leading Strand," can be found at the project's website. The exhibit runs from July 13 through 18 at the Pratt Design Gallery in New York City.