Julie Adams remembers when she first saw the fiber artist Marques Hanalei Marzan in action. It was 2016, and they were both attending the Festival of the Pacific Arts in Guam. Marzan was sitting on the ground quietly absorbed in weaving, seemingly unfazed as hundreds milled around him, chatting loudly and blaring music. He was in his zone.
Adams, a curator at the British Museum, just watched. "I was too shy to interrupt him and say hello," she says. "But in the back of my mind, I was already thinking about how we could commission him to make a piece." Of course, she had heard of Marzan. Adams considers him "one of the most renowned Hawaiian weavers working today."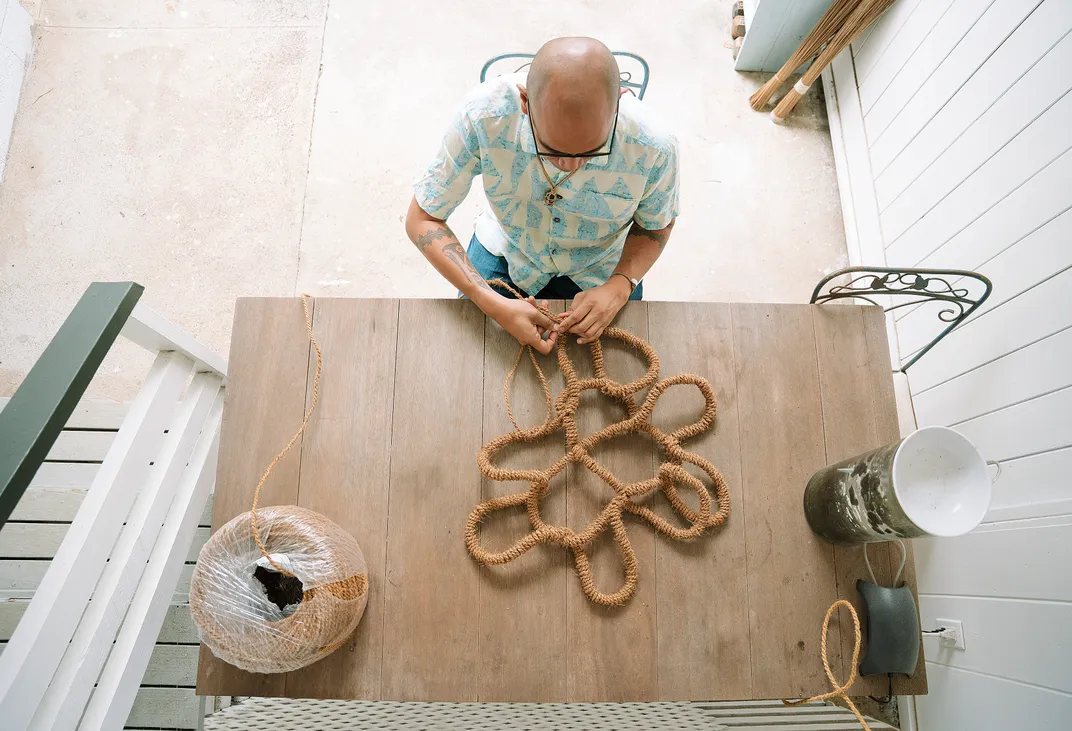 A year later, Adams welcomed Marzan to the British Museum for a private viewing of one of the world's most important collections of ancient Hawaiian fans. He pored over each item—admiring the skills of the weavers who created them—estimating that only 20 or 30 fans exist today. At that time, the museum was planning an exhibition to commemorate the 250th anniversary of Captain James Cook's first voyage to the Pacific. Adams asked Marzan to create a crescent-shaped fan, known as a peahi, as part of the tribute, an example of artifacts from that time.
"It was just super overwhelming to get that opportunity to visit, but also then to get that inquiry for a commission to bring a modern voice and perspective back into the collection that they steward, that was so special," he says. Some 500 years ago, Hawaiian chiefs would trade these fiber fans for European goods. For his modern-day take, Marzan used pandanus, a type of palm-like pine leaf.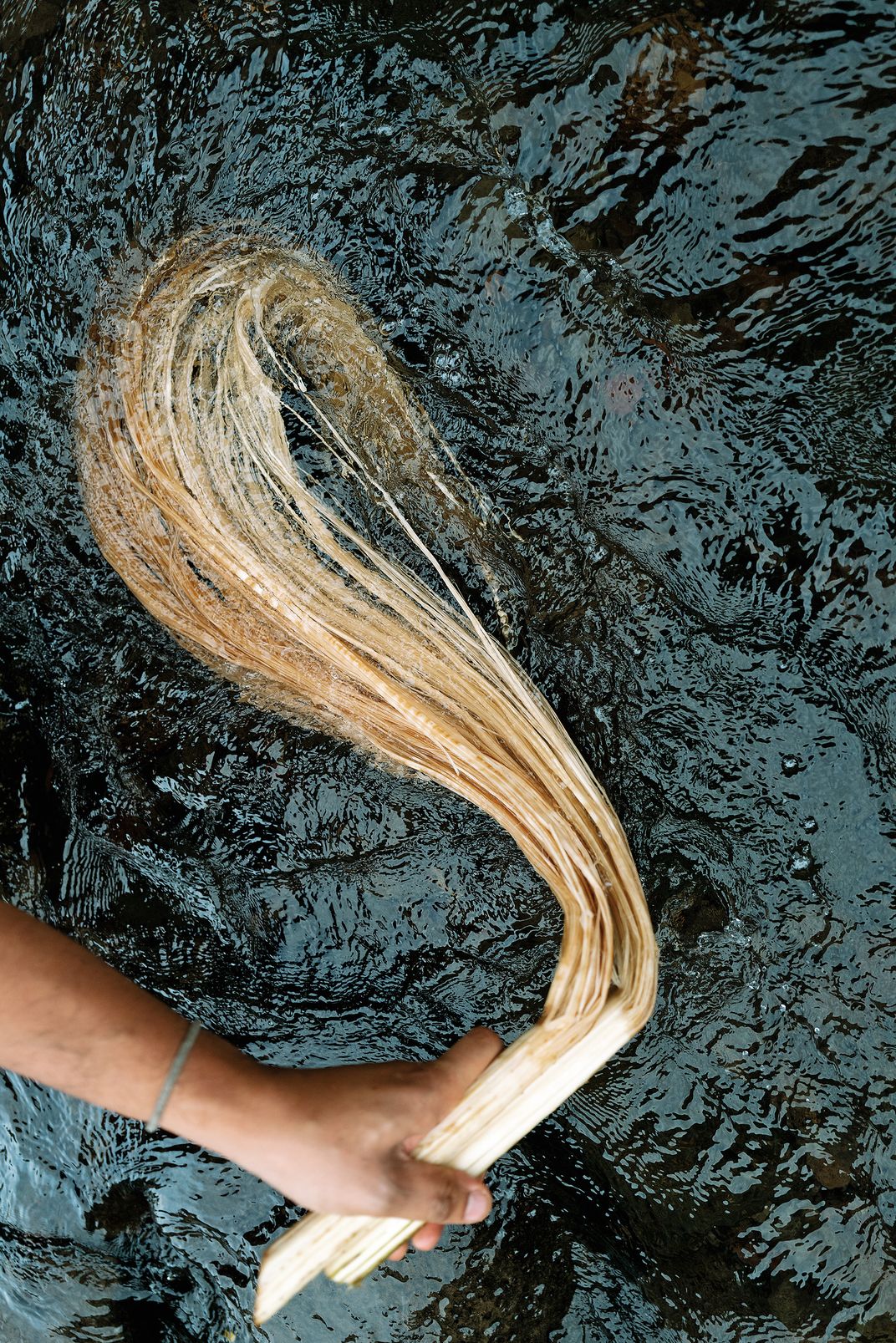 The tradition of weaving the lau (leaves) from the hala (pandanus) tree was brought to the Aloha State when the first Polynesian settlers arrived in canoes with sails fashioned from the material, according to some historians. Those early Hawaiians realized this resource could be used to craft other essential items like clothing, mattresses and shoes.
There aren't many who have mastered the technique or the ancient style of weaving used to create the fans. Marzan, 44, who first learned the art as a teenager, is one of the few who possesses that rare expertise. "To create contemporary pieces with these ancient skills is really unique," says Kilohana Silve, an art critic.
Over the past 25 years, Marzan has perfected multiple fiber-weaving techniques, including plaiting, twining, netting and cord-making.
"He's using those finely honed skills and creating something that steps forward in time," says Silve. "That's very exciting, and it's wonderful that his work is being recognized beyond Hawaii shores."
---
Marzan's weaving and art have taken him to the Marshall Islands, Canada, New Zealand and American Samoa. In 2018, his craft led him to Paris for the Festival des Arts d'Hawaii. There, five fans he created appeared in an exhibition at Orenda Art International, a gallery known for embracing emerging artists and helping them gain international acclaim.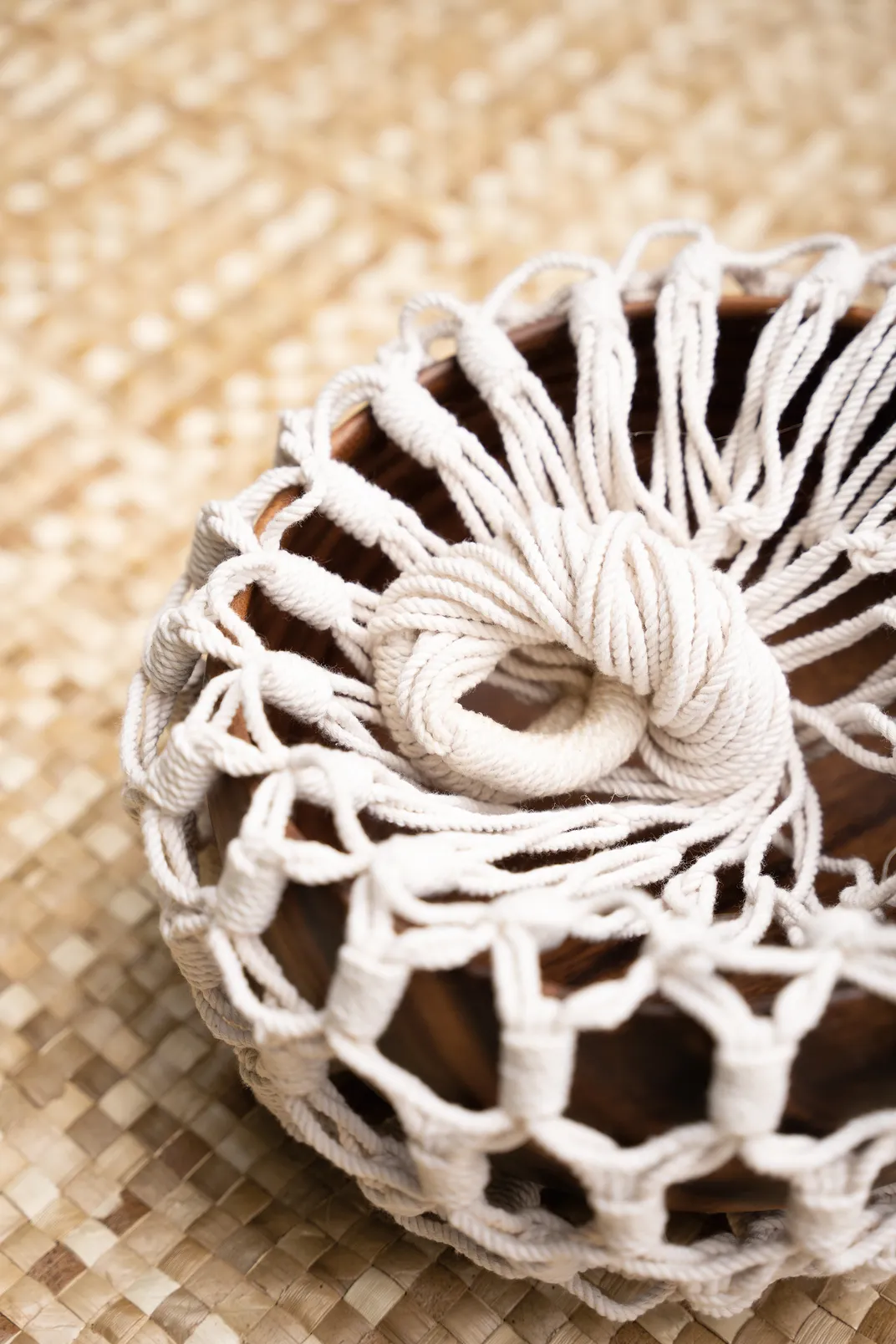 "This show was so important," says Silve, founder of the Hawaii festival, who lived in Paris for 30 years. "I wanted people out there, especially in important art worlds like Paris or New York or Tokyo, to be aware of the excellent artists that we have in Hawaii. The reactions were just everything that we anticipated. People were fascinated. They were just in awe, because [the weaving technique] is clearly so difficult to do."
The work was very well received by critics, but Marzan's artistry isn't just for aficionados. "It's one thing for people to go into a gallery and ooh and ahh and say, 'Oh, c'est magnifique.' It's another thing [for them] to, you know, bring out their checkbook and purchase a piece. I was so thrilled to see that his works were all bought," says Silve.
In addition to their intricate beauty, Marzan's creations may draw customers because many of his pieces are also functional, like the dresses he made out of pig intestines for the Maoli Arts Movement Wearable Art Show, an annual one-night event in Honolulu that gives native Hawaiian designers a platform to showcase their wearable-art creations.
Just as he draws on the traditional Hawaiian practice of using lau hala to make baskets and shoes, Marzan is inspired by ancient Japanese artisans. Long ago, they created fabric from paper. It was placed under garments to wick away moisture.
Having a "living, active purpose" for his work is important to Marzan, he says. Rather than just gallery exhibition work to hang on a wall, he wants his pieces to come to life.
---
To some, the items stockpiled in the carport at Marzan's home, which is in Manoa, on Oahu, might look like clutter: paper cordage, an array of tree branches, homemade fish traps and swordfish bills. However, they are all likely to take on a second life as art.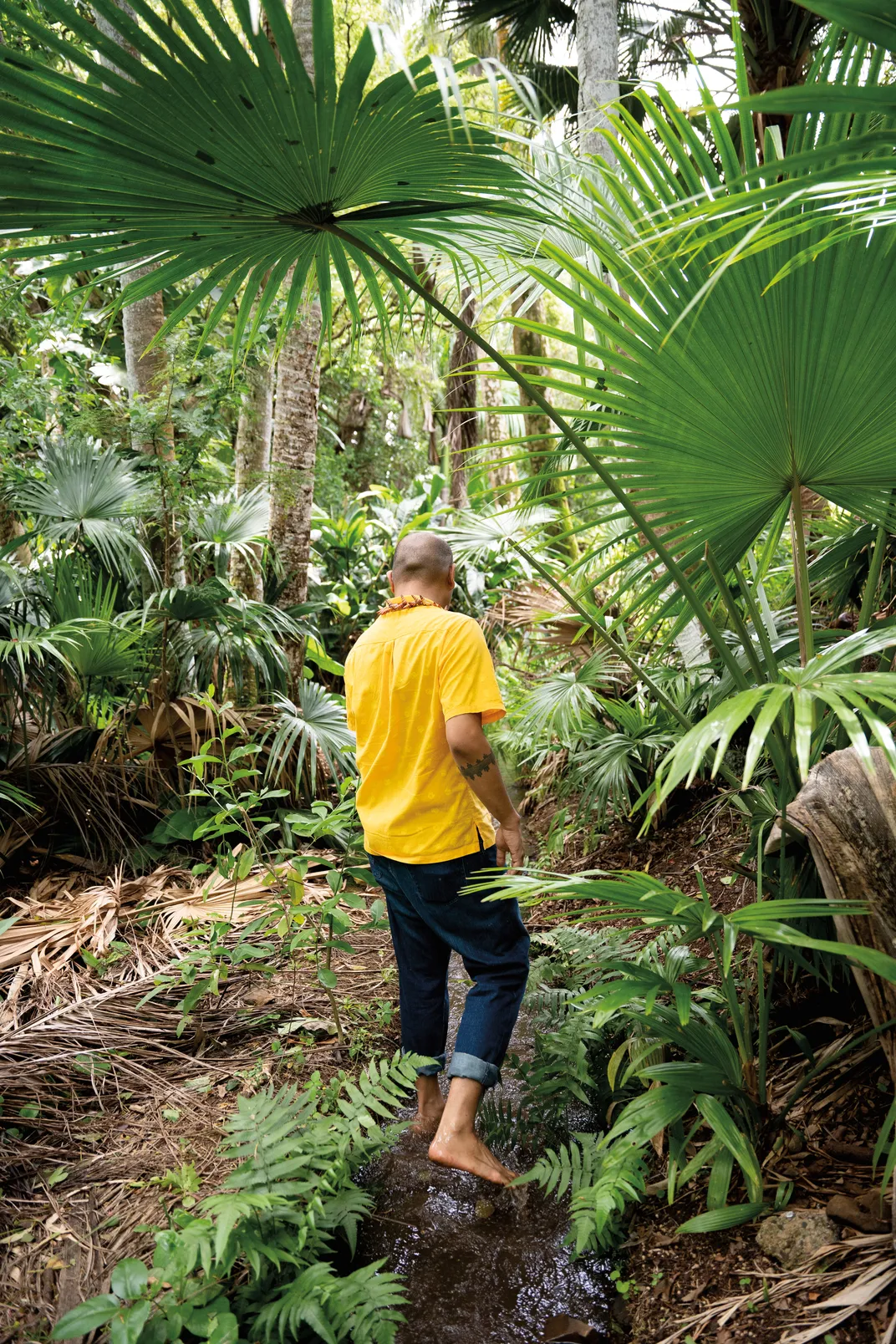 The carport is where Marzan sits cross-legged for hours looping coconut coir, making nets and twining. Meanwhile, birds chirp, gentle trade winds whistle and raindrops offer a soothing sound.
The lush valley, known for its consistent drizzles, is ideal; it's utterly relaxing, and the moist environment also "allows for the fibers to be more supple and malleable," Marzan says. "Sometimes when it's too dry, fibers can get too brittle and break. I think it's just very conducive to my artwork."
Marzan also works on his porch, weaving at a small table and on the living room floor. He streams "The Big Bang Theory" for background noise. "I get into that meditative state," Marzan says. "I just let things go, and my hands just move without any kind of conscious direction or focus."
On one nearby table sits an elaborate cape made of coconut rope, which would have been suitable for a chief in ancient times. Nearby, a jumbled net form is starting to take the shape of a coral head.
He describes the different materials he incorporates in his art—like berries that grow wild in the mountains and used for dyes, and the paper mulberry used to make kapa (bark cloth)—and how passionate he is about the gathering process. Meanwhile, his fingers are busy looping together paper cordage that will eventually be part of a larger installation piece in an upcoming show.
He doesn't know what the final product will look like, how large it will be or how long it will take. It all comes together as he goes; there is no plan ahead of time, no sketch, no brainstorm. He allows inspiration to strike along the way.
---
Marzan was just 5 years old when he made more than 100 one-inch origami cranes for his Japanese grandmother's 60th birthday party. The feat was an early sign of not only persistence but also exceptional dexterity, qualities that he is renowned for.
"I was always interested in creative things, drawing, making things with my hands, going outside, playing with the mud and making them into forms or different things," says Marzan, who descends from a long line of artisans. His Filipino ancestors were basketmakers. Silk weaving was done on his Japanese side, and his Hawaiian family is known for canoe-building. However, it was his great-grandmother's papales, or hats, hanging in his childhood home in Kaneohe, Oahu, that inspired him.
"The hats were a functional necessity for workers, so that was a form of income for her," Marzan says about the matriarch who passed away before he was born. A skilled weaver, she crafted them to protect those toiling under a hot sun on the coffee plantations on the island of Hawaii. She produced functional art, not unlike her great-grandson.
"Unfortunately, none of her children or grandchildren during her lifetime showed any interest in learning from her. So those skills and insights passed away with her," Marzan says.
What he didn't learn at the foot of his elder, he hopes to acquire through experience, practice and determination. He wants to recreate his great-grandmother's designs.
"I believe in the concept of ancestral memory," he says, referring to a theory that some experiences leave a genetic imprint and are passed down to descendants. "Sometimes we don't know why we are doing something, and then it makes sense. What we do today has significant ties to what has happened in the past."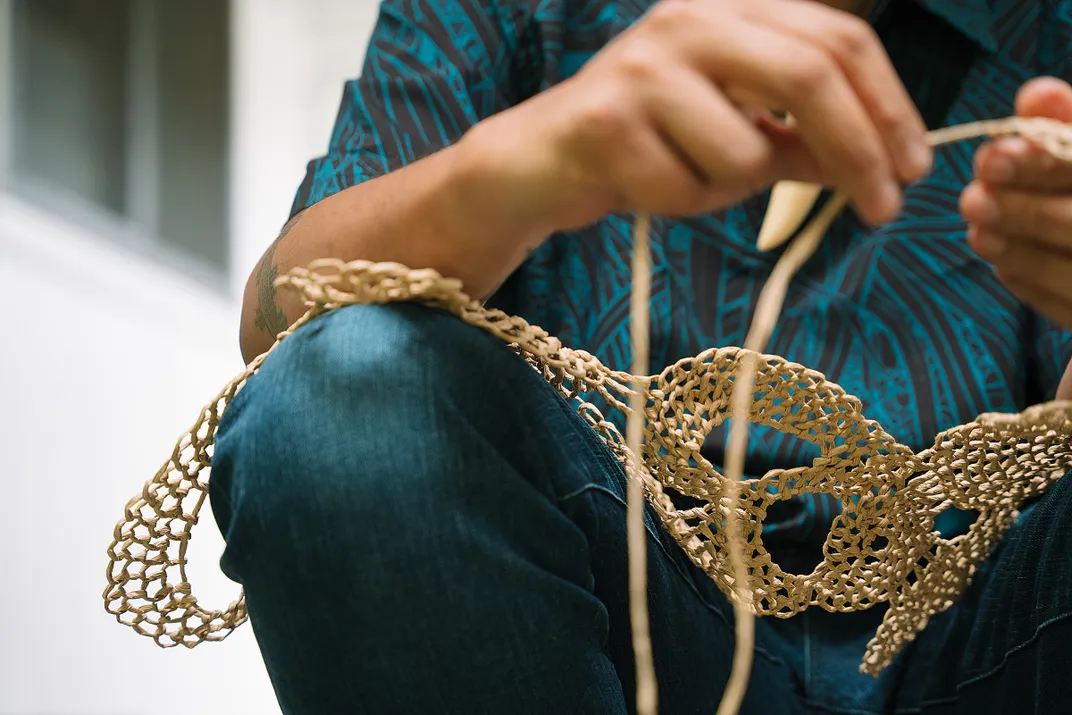 When he first worked with the lau hala, manipulating it felt almost innate. "I just attribute it to my great-grandmother. She just was guiding my hands," he says.
Today, Marzan can craft hats almost identical to his matriarch's. However, the starting pattern, called the Honaunau piko (center), unique to her community, is still a mystery.
That lost knowledge motivates Marzan to instruct others. He often teaches workshops to students of all ages. "This skill that I've shared with them, it's not for them to keep to themselves," says Marzan. In fact, he challenges each of his students to teach at least one other person how to weave "so this skill gets passed on to someone and is available to future generations."