Hanukkah Gelt, and Guilt
The author reflects on traditions new and old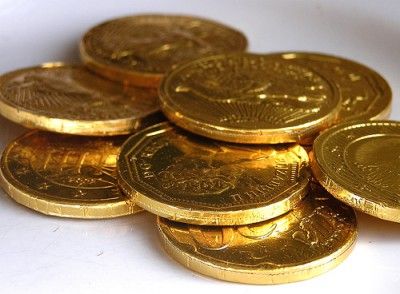 In a telephone conversation last night with my mother, who lives on the opposite coast from me, she confided that she was thinking of serving frozen latkes—potato pancakes—at the Hanukkah dinner she was preparing for my brother's family this weekend. "I think they taste as good as the ones I make from scratch, and they're so much easier," she said, but she fretted that she would somehow be robbing her grandchildren of the authentic Hanukkah experience.
She need not worry about scarring their little psyches, I assured her. To be honest, I have no recollection of  whether we ate homemade or frozen latkes during my own childhood, only that they were deliciously similar to my favorite food at the time, Tater Tots. What I do remember, vividly, is the waxy, slightly metallic flavor and satisfying snap of Hanukkah gelt, the gold foil–wrapped chocolate coins children are given at the holiday. These were not exactly gourmet chocolate, but they were sweet, which was good enough for me (I think we've already established that I was not a child epicure). And the way the little gold coins rattled around in their mesh bag made me feel rich—at least for a few minutes, which was about as long as they would last.
I also remember learning the basic story of Hanukkah, with the miracle of the single jar of oil that lasted eight days, and the dreidel, the four-sided top that spells out, in Hebrew letters, "a great miracle happened there." But I never learned what the gelt was all about.
According to the Jewish Outreach Institute, the roots of gelt, or "money" in Yiddish, are in the first Jewish minted coins, in 142 B.C.E, after the Macabees gained independence from the Syrian king. The coins were stamped with an image of a menorah.
As Leah Koenig writes in The Jewish Daily Forward, though, the tradition of giving chocolate coins at Hanukkah is much more recent. She explains that, in the 18th century, it was customary to give religious teachers a monetary token of appreciation around Hanukkah. By the 19th century this practice had, for some reason, shifted from teachers to children.
Following the Civil War, Koenig writes, Hanukkah was rarely celebrated by American Jews, who considered it a minor festival. By the 1920s, though, it returned to popularity, paralleling Christmas in its increasing commercialism. American candy companies capitalized on this emerging market by introducing foil-wrapped chocolate coins, possibly inspired by the Dutch tradition of giving chocolate coins, called geld, to celebrate the birthday of Saint Nicholas on December 6. They also produced chocolate Macabee soldiers and latkes—I can't imagine why those didn't take off—but only gelt has stood the test of time, becoming an indispensable part of the Hanukkah celebration.
Though most gelt today is of the waxy variety I recall from my youth, some higher-quality versions are now available. Divine Chocolate produces fair-trade and kosher-certified milk-chocolate coins. Or you can even mint your own chocolate coins, with this recipe at the end of Koenig's article.
I wouldn't suggest this to my mother, though. She doesn't need anymore guilt.