Handcrafted "Tiles for America" Project Remembers 9/ll
An art installation that spontaneously appeared after the terrorist attacks returns to New York City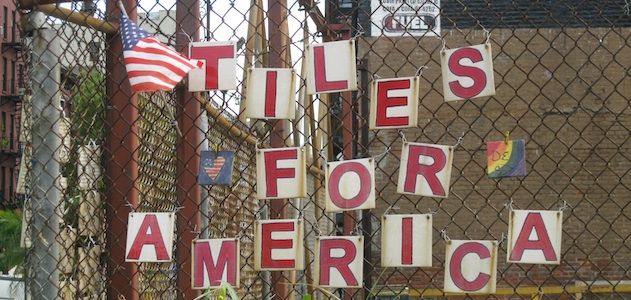 Among the scores of events that New York City prepared to mark the 10th anniversary of 9/11—the opening of the 9/11 Memorial at the World Trade Center site, a Sunday-long series of services at historic Trinity Church on Wall Street, an NYPD Fife and Drum parade and concert at Town Hall, to mention just a few—one unusual monument returns to the place where it has been since Sept. 14, 2001.
Tiles for America, a spontaneous, hand-made memorial in the West Village began when neighborhood potter Lorrie Veasey made hundreds of ceramic tiles painted with angels and American flags. Posted on a chain link fence near now-closed St. Vincent's Hospital, they attracted admiration and more tiles, contributed by ceramic artists around the world who responded to message board posting by Contemporary Ceramic Studios Association.
When Hurricane Irene threatened in late August, neighbors removed the tiles and stored them in a nearby beauty salon for safe-keeping. Now they're back on the fence surrounding the triangular plot at 7th and Greenwich Avenues, along with Village artists at work on mosaic decorations made of bits of broken tile. The property is owned by the Manhattan Transit Authority, which intends to build a ventilation plant there, permanently embedding the tiles in its walls. Meanwhile, the heartfelt and handcrafted Tiles for America remains one of the funkiest 9/11 monuments in town.
Susan Spano is a travel journalist based once again in New York City.