Go Behind the Red Barn and Rediscover Dale Nichols
Though snubbed by scholars, the American realist painter produced surprisingly symbolic works, as a striking new exhibition makes clear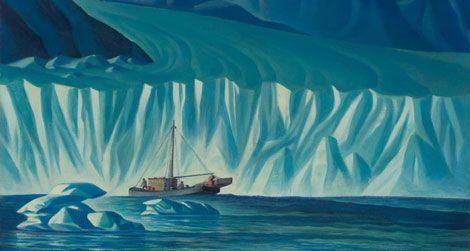 One of the most provocative exhibitions in the United States right now was organized by an institution that's a bit off the beaten track: The Bone Creek Museum of Agrarian Art in David City, Nebraska. David City was the birthplace of the Regionalist painter Dale Nichols (1904-1995), and the Museum of Agrarian Art was founded just a little over three years ago when it acquired four paintings by him; it is still not an AAM accredited institution. This year the museum launched a major retrospective of the work of Dale Nichols, complete with a well-illustrated book-length catalog written by Amanda Mobley Guenther.
The show has moved on to the Georgia Museum of Art in Athens, and on March 17 moves to the Montgomery (Alabama) Museum of Fine Arts.
It's impressive that such a small community has produced an ambitious exhibition and book of this scale, roughly on a par with those produced by America's largest museums. More than that, the show shows the virtue of bringing new viewpoints into the discourse of art history, for seemingly without intending to do so—with seeming artlessness—the catalog explodes most of what we've been told about Regionalist American art of the 1930s and shows that we should take another look at what was actually going on.
Dale Nichols operated in a zone that was midway between "high art" of the sort exhibited in prestigious museums and calendar art and commercial illustration. He himself viewed his work and his calling in an extremely lofty light. He liked to think of himself as on a par with the great old masters, such as Caravaggio, and he also believed that he had special insights into the workings of the universe and thus was something of a prophet or seer. But Nichols also regularly worked in the sphere of practical commercial art, doing lettering and advertisements, and designing packaging. His paintings were regularly reproduced for advertising purposes on tin cans, plates and playing cards, by companies such as General Mills. In 1942 one of his winter scenes was even used for a U. S. postage stamp. Because of his close ties with the commercial world, some art critics would describe his work as kitsch.
While he did paint some other subjects, Nichols is best known for just one, which he painted in seemingly endless permutations: a red barn resting in a snowy field against an intensely blue sky, with a foreground containing figures engaged in traditional agrarian tasks, very often with a figure in a sleigh or wagon. It's the sort of imagery one finds in the work of the 19th century American painter, George Henry Durie (1820-1863), although Dale Nichols handled the theme with a clarity of light and a simplicity of geometric shapes that's more in the manner of Rockwell Kent (1882-1971), and it has a distinctly Art Deco feeling.
Nichols's reputation reached its height quite early in his career, in the 1930s, the last decade when popular imagery of this sort also enjoyed the support of major art critics and museums. Then his reputation began a downhill slide. But recently his paintings have experienced something of a revival, if not among art historians at least among collectors, who have started paying large sums for his work.
The son of a farmer, Nichols performed back-breaking farm chores as a child and walked two miles to school. We don't know how he decided to become an artist, but by the age of 20 he had landed in Chicago, where he attended the Chicago Academy of Art. Like many artists, he was not easy to teach, and his career as a student lasted only two months, though by the time it ended he had assembled a portfolio of his work and landed a job in an advertising agency, where his initial specialty was fine lettering. During his 15 years in the Chicago advertising business he seems to have worked in every possible angle of the trade, from lettering and illustration to package design.
Around 1933 he decided to embark on a career as a painter, and almost instantly he settled on the sort of red barn subject matter. In fact, he had been painting for less than a year when he produced what is still his best known work of art, End of the Hunt, 1934, which won an award from the Art Institute of Chicago and which was purchased in 1939 by the Metropolitan Museum of Art in New York—then as now the most important museum in the United States—where it remains today.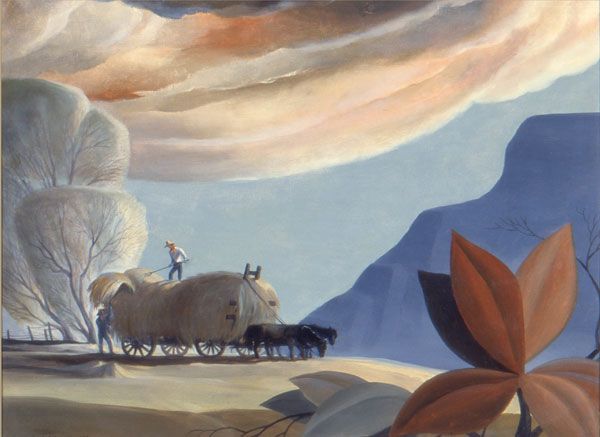 For a few years, Nichols was viewed as one of the leading painters in America, a major figure of the Regionalist movement: in 1939, a dean at the University of Illinois declared that he "has already achieved a standing in art circles comparable with that of John Steuart Curry, Grant Wood, and Thomas Benton." But Nichols's career began to slip at that point, in part because Regionalism began to slip out of favor, and in part because the difficulties of his personal life made it difficult for him to settle down: Over the course of his career he had five marriages, some of them so brief their exact date and the full name of his partner is not known.
In the 1930s his center of his activity was Chicago, but in 1940 he moved to Arizona, where he adopted a cowboy persona, and supported himself as an art teacher. In 1948, he purchased about half the buildings in the town of Tubac, Arizona, to use as a campus for an art school that he named for himself, but this over-extended his resources and the venture lasted for only about a year. Throughout the 1950s he seems to have been in constant financial difficulties, and he became a roaming wanderer, moving from Brownsville, Texas, to New Orleans, to Marquette, Michigan, back to New Orleans, and finally to Biloxi, where he lived until 1960s, at one point making his home in a small yacht named Nefertiti harbored along the Wolf River. Yet somehow, no matter how down-and-out he might be, he never lost his immaculate look or sense of self-assurance. Photographs of him posing beside his boat might almost be confused for fashion illustrations.
In 1960 he moved to Guatemala, married a native woman, and supported himself in large part by making rubbings and drawings of Maya sculpture, which he sold both to tourists and to American archeology museums. During this period he founded a new intellectual specialty, which he called Psycho Symbolic Investigation Archeology, and wrote books with titles such as Pyramid Text of the Ancient Maya and Magnificent Mystery Tikal. These set forth his belief that he had discovered the secret code of ancient Maya writing and art: a sort of astrology based on the number nine, the day of birth, and the positioning of the sun and other stars and planets. He proposed that it would be applied to modern life as well, and created striking diagrams to assist modern users of his system. It's not a document that Maya scholars take seriously.
After an earthquake in Guatemala disrupted life there, he became mobile again. In his later years he separated from his wife and moved repeatedly back and forth among California, Alaska and Nevada, where he attempted to start an art school. By the end of his life he was suffering from Alzheimer's disease; he died of prostate cancer in 1997 in Sedona, Arizona.
In the course of these moves, Nichols turned for subject matter to the region where he was living at the time. In Arizona he painted scenes of the Southwest; in Guatemala he painted tropical jungle scenes. But throughout his life he continued to paint scenes of red barns in snow in a Nebraska-like setting, and to fiercely insist that he was the leading artist of Nebraska, a claim that often put him in conflict with other artists. His late barn scenes, executed in the 1960s, or even later, are almost indistinguishable from the first one, painted in 1934.
To a large degree his ideas about art were formed while working in print shops and advertising agencies in Chicago. Notably, he worked for a time for the printer and publisher R. R. Donnelly, which in 1930 published what has sometimes been described as the greatest American illustrated book: Rockwell Kent's edition of Herman Melville's Moby Dick. To his credit, Nichols seems to have recognized that Kent's work had a strength and nobility that stood head-and-shoulders above anything else being produced around him. While sometimes responsive to other influences (such as the work of another very talented illustrator, Maynard Dixon), to a large degree Nichols modeled everything he did afterwards on Kent's style. Indeed, in the summer of 1937 Nichols even made a trip to Alaska in emulation of Kent, who had spent a year there in 1918-19. The most notable traits of Nichols' work—the clean lines, the clear sense of light and dark, the wonderful sense of design and proportion—are based on Kent.
For decades Regionalism has been dismissed as an essentially realistic, documentary mode of creating art, which consequently lacks any significant expressive or esthetic content. To cite phrases that are often used, it is "mere realism" or "conventional realism."
In her catalog, Guenther shows that this assumption is completely incorrect as applied to the art of Dale Nichols. Actually, Nichols himself saw his art in an entirely different light. In a letter to his niece Ruth (the daughter of his brother Floyd) he stated: "Hell, Ruth, I've never painted a realistic painting in my life." Nichols attributed the power of his art to what he called "applied psychology." What he meant by this is sometimes difficult to figure out, but loosely speaking it seems to have meant that he saw his paintings as "symbolic." His goal was to create forms filled with symbolism which would connect with the deepest truths of human existence, whether the workings of the universe or the inner mysteries of the Freudian unconscious.
Nichols's paintings were not copies of any actual scene. He started with a set of geometric elements, which he moved around as if they were children's blocks until he found the formal arrangement that satisfied him As he explained, in his idiosyncratic fashion, which sometimes takes more than one reading to understand:
I first compose my painting in an euphonious arrangement of rect-hedrons, tetrahedrons and spheroids, then relieve the resultant static effect by opposing line, adding textures, symbolic abstractions and certain fragmentations (following Freudian interpretations) in colors which relate to preconceived mood.
The word "rect-hedron," of course, is a Nichols coinage. Incidentally, the above quotation, and the quote blocks that follow, all come from Guenther's fine catalogue, one of whose best features is that it, in turn, quotes extensively and directly from Nichols' writings.
Next, for Nichols, after this composing of forms, came the placement of a source of light—generally the sun. Central to his belief system was a devotion to "our galaxy of stars (of which our sun is one" which "forms the cosmic ocean of radiant energy on earth." He believed that the unifying power of light was what filled his paintings with harmony and spiritual truth.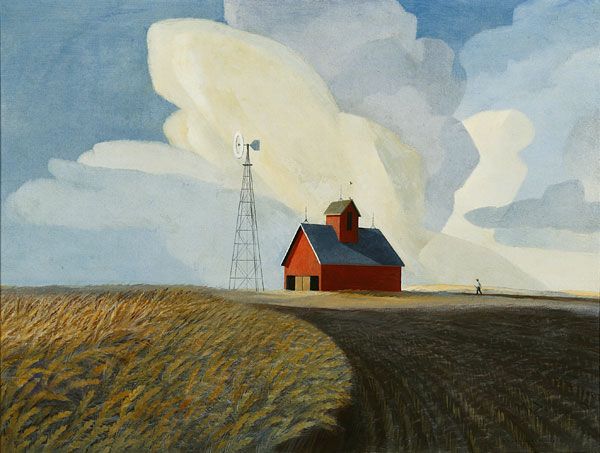 Of course he did eventually transform his geometric compositions into scenes that looked like red barns and other objects. But when he transformed his geometric blocks into "realistic" objects, he tried to paint them abstractly, in a way which expressed their inner reality, their spiritual essence. Thus, for example, when he painted a tree he tried to express the way in which it grows. And then he tried to go even further. He tried to connect with the deepest levels of the human brain. As he explained in a letter to his niece:
Now, what else can the tree do? Well, it can be forced into what is called a Freudian form to touch a "button" in the brain and make us feel again the warmth and security of mother: This extra liberty taken in the form of anything is called poetry.
In fact, beauty for Nichols was fundamentally an attribute of desire. He was fond of quoting the 17th century Jewish mystic, Baruch Spinoza: "We do not desire a thing because it is beautiful, but it is called beautiful if we desire it." And for an understanding of desire, Nichols turned to a field of knowledge that was in active ferment in this period, Freudian psychology, with its focus on the unconscious, the subconscious and sexual desire.
Nichols's interest in psychology appears to have been an outgrowth of his involvement with advertising. It was in this period that advertisers first became aware that subliminal, subconscious messages could play a major role in stimulating sales, particularly messages with a sexual content. Nichols believed that we respond to every object symbolically, that we see it in terms of metaphors, and in terms of the projections of our desire. The skillful artist should exploit this fact. Thus:
For example, the mountain is the most dramatic shape encountered by man. Man looks up to this pinnacled pile of rocks and feels its overwhelming power. He is conscious of its greatness over himself. It becomes a symbol of strength and stability. The basic shape of a mountain is triangular. To build the elements of a picture into a triangle is to put into the painting the awe-inspiring strength and stability of the mountain.
Seen in this light, a Nichols painting is the symbolic expression of human desire and of man's relationship to the cosmic forces of nature. For Nichols his End of the Hunt of 1934 was not a painting of barns and snowy fields so much as it was an exploration of the mystical union of the male and female essence:
Foundations of building are at eye level for cathedral effect. Female curves in snowbanks, and other female symbols, especially in tracks and soft lines of snow on roofs and general shapes of trees, in the trees (buildings, of course, are also female) these give the charm of female appeal which is the strength of women. Also gives the picture gentle feeling of mother. The vertical lines of the man and his rabbit, including the trunks of the trees, are the strength of men, which is the theory of Havelock Ellis, English psychologist (studies the psychology of sex). Other gender symbols mentioned are Freudian. Also people tend to enjoy excavations, so I selected a farmyard with a hollow near the barn.
Of course, Nichols may have been misguided in his understanding of his art and of the reasons it had popular appeal. But then again, could it be that the strange appeal of a Nichols painting lies at this deeper level of expression?
Whatever one thinks of his art, the impulses that led him to make a painting are clearly very different from those which lead painters to create "mere realism"—they're something much stranger. And this raises the larger question of whether Regionalism as a movement—the art of figures like Thomas Hart Benton and Grant Wood—can accurately be dismissed as "mere realism," or whether it's also something more complicated and peculiar.