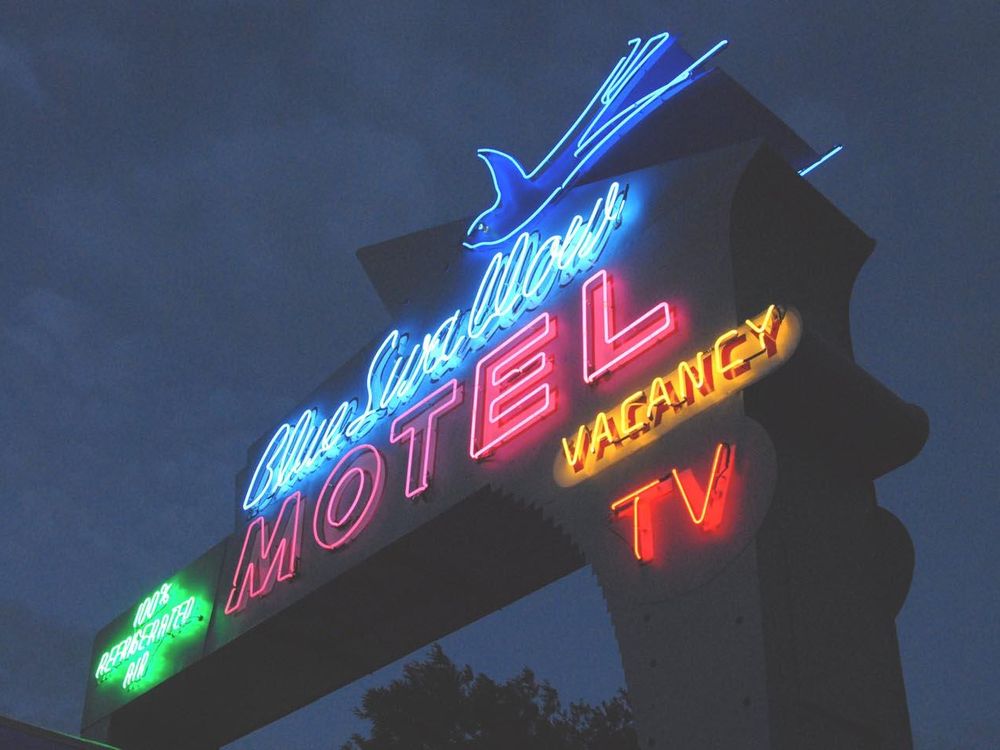 When planning a recent cross country car trip, Bobby Troup's famous ode to the Mother Road came to mind (the Chuck Berry version, of course), and I found myself knee-deep in Route 66 books, getting excited about old diners, hand-painted signage and oodles of neon.
It's no longer possible to go all the way on the original road. Once Interstate 40 blasted through middle America, much of Route 66 and all that it supported disintegrated. What's left alternates between ghostly buildings on weed-choked side roads and colorful signs leading you to tenaciously surviving storefronts.
I'm a big neon fan--a fall-girl for the bright colors and flashing animation--not only because I marvel at the compound artistry of metal, paint, electricity and glass, but also for the nostalgia. It takes me back to simpler times when everyone seemed friendlier, and keeping your doors locked seemed paranoid.
When it came time to stop in New Mexico, I chose the Blue Swallow Motel in Tucumcari because the books said its restored neon was worth the visit. No argument there: vibrant pink and blue, with a flashing swallow and the old fashioned sidebars advertising "TV" and "refrigerated air." Everything a neon junkie could hope for.
But there was more. The motel was originally designed in an "L" shape so as to encourage travelers to come out of their rooms and mingle. The current owners have embraced this spirit by adding seats and tables, and by taking a few minutes over check-in to get to know you a little. By the time you turn-in you've been introduced to fellow explorers, and you've let down your big-city guard. Glasses of wine are shared, email addresses are exchanged and heartfelt farewells are wished in the morning.
Reviving the neon is no small feat. Reviving the original Route 66 spirit--that's an art.