Getting to Know Whistler's Father
Whistler's mother is a superstar. But the painter's dad has languished in obscurity—until now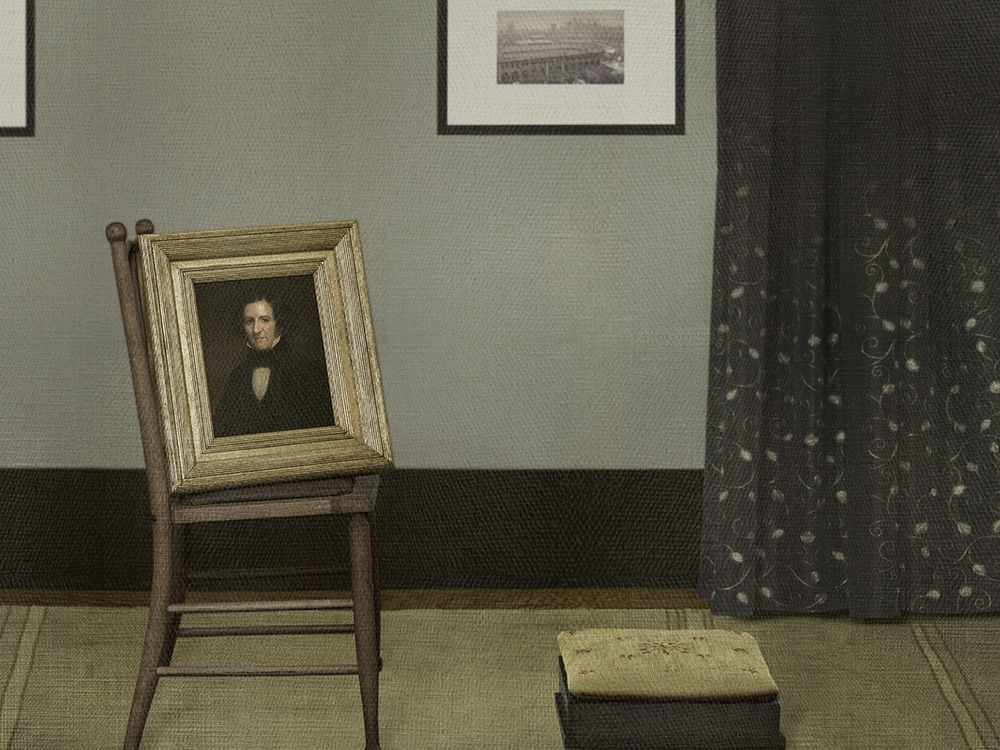 Through the security gate and down the stairs. Past the keypad and the card reader and the triple-locked door into a long, quiet hall of offices lined high and low with cabinets and bathed in artificial light. Around the corner from the pristine sculpture of the Buddha draped in clear plastic, you are introduced at last to the man you've come to meet—someone you do not recognize.
He is pink-cheeked and long-nosed and his high stiff collar seems to hover in the murk of a two-dimensional darkness. His eyes are very blue. He is 40, maybe 45 years old—soft at the jawline, pigeon-breasted and too full in the lips. There's something slightly wrong with the set of his shoulders. He wears an expression of inexpression, but the painting is so small, not quite a foot on each side, that it's impossible to say whether this is an attribute of the man or a failure of the portraitist.
This is Whistler's father. (Works by his celebrated son, James McNeill Whistler, are showcased at the Smithsonian Arthur M. Sackler Gallery through August 17 in "An American in London: Whistler and the Thames," the largest U.S. exhibition focused on the painter in a generation.)
Whistler's father hangs in the basement. Whistler's mother, on the other hand, is imprinted on your psyche and ensconced at the Musée d'Orsay in Paris. Arrangement in Grey and Black No. 1, among the most famous paintings in American art, rivals the Mona Lisa as one of the most recognizable, reproduced, iconic—and satirized—images in Western culture. By the square inch, Whistler's Mother, as the work is commonly known, measures 30 times the size of the father. By cruder metrics—dollar value or worldwide fame—their differences cannot be calculated.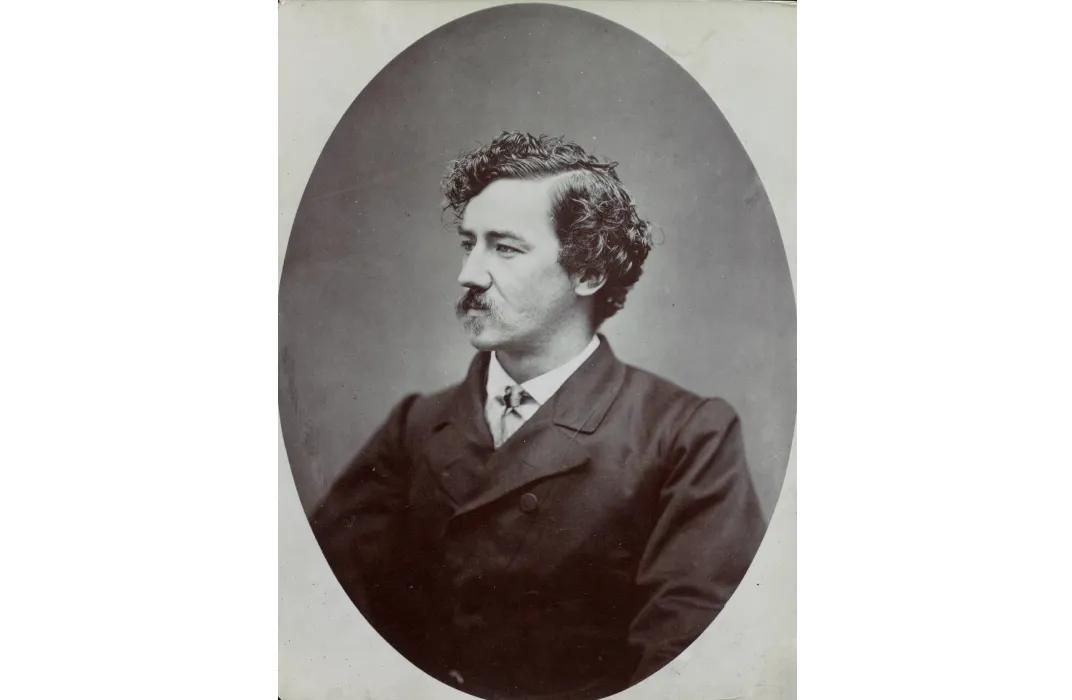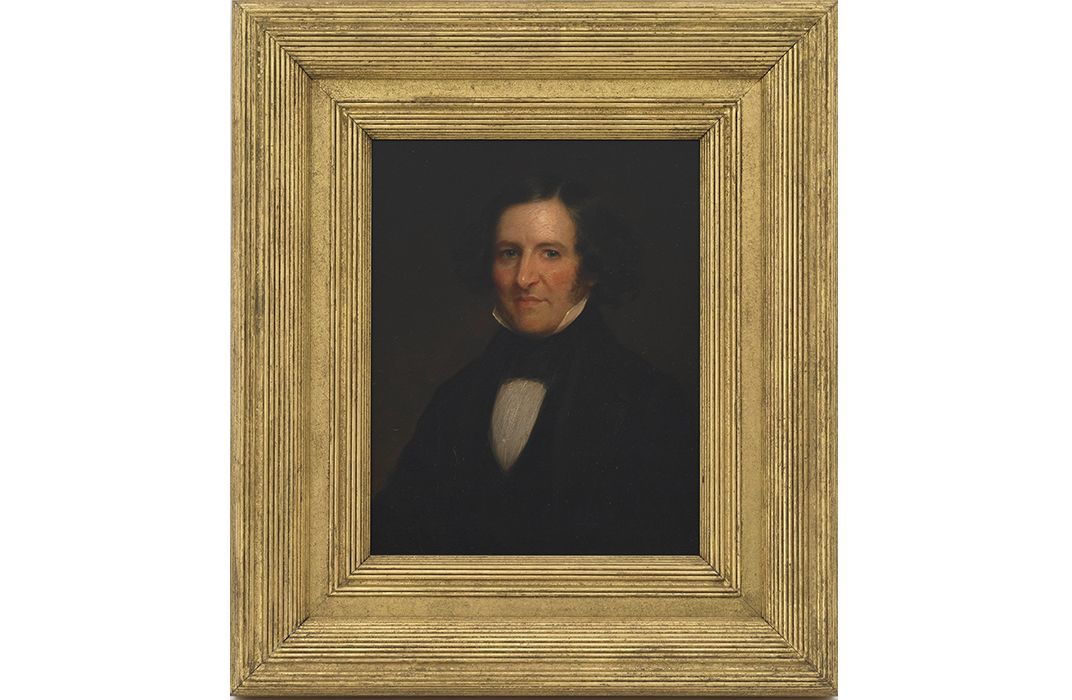 Kept safe downstairs at the Smithsonian Freer Gallery of Art, this small portrait of George Washington Whistler was likely done by an artist named Chester Harding. So this is probably a painting of a Whistler, rather than a painting by a Whistler. (The portrait has sometimes been attributed to Whistler the Younger, but the evidence doesn't bear that out.) It was acquired by Charles Freer in an effort to document the biographical record of perhaps the greatest American painter of the 19th century—some argue the greatest American painter ever—his friend, the subject's son, James McNeill Whistler.
Born in 1800, George Washington Whistler was a West Point graduate. A soldier, draftsman, engineer and builder with a knack for constructing railroads, he is credited with bringing the steam whistle to American locomotives. So wide was his renown in 1842— about the time of this little painting—that Czar Nicholas I hired him to build the Moscow-St. Petersburg railway. George Washington Whistler died there doing so, much too young, in 1849.
But he had already launched his son in the arts, and where the father sought precision in the clean angles of a surveyor's elevation and found permanence and beauty in iron and in the brightwork of steel and brass, his son set out after something more ephemeral and imprecise. Something weightless and fleeting and deep. Something like life.
He found it—or rather created it—in his paintings. Around the time he made that famous portrait of his mother, his twilight paintings from the banks of the Thames, his "nocturnes," were becoming quiet little miracles of complication and technique, of indeterminacy, of dynamism in their stillness. Their ingenuity lies in their absolute immediacy, as if a few casual brush strokes had captured a fast-vanishing moment. In truth they were works of long preparation and complex mechanics. Of engineering. All that painstaking effort made to give the impression that no pains were taken at all. Because what could be more American than making it look easy? Or making a railroad for a czar? Or making a reputation in the salons of London?
James McNeill Whistler is to this day our proto-Bohemian genius beatnik, a serial lover of women and wit and art for art's sake. His influence is still felt everywhere in American painting. And his endless blessing and eternal curse is to be held in the contempt of the familiar, to be forgotten and forever rediscovered by critics and by American audiences. With every new movement in art, Whistler earns his way back into the canon.
Father and son both imagined a better world, then fashioned it. And hidden in the story of every son is the story of every father. What father ever lived not wanting to be surpassed by his children?
In fact, what better Father's Day gift than to be happily eclipsed by a more brilliant son?