Getting Kids to Eat Their Veggies
A Q&A with Alice Waters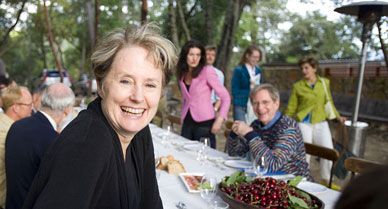 When the influential chef and natural foods advocate Alice Waters shows up on the National Mall this summer, she'll tend to artichokes, tomatoes and mesclun (greens and herbs). No, the founder of the legendary Berkeley, California, restaurant Chez Panisse hasn't taken a groundskeeper gig. She's participating in the Folklife Festival's Food Culture USA exhibit, where Smithsonian horticulturists are planting a temporary version of Waters' Edible Schoolyard. She started the garden-centric educational program at a Berkeley middle school about a decade ago to teach young people how food gets to the table—and how to eat better. Smithsonian spoke with the dinner-table diva this spring.
You say you can get any child to eat Swiss chard. That really happens?
You should see, after six weeks or so, they're all eating salad. It's a wonderful thing.
And they're not making faces?
No, because they were involved in the whole process. They have a kind of pride in it. They've made the vinaigrette themselves, they've tossed the salad. They've served their friends, they want to know what they think of it, they eat it themselves.
Can a food-based curriculum fill in for parents who can't—or don't—sit down for regular meals with their kids?
That's part of the idea. Parents aren't eating with their children anymore. They aren't communicating a whole sense of our culture around the dinner table, the place where we become civilized. We need to learn about the relationship of food to agriculture and food to culture.
What happens when kids learn to see that connection?
When kids grow food and cook it and serve it, they want to eat it. All of the very important ideas about sustainability and nutrition come in by osmosis. They're engaged with all of their senses. Once they've spent a year in the program, they know where the compost heap is, they know what compost is, they know when the raspberries are ripe, they know how to plant seeds.
Do adults need an Edible Schoolyard as much as kids do?
They absolutely do. But we need to get to these little kids and begin in kindergarten, so when they grow up, they'll understand this set of values.
What if money's tight and access to farm-fresh food is limited?
We need to learn how to cook. The cheap food that's available to people is killing them, making them sick. I think grocery stores change when people ask for certain things to be put in them, but nobody asks. When you're selling food in season, there's always a good price for one fruit or vegetable.
But how do you convince kids to choose arugula instead of a cookie?
You have to have an educational program to bring you into another relationship with food. Food is about care, and can be about beauty, and communication, and meaningful work, a whole lot of values that are way more seductive than what fast food has to offer you. I think kids are hungry for that.
— A. B.