From the Castle: Show and Tell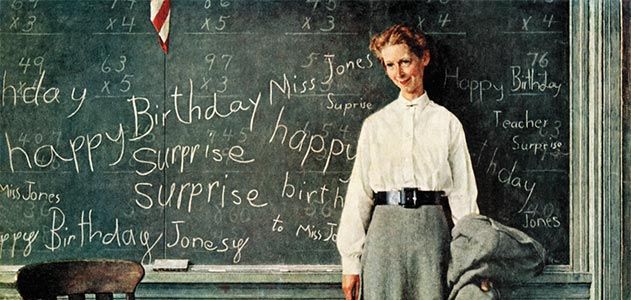 Steven Spielberg has an impressive art collection, but one painting always attracted his children's friends. "Nobody was stopped by the Monet, but [Norman Rockwell's Happy Birthday Miss Jones] arrests everyone's attention," he says. The painting depicts a classroom; pupils are sitting properly at their desks—except for one boy with an eraser on his head. He's probably the one who wrote "Happy Birthday Jonesy" on the blackboard just before Miss Jones arrived. Both Spielberg and his fellow filmmaker George Lucas admire Rockwell's ability to frame a story in a single painting; Lucas owns the preliminary sketch of Happy Birthday Miss Jones. The public can see the painting and drawing together, along with 55 other Rockwell works, in the Smithsonian American Art Museum's exhibition "Telling Stories: Norman Rockwell from the Collections of George Lucas and Steven Spielberg," on view through January 2, 2011. The show examines parallel themes in Rockwell's paintings and Lucas' and Spielberg's films, such as love of family and country, children growing up, Hollywood glamour and ordinary heroes. The exhibition and its catalog break new ground in probing Rockwell's fascination with the movies.
"If I hadn't become a painter," said Rockwell, "I would have liked to have been a movie director." He deliberately used cinematic devices such as staging, directing his models, selecting costumes and props, and hinting at prior actions. In Miss Jones, chalk smashed on the floor tips us off to how hurriedly the kids wrote their birthday greetings. Lucas explains that filmmakers often strive to convey a lot of information quickly. "Rockwell was a master at that...at telling a story in one frame," he says. And at conveying emotion; in her smile we grasp Miss Jones' appreciation for her pupils' affection.
The Saturday Evening Post was in my home while I was growing up—just as it was in both Spielberg's and Lucas' homes. Rockwell's cover illustrations (323 in over 50 years) spoke to simpler times. He captured our hopes and insecurities. Would we measure up and be able to leave home for the wider world? That question is also unforgettably addressed in the 1973 Lucas film American Graffiti. Other films by Lucas and Spielberg, such as Star Wars, the Indiana Jones series and Saving Private Ryan, reflect our country's values and culture. Thanks to Lucas and Spielberg, millions of visitors—in person and online (americanart.si.edu)—will enjoy Norman Rockwell in new ways. We are proud to host this storytelling bonanza.
G. Wayne Clough is Secretary of the Smithsonian Institution.