From the Castle: 'Forever' Institutions
Libraries, universities and museums are especially important in uncertain times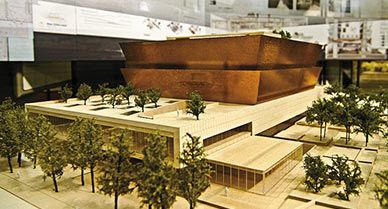 In 1920, the boston red sox sold Babe Ruth, their best player, to the New York Yankees, thus incurring the notorious "Curse of the Bambino." The Yankees went on to win 26 World Series, the Red Sox none. Until 2004, that is, when the Red Sox swept the Series in four games. This past April, I joined Brent Glass, director of the National Museum of American History, and 100 ardent (Is there any other kind?) Red Sox fans to accept a base used in the '04 Series and a jersey worn by Jon Lester, who conquered lymphoma to pitch the game that clinched the 2007 World Series for the Red Sox. Glass explained that the "Smithsonian is in the 'forever' business," and that such artifacts recognize our nation's abiding love of the game. Baseball is more than just a sport; its rich history mirrors civil rights achievements, triumph over adversity and other proud themes in our heritage.
"Forever" institutions such as libraries, universities and museums are especially important in uncertain times because they provide stability and continuity; they are at their best when they maintain their core values even as they face new challenges. For the Smithsonian, this means adjusting to recent financial downturns, younger generations' changing habits and new communications and networking tools.
Our buildings are also in the forever business. In April we announced the selection of Freelon Adjaye Bond/SmithGroup as the architectural team (four collaborating firms) to design the National Museum of African American History and Culture (NMAAHC). As the museum's founding director Lonnie Bunch III remarked, this building will "sing for all of us." David Adjaye, a Tanzanian-born architect who is the lead designer, observed that the building celebrates "an incredible journey." It features a large bronze-layered "corona," or crown, on top of a stone porch—a powerful space inviting visitors to experience the African-American story and its messages about justice, resiliency, spirituality and creativity.
Team member J. Max Bond Jr., a highly distinguished African-American architect, died in February; continuing his firm's work on the team will be Peter D. Cook, a great-grandnephew of Julian Abele, a pioneering but under-recognized African-American architect who designed Harvard's Widener Library and much of Duke University. (An article about Abele appeared in the February 2005 issue of Smithsonian: Washington Monument. Seeing its spectacular design has been one of the highlights of my first year as Secretary.
G. Wayne Clough is Secretary of the Smithsonian Institution