From the Castle - FDR's Stamps
FDR's Stamps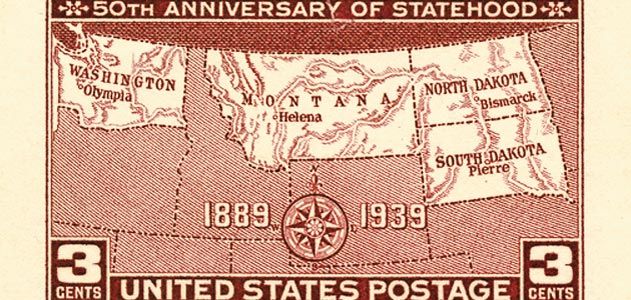 Presidents need relaxation, whether playing golf or clearing brush. Franklin Delano Roosevelt said he owed his life to his hobbies—"especially stamp collecting." "Delivering Hope: FDR & Stamps of the Great Depression," an exhibition at the National Postal Museum (NPM), tells the story of Roosevelt's passion. He began collecting stamps at the age of 8. They gave him stories from history and also solace during his long recovery from polio. As president, FDR used stamps as a means to help restore the nation's confidence. New stamps highlighted national parks, world's fairs and engineering feats like Boulder (Hoover) Dam. FDR suggested themes, images, colors, even designs. This small but compelling exhibition features six original stamp sketches by FDR—including a map tracing Byrd's Antarctic expedition, Whistler's famous painting of his mother for Mother's Day and a bust of Susan B. Anthony to mark an anniversary of women's suffrage. The issuance of 20 billion "Win the War" stamps—with a design selected by FDR, an eagle's wings forming a V for victory—turned letter-writing into a patriotic act. The president's wooden stamp box accompanied him everywhere, except on his final trip to Warm Springs, Georgia, where he died April 12, 1945. His friend Minnie Astor had borrowed the box to commission a leather replica for a Christmas gift. You can see the wooden stamp box and the rest of the exhibition at the NPM until June 6, 2010, or at postalmuseum.si.edu/deliveringhope.
"Artful Animals," on view at the National Museum of African Art, is another compelling exhibition. It is hard to ignore an elephant. "When an elephant is thin," goes an African proverb, "its meat will still fill a hundred baskets." But no one would guess that a whimsical wooden coffin shaped like an elephant would welcome visitors to "Artful Animals," through February 21, 2010, and at africa.si.edu/exhibits/animals.
"The exhibition will engage your mind and tickle your heart," says museum director Johnnetta Cole. The 130 artworks and Eliot Elisofon Archives photographs feature familiar, unusual and even fantastical animals, including the Chi Wara—a mythical creature that is part antelope, aardvark and pangolin (scaly anteater). Animals serve as metaphors for human traits. A butterfly knows where nectar can be found, symbolizing knowledge; a crocodile eats a river's fish, symbolizing power. The art offers insights into human relationships: with nature, the spirit world and one another. Exhibitions such as these enliven the mind and touch the soul—the Smithsonian at its best.
G. Wayne Clough is Secretary of the Smithsonian Institution