For Smithsonian, Mangione Memorabilia 'Feels So Good'
The jazz flugelhornist and composer kicks off Jazz History Month with a donation to the National Museum of American History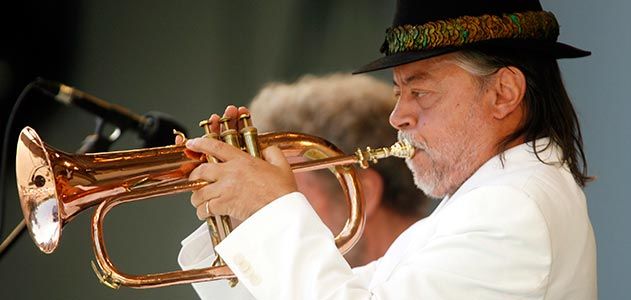 You might not recognize Chuck Mangione's mega-hit "Feels So Good" by its title, but take a listen. Chances are you'll recognize the timeless smooth jazz classic instantly. And then you'll probably be humming it the rest of the day.
The soft-spoken American jazz flugelhornist and composer Chuck Mangione just signed away a cache of his musical memorabilia to the Smithsonian's National Museum of American History yesterday. Included in the donation were his signature brown felt hat, scores to his most important works (including the Grammy-nominated single "Feels So Good," among others), albums, photographs, and more - even an animation cell from "King of the Hill," the television series on which Mangione has appeared as himself.
Mangione hit it big with "Feels So Good," the smooth jazz instrumental title track from his 1977 album, which spent a week atop the Billboard adult contemporary charts. Just a few years after the track's release, the 1980 issue of Current Biography called "Feels So Good" "the most recognized melody since The Beatles' "Michelle." Today "Feels So Good" remains a staple of smooth jazz radio stations everywhere.
Mangione is renowned for his melodic – yet highly proficient - style on the flugelhorn, which is slightly similar to the trumpet in appearance, but has a darker, fatter, mellower sound). "He's got a beautiful tone on the flugelhorn (and) he's got terrific jazz chops," states Dr. John Edward Hasse, Curator of American Music at the Smithsonian Institution's National Museum of American History. "He worked with some of the best and most demanding bands – Woody Herman, Maynard Ferguson, Art Blakey – and has achieved popularity with an accessible, very appealing style."
Mangione received a great deal of musical encouragement from both his parents, and began taking trumpet lessons at age ten. His father exposed both Chuck and his brother Gap to many of the best jazz artists of the 1950s, including family friend Dizzy Gillespie. Gillespie would join the Mangiones for spaghetti and Italian wine whenever he was in town, and would become one of Mangione's biggest influences. "I regard him as being my musical father," Mangione has said. A 15-year old Mangione impressed Gillespie with his playing so much that Gillespie gave him one of his trademark upswept trumpets.
Chuck and Gap began playing together in high school in a bop quintet called The Jazz Brothers, and continued to do so while Chuck attended the Eastman School of Music from 1958-1963. It was there at Eastman where Chuck first picked up the flugelhorn. After earning his Bachelor's degree in music, Mangione picked up his trumpet and took off for New York City, freelancing with various bands, eventually joining Art Blakey and the Jazz Messengers on the recommendation of Dizzy Gillespie.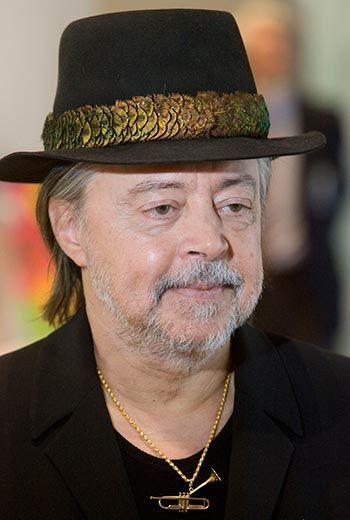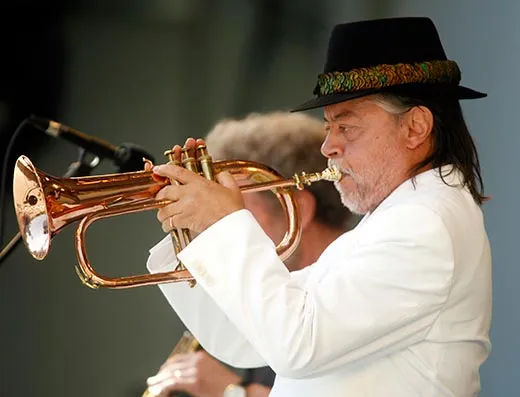 Mangione later returned to Eastman as the director of the jazz ensemble from 1968 to 1972. Though he started off on the trumpet, Mangione began focusing on the flugelhorn around 1968, forming a quartet that included saxophonist/flutist Gerry Niewood. (Tragically, Mangione recently lost Niewood and another member of his band, guitarist Coleman Mellett, when Continental Airlines Flight 3407 crashed in Buffalo, N.Y. in February, 2009)
In 1970 at Eastman he guest-conducted the Rochester Philharmonic playing his music in concert (with Chuck on flugelhorn). This recording would go on to be the Friends and Love album, though it was "never initially intended to be an album," just an independent release of a live performance. However, it ended up leading to a record deal with Mercury and a 1971 Grammy nomination (Best Instrumental) for "Hill Where The Lord Hides."
The 70s were a kind decade to Chuck Mangione, as he released several well-received albums and racked up Grammy nominations. He picked up his win first in 1976 (Best Instrumental Composition) for "Bellavia," and later a second in 1978 (Best Pop Instrumental Performance) for his soundtrack for the film The Children of Sanchez. And of course, he closed out the decade in style, releasing the aforementioned Feels So Good album in October of 1977. Led by the smash single of the same name, the album was certified platinum by April of the following year and piqued the public's interest in jazz.
"It's very catchy, it's rhythmic, it's accessible, and it's fresh. It doesn't sound like anything else out there. Or it didn't at the time…It's one of those recordings that has helped expand the audience for jazz," says Dr. Hasse, of Mangione's mega-hit. "One cannot even hazard a guess how many young musicians were brought into the grand hall of jazz and became players of jazz because they got hooked on that recording."