For Perusing Pleasure, Zandra Rhodes' New Online Fashion Archive
The honored Brit—50 years in the business—goes for the bold in her designer collections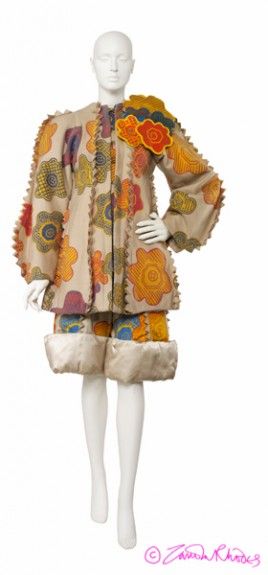 If you want to lose a few hours, head over to the online fashion archive of designer Zandra Rhodes.
Born in 1940 in southeast England, the pink-haired, flamboyantly dressed Rhodes was first exposed to fashion by her mother, a fitter for a Paris fashion house. She immersed herself in sartorial studies, and more specifically textile design, when she enrolled in the Medway College of Art and then the Royal College of Art before opening her own London boutique with Sylvia Ayton in 1967, the Fulham Road Clothes Shop. She got her break in 1969 when Diana Vreeland featured a few of her pieces in Vogue. From there, Rhodes began selling clothes at Henri Bendel, among other well-known boutiques, and she's been quite prolific ever since.
Over 500 pieces from the designer's collection and thousands of sketches spanning her almost 50-year career were made available to the public this past March in a project developed by the University for the Creative Arts in England (where she was made the school's first chancellor in 2010 and where her mother had been a teacher when it was called Medway). While the Zandra Rhodes Digital Study Collection emphasizes Rhodes' most prolific period, from the 1970s and into the '80s, it also ventures back to when she began designing in the mid- to late '60s and covers her career through the present.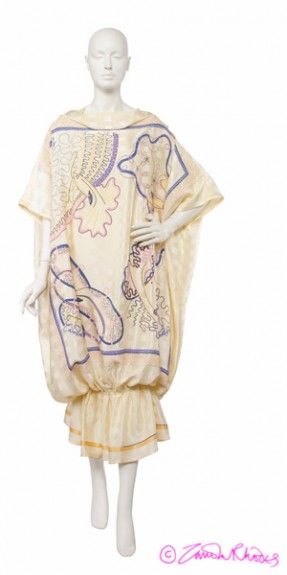 She's not only attracted attention and made a name for herself as a result of her bright shock of hair, but also because she has a keen eye for textiles, silhouette and color, and designs that are chock-full of historical references like hobble skirts of the 1910s, drop-waisted looks from the 1920s and tailored construction of the 1940s. Celebrities, dignitaries and punk luminaries including Freddy Mercury of Queen, Diana, Princess of Wales, Jacqueline Onassis and Debbie Harry all wore or have worn her designs. And she was bestowed the honor of Commander of the British Empire by the Queen in 1997!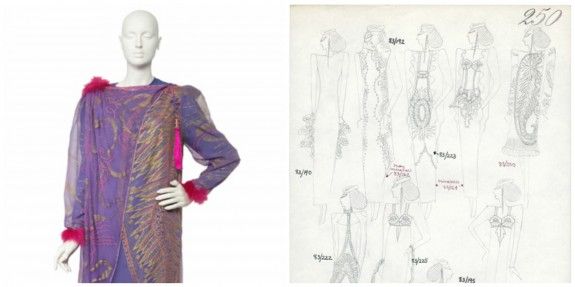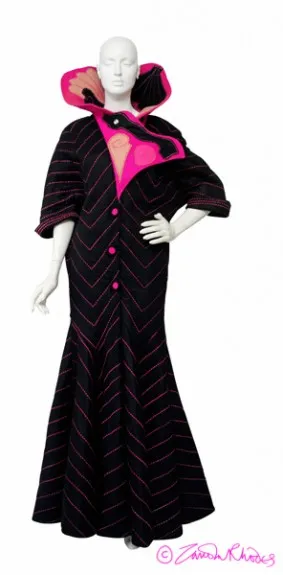 While pieces of her collections can be found at the Victoria & Albert Museum, the Metropolitan Museum of Art and the Smithsonian, this new digital collection is a one-stop archive of her work. It's also meant to serve as a tool for fashion students. Sort through her designs by season (The Cactus Cowboy Collection! The Magic Carpet Collection! The Shell Collection!), objects, techniques, textile designs and fabrics. A series of videos, including tips on screen printing, patternmaking and hem stitching contribute to the richness of this educational resource. And "Ask Zandra" provides insightful facts and historical commentary about her collections.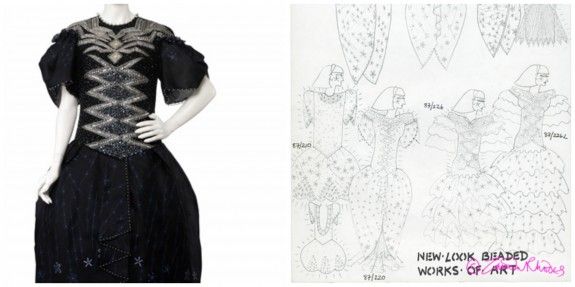 Click on random collections for the most surprising, and satisfying, way to peruse the online archive. And with other archives from museums and private collections going digital, including the soon-to-be-launched Europeana Fashion, it's only a matter of time before the fashion studies tool kit is almost entirely virtual.
To see a few Zandra Rhodes originals, check out the Metropolitan Museum of Art's recently opened show, Punk: Chaos to Couture, open May 9 – August 14, 2013 in New York City.