FOR HIRE: Secret Service Agent
Our new series looks at the jobs you wish you had. First up, the agency's highest-ranking woman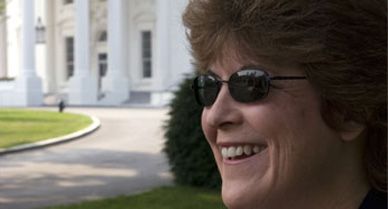 Established in 1865 to stanch the flow of counterfeit money circulating at the end of the Civil War, the Secret Service has been entrusted with a dual mission since 1901: to protect U.S. currency and political leaders. Julia Pierson has headed protective operations for the White House and served on security details for Presidents George H. Bush, Bill Clinton and George W. Bush. Now the agency's highest-ranking woman and head of the Office of Human Resources and Training, Pierson lets Smithsonian.com in on a few of the service's secrets.
How did you get into this line of work?
Initially, I got involved with the Law Enforcement Exploring program, a co-ed division of the Boy Scouts of America. As I became more involved, first at a state and then a national level, I met some Secret Service agents. It was through this exposure to special agents that I thought this might make an interesting career.
When I first joined the Secret Service in 1983, I was right out of college, having spent the last two or three years of my college experience working as a police officer for the city of Orlando, Florida. I knew law enforcement was my area of interest and really had a personal passion toward serving others. I enjoyed being a police officer; I enjoyed the investigations. I also wanted an opportunity to travel and see what the protection side was like.
What's the training or background required?
When you start with the Secret Service, all agents receive training at the Federal Law Enforcement Training Center in Glynco, Georgia. You learn basic law, constitutional law, investigative techniques, how to effect an arrest, basic firearm tactics. Our second phase is at the James J. Rowley Training Center, in Beltsville, Maryland. Rowley really focuses on counterfeiting and cyber crime and devotes time to the protection duties. In all, it's 27 weeks. About 50 percent of special agents have previous law enforcement experience, but it's not a prerequisite.
In high school, I worked at Disney World. I started off in the parking lot, advanced to watercraft, and I wore one of those character outfits for a while in Americans on Parade. To this day, I think the experience of dealing with large crowds at the park had a good influence on my ability to do that sort of work with the Secret Service.
Describe your average day.
In the field offices, you're doing interviews or meeting with the U.S. Attorney in the morning, and meeting with a victim or criminal in the afternoon. In the evening, you might go to a briefing about a protective visit the next day. Our field agents have the most variety in terms of doing a little bit of everything. It's about 50-50 investigation and protection.
In protective operations [guarding the president, vice president, candidates and their families at the White House or on travel], there are three shifts: day, evening and midnight. The interesting thing about protection is that when you're traveling, the clock is changing, and your shift can get extended. Even just the logistics of trying to get a relief team to you can extend your shift. You're pretty much responsible for the whole duration of the trip.
What's the most interesting part of the job?
The diversity of assignments. One day you can be on a protective assignment, staying in a plush hotel, with an interesting political theme, whether it's a convention or a campaign or other significant world event. And then the following week you could be serving a search warrant on a criminal element related to a financial-fraud investigation. I joke all the time that we train our agents to have a little bit of an attention deficit disorder. There isn't any task that I could assign that couldn't be done in a two-week time frame.
What was your most exciting moment on the job?
As a brand new agent reporting for duty in Miami, I was assigned to one of our first credit card fraud investigative teams. I came back from school [training], went to the bank and filled out my application. They sent me an ATM card and a password, both of which were intercepted by criminals in the mail. My first paycheck was wiped out at the ATM. I went back to the bank—it was one of the banks I was going to be working with—and said, "Can you help me out here?" And they said, "No, sorry." So that was an interesting way for a young officer to get started in the Secret Service.
The most dangerous moment?
On September 11, 2001, I was on presidential protective detail. We didn't know if what was happening was a prelude to more attacks. I was in charge of making sure everyone was accounted for. Clinton was in Australia at the time, and President Bush was in an aircraft.
What are the downsides?
Perhaps the biggest downside is juggling your personal life. We're getting prepared right now for the [next presidential] campaign. Agents will spend 21 days out, come back for 21 and then go out again. These trips can be very exciting and interesting, but life continues to happen around them. If you have a sick family member or other family matter, it can be very awkward to manage. And on protective assignments, you and the other agents are living with each other, traveling with each other, eating lunch with each other, spending your lives with each other. It can be challenging.
What's the biggest misconception about the work?
That it's all protection work. People don't realize the investigative duties that we have. Besides counterfeiting, we investigate cyber crime and electronic access device fraud. We have joint jurisdiction with the FBI for bank fraud. We're responsible for providing communications support for the president and those at the White House. We also have an intelligence group, and maintain liaisons with the military and state and local law enforcement to keep pace with any potential threats.
On the protection side, most of what we do is not bodyguard work. The bulk of what we do is really related to protecting the environment. We refer to it as side advance. We get there ahead of time, look for vulnerabilities and devise a security plan that mitigates as many of those vulnerabilities as we can. And that's really the magic of what we do in protection. If we can protect the environment, we can protect everyone within that environment.
Any advice for someone interested in a Secret Service career?
Whether you're an English major or studying a foreign language or getting a fitness or sports-type degree, there could be a niche for you here. You don't have to be 6-feet-4-inches, 300 pounds and built like a linebacker. We encourage agents to let us know what they want to do. We want to know their areas of interest, and we try to match them up with those kinds of assignments. You constantly hear our employees talk about the mission. I think that goes to the Type-A personalities we attract, and the criticality of being able to multi-task and meet deadlines. We're a small agency with a large mission. Our size gives us the ability to have more personal knowledge of each other as employees. Some people call it a cult, other people call it a family, but I do think it's unique.
Siobhan Roth is a writer in Washington, D.C.