When most of us go through the personal belongings of a loved one who has died, we're picking through worn sweaters, pieces of jewelry and maybe a collection of photos. For Lisane Basquiat and Jeanine Heriveaux, going through their brother's belongings meant sifting through hundreds of original artworks, records, books and memorabilia. If your sibling was the beloved artist Jean-Michel Basquiat, you don't donate his used paintbrushes to Goodwill. You preserve and document them, with great care, for future generations to experience.
"We had a lot to work with," says Heriveaux, of the vast archive she and her sister—with the help of curator Ileen Gallagher—culled down for the exhibition "Jean-Michel Basquiat: King Pleasure." The show first opened at Chelsea's Starrett-Lehigh Building in New York in April 2022 and is now stationed at the Grand LA in downtown Los Angeles through October 15, 2023. Their father, Gerard Basquiat, created and cared for his son's estate until his death in 2013, when the sisters took over. "Our dad held on to a lot of things," Heriveaux says. "He held on to report cards and immunization records. We knew we would have an extensive amount not only of the works Jean-Michel created, but the ephemera that he lived with."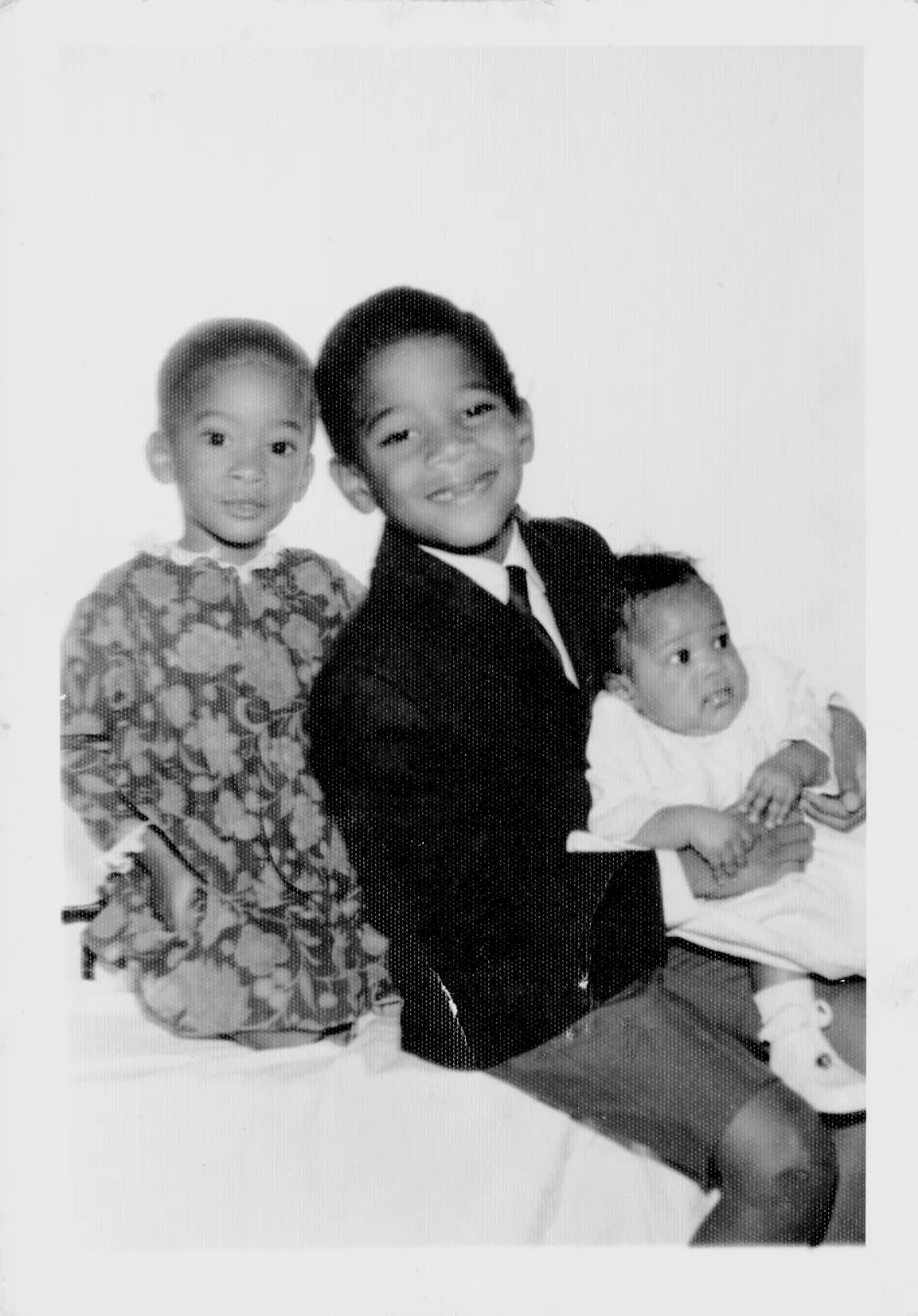 As someone who appreciated Basquiat's work starting back in high school, I understood him, like most people, from a distance. He was the legendary American artist who captured the energy and chaos of 1980s New York in ways no one has before or since. His paintings are often a wild mix of image, text and graffiti, sometimes abstract, sometimes childlike. He didn't limit himself to canvas, and he would paint on blankets, doors and refrigerators, some of which are on display in "King Pleasure." His work provokes discussions about economic injustice, black identity, power and racism in America. Once his work got noticed, Basquiat went from couch-surfing and bumming cigarettes to becoming a guy who was led past velvet ropes and handed glasses of champagne by wealthy collectors. Twenty years after his death, in 2008, art dealer and friend Jeffrey Deitch wanted to get one of Basquiat's paintings into President-elect Barack Obama's White House.
"He's just one of our great artists who just continues to inspire, and it would be a great symbol to have a work of Basquiat in the White House," Deitch said at the time. The art dealer successfully arranged for one of Basquiat's artworks to hang at an event during the president's final Christmas in the White House.
In 2021, Beyonce and Jay-Z posed for a Tiffany & Company ad campaign with Basquiat's painting Equals Pi. The background of the canvas matches Tiffany's signature robin's-egg blue, and critics of the campaign called the image "perverse," saying that the artist himself never would have endorsed a luxury brand. But if Basquiat had lived, he may well have posed right alongside the celebrity couple. We'll never know.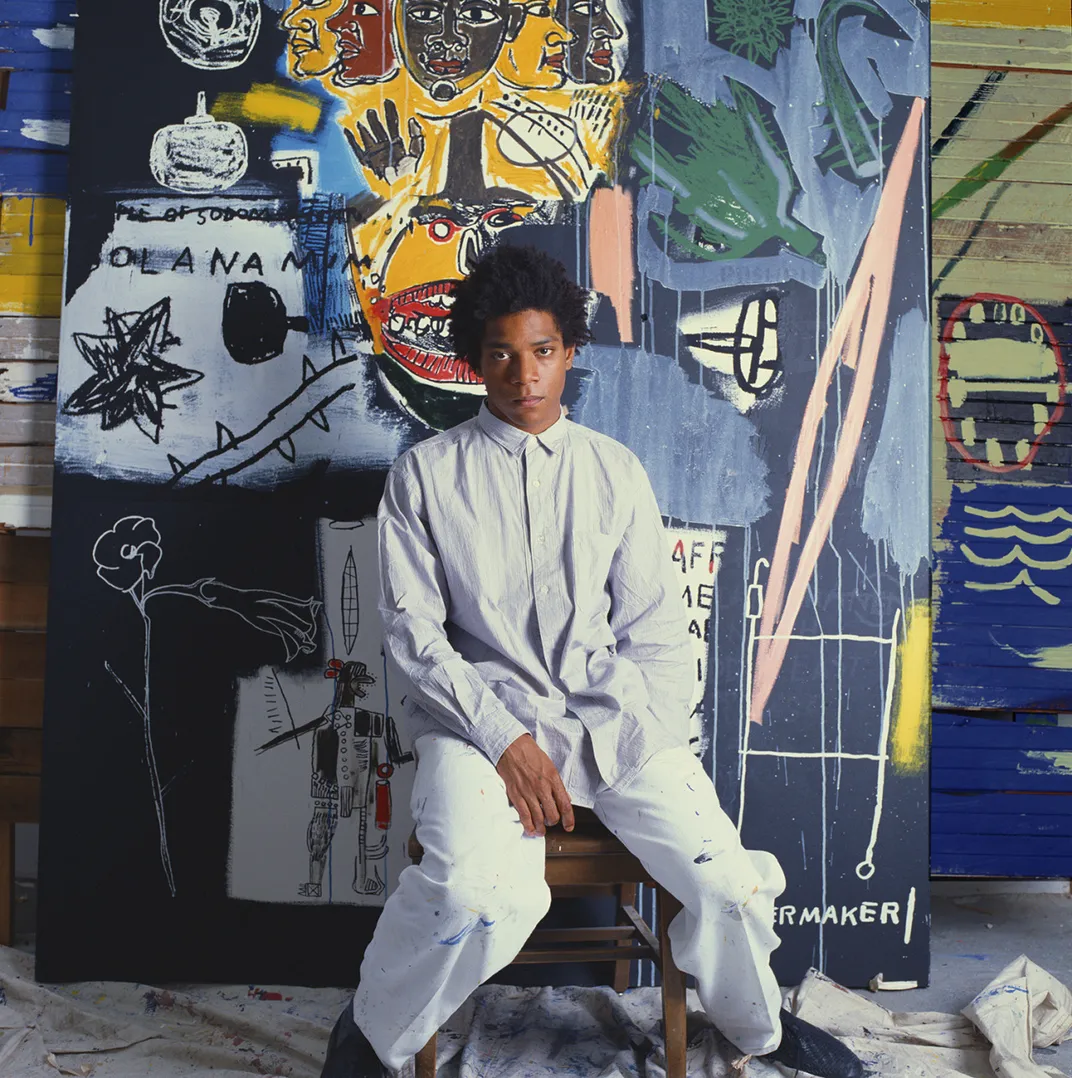 Basquiat was an iconic tragic figure, like Jimi Hendrix, Jim Morrison or Janis Joplin, who died way too soon—of a heroin overdose in 1988, when he was just 27 years old and at the peak of his career. In my twenties, I watched Julian Schnabel's 1996 biopic Basquiat with wide-eyed admiration. I saw Basquiat as a massive talent, a friend of Andy Warhol and Madonna, a true original with integrity who was catapulted to the greatest heights of the art world. One of his works would go on to sell for a record-breaking $110.5 million in 2017, the highest amount paid at auction for a piece of art created in the United States at the time.
When I walked into the "King Pleasure" exhibition in Los Angeles this past April, none of that mattered—the famous friends, the eye-popping sums of money. What mattered was Basquiat's childhood, his family, his ties to his parents and siblings. To do the collection justice, the sisters wanted to work with Gallagher, specifically. Gallagher, who is based in New York, had curated the immersive Rolling Stones experience "Exhibitionism," which opened at London's Saatchi Gallery in 2016 before moving to New York. It brought the band to life through recreations of the one-bedroom apartment shared by Mick Jagger and Keith Richards in their youth and displays of memorabilia that took fans through a personal history of the music. When Basquiat's sisters were thinking of bringing their brother's legacy to life, they reached out to Gallagher, who said yes without hesitation.
"I was absolutely thrilled by the opportunity and the ability to create a kind of new paradigm for an art exhibition," Gallaher says. For her, it's important to evoke an intimate experience and "not to do a curatorial 'voice of God' talking to you."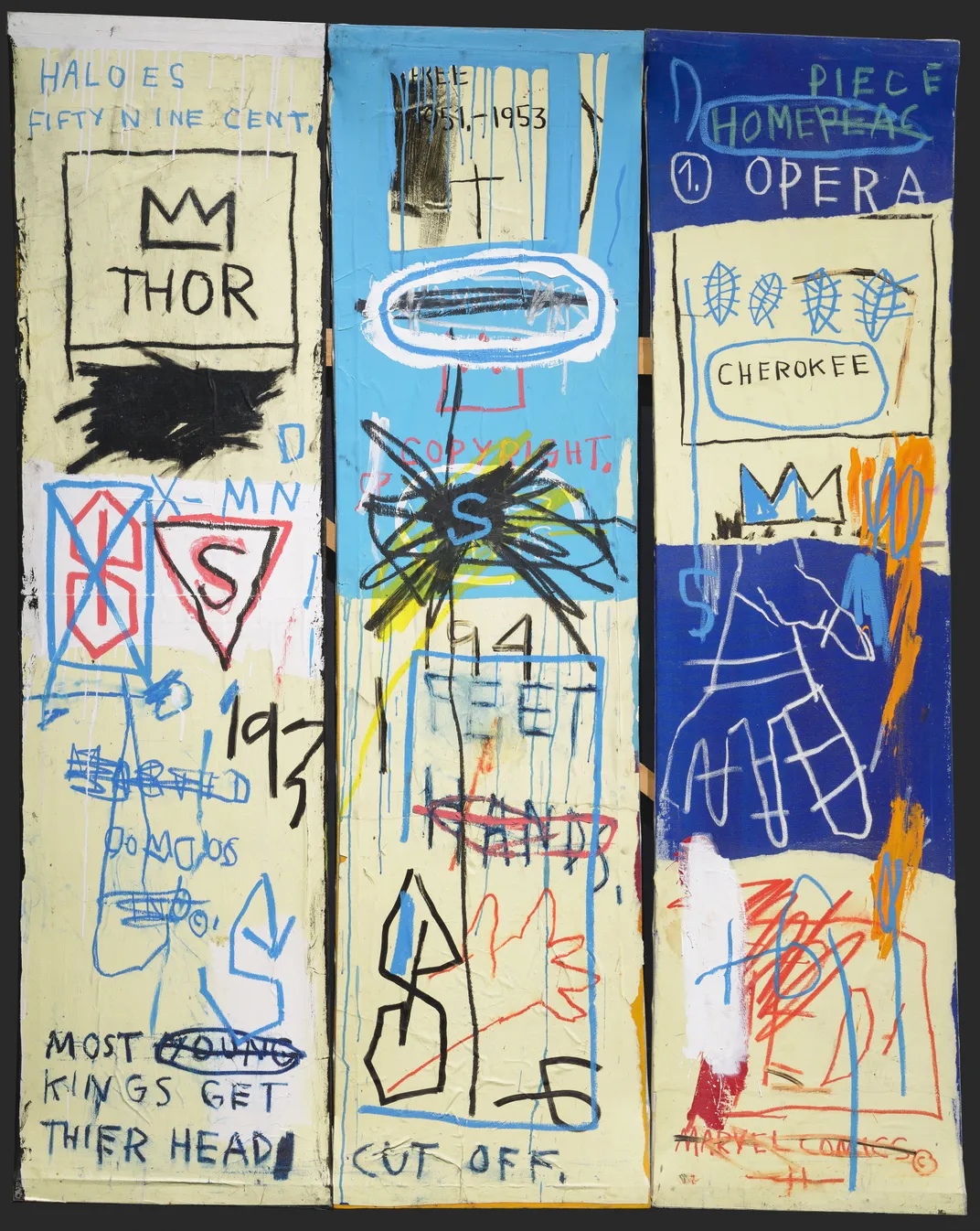 Walking around the "King Pleasure" exhibition, I was struck by the wall placards and the way that Basquiat's art and objects are described not in esoteric art world terms but in loving, even playful ways, often from the perspective of his siblings. Instead of reading about Neo-Expressionism (a movement that emerged around the early 1980s characterized by expressive, sometimes frenetic brush strokes and a rejection of formal composition), you'll learn that as a kid, Basquiat loved to pull pranks. You'll see a recreation of the Brooklyn kitchen he shared with his Haitian father, Puerto Rican mother and his siblings, with furniture and knickknacks that his sisters say were part of the actual home.
"We wanted to humanize him as an artist and what it was that created this person based upon the layers he had from his childhood and his everyday life," says Heriveaux.
Gallagher says that giving people the chance to walk through spaces and recreations allows them to more authentically reflect on the lives of artists. "It gives people a window into his [Basquiat's] life because you are not just looking at it but walking through it," she says. "It's more of an immersive experience for visitors when they're surrounded by things that person touched. It creates a stronger emotional connection."
Gallagher, Heriveaux and Lisane Basquiat started meeting via Zoom during the Covid-19 pandemic, which wasn't exactly the ideal way to cull through a collection. They made the best of it, sharing concepts and designs for the various spaces and rooms created by Ghanaian British architect David Adjaye. They "powered through," says Gallagher, who says it took over 18 months to create the exhibition, which feels warm and vibrant, and ends in a large space pulsing with hip-hop, bright colors and 1980s New York nostalgia. She and the sisters bonded via Zoom and eventually met in person. They came to refer to themselves as "the three broads from Brooklyn."
"Ileen became more connected to our brother than she probably ever thought she would," says Heriveaux.
The sisters shared stories of growing up, photos of Jean-Michel as a child and grainy home videos of him as a baby. The final exhibition contains more than 200 artworks and artifacts from Basquiat's life, many of which have never been shown to the public, arranged in a way that takes you from his Brooklyn childhood to his time as a burgeoning New York artist to the years when he went from obscure painter to a worldwide superstar, hanging out with Warhol and gracing the cover of the New York Times Magazine in 1985, barefoot and wearing a black suit, looking at the camera with nonchalant defiance.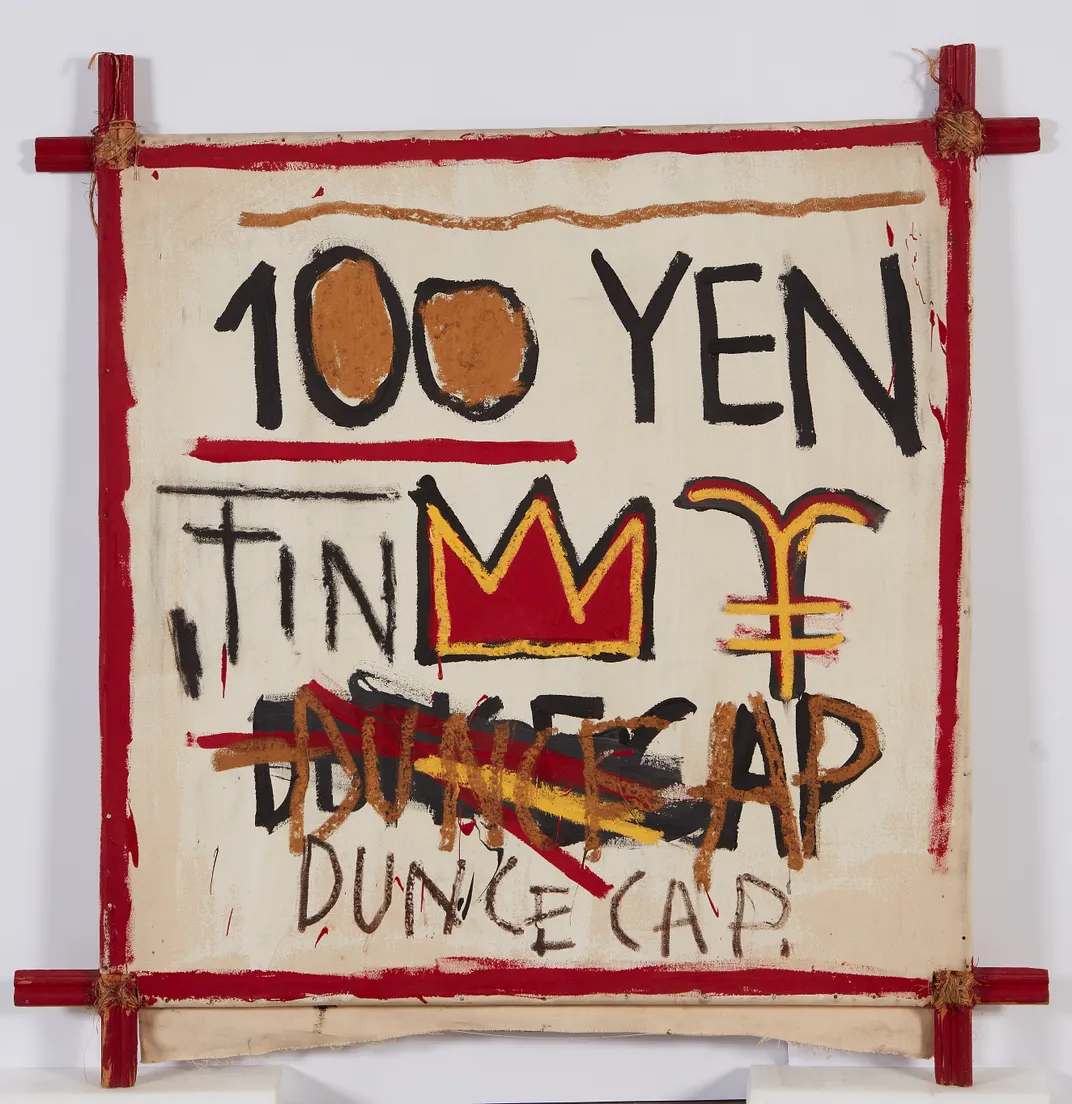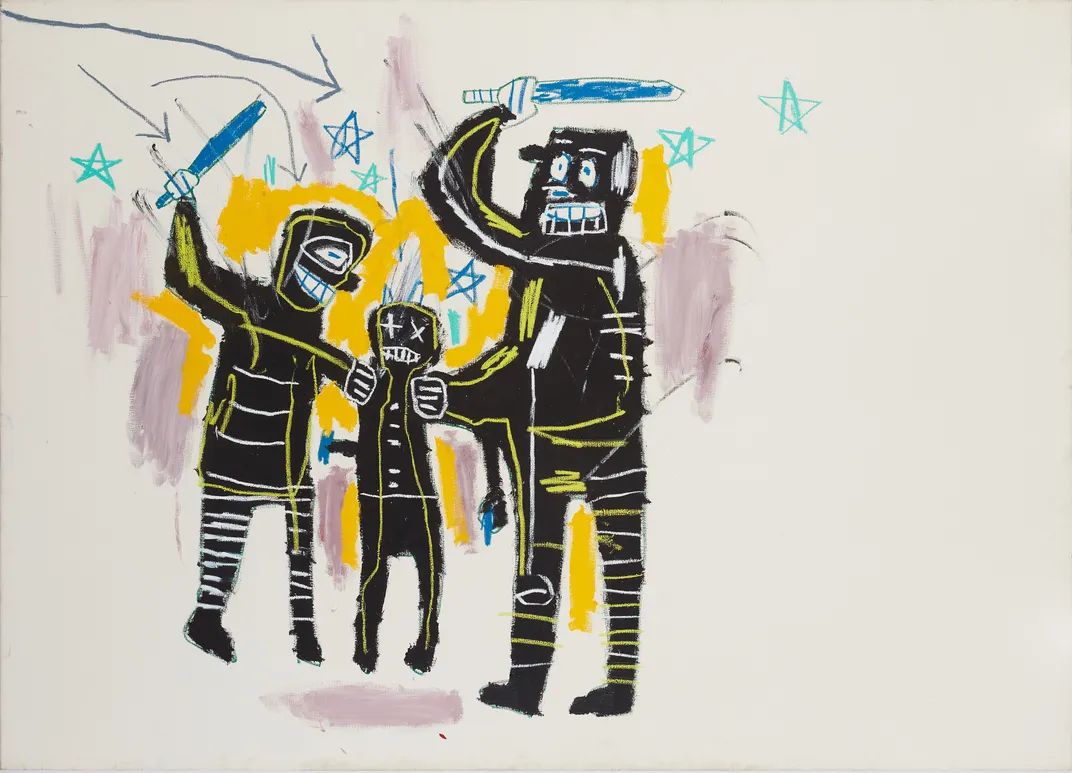 Some of those artworks include early drawings and sketches of colorful, sometimes humorous characters. In his studio, you'll see his 1982 painting Untitled (100 Yen) and the undated Untitled (Quick Cash Shoe Business). His 1983 painting Jailbirds, which depicts a scene of police brutality, is included. At the end of the exhibition you'll see one of the last paintings he created, Dry Cell, which belongs to the family. It shows a large monkey standing against a deep yellow background, framed by an imperfect circle and Basquiat's scrawling text.
As you make your way through the show, you'll see videos of the sisters, along with close friends like gallery owner Annina Nosei and Deitch, who delivered the eulogy at Basquiat's funeral. Deitch tells the story of the first time he visited Basquiat in his studio. He looked around at all the paintings and drawings scattered around the room, but he was most astounded by an old beat-up refrigerator covered in drawings and symbols.
"Jean-Michel is the epitome of 'stand by your truth and stick with your passion,'" says Heriveaux. "He had unwavering dedication to wanting to pursue his career by any means necessary."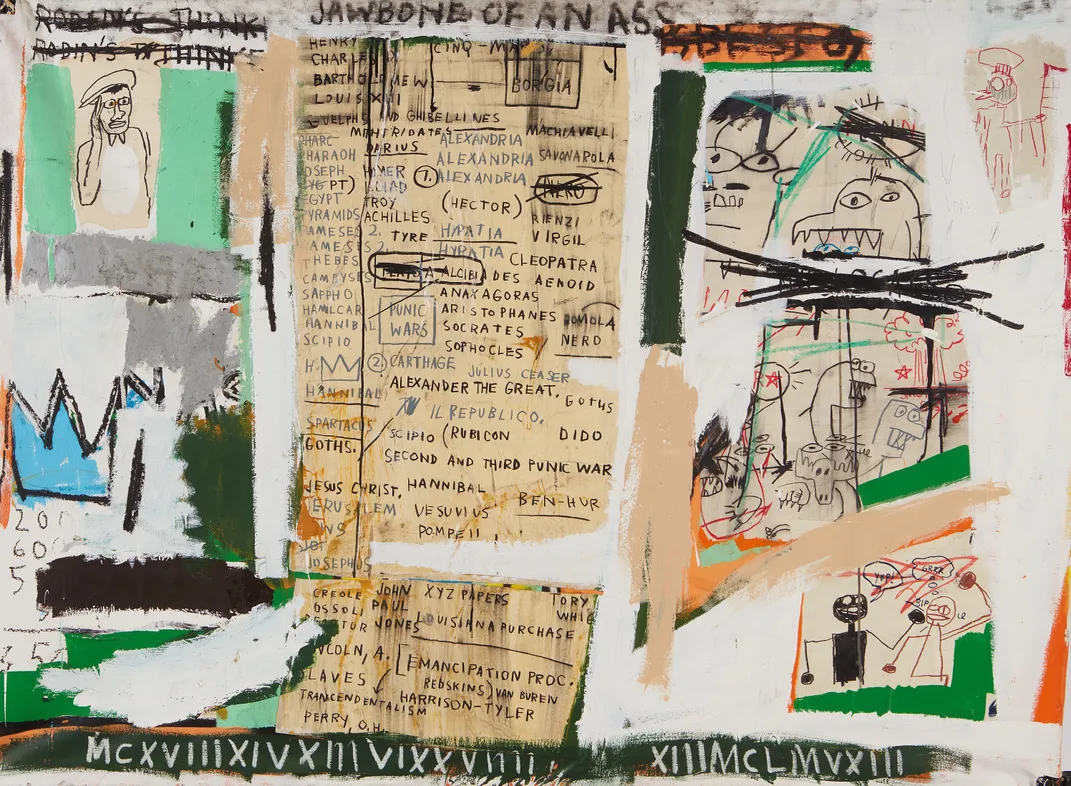 That dedication might be most apparent in the centerpiece of "King Pleasure"—the recreation of his studio. The day I visited, it seemed to be the space that people lingered in the longest. It was chaotic, beautiful and free of pretentious explainers or clinical assessments of how Basquiat painted, and why. A wine glass he drank from rested on a table, and jazz records he was listening to sat on a record player. Music he loved played from speakers in the studio, immersing you in Basquiat's world. Old rags hardened by paint and ashtrays sat on tables; his trench coat hung on a wall. A wooden ladder he climbed to reach the top of a large canvas stood in the corner. It's a space that's hard to leave, if you love Basquiat's work.
"If we didn't get the studio right, it would not be a success," says Gallagher.
Heriveaux says that seeing the studio recreation for the first time allowed her to take a moment and soak in the months of hard work it took to pay tribute to her brother's life in this way. "Someone took a photograph of Lisane and I standing in front of the studio recreation hugging each other," she says. "That moment was very emotional for the two of us."
The exhibition moved from New York to Los Angeles in March 2023, and Basquiat and Heriveaux partnered with P.S. Arts—an organization that helps provide music, dance and art to public school students—for Thursday Family Art Nights, where kids can paint or see the show for free. People who came in June could stay for live DJs and drinks on Friday nights, and the sisters plan to incorporate more entertainment and programs that draw people to the space. They hope people will experience a deeper exploration of the life and work of their brother, and that a younger generation will be exposed not just to his work, but to his beliefs and his views of American culture, to what made him laugh or paint or create. They hope one takeaway will be their brother's ability to listen to himself and to the world around him. His brilliance was in exploring racism or social injustice with a fierce passion and, at times, a streak of that humor they knew so well during his childhood.
"I've done a lot of work around the loss of Jean-Michel," says Lisane Basquiat. "Going through this process of looking at his artwork and diving into the meaning of certain things was a deeper level of healing. It was an opportunity to connect front and center to this tragedy that happened decades earlier, from the perspective of where we are today."
"Jean-Michel Basquiat: King Pleasure" is at the Grand LA in downtown Los Angeles through October 15, 2023.