Five Ways to Eat Matzo
Thinking outside the charoset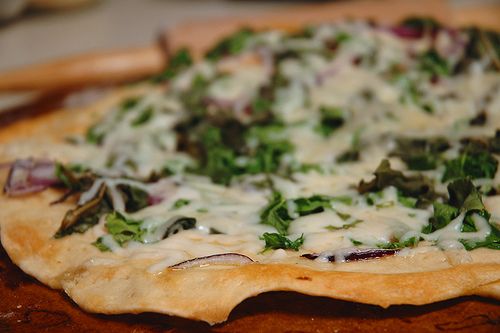 Yesterday Brian Wolly gave a "Gentile's guide" to keeping kosher at Passover. Despite being non-Gentile (that is, Jewish), I found it helpful myself, since I grew up in a secular family that observed Passover as part of our cultural heritage rather than religious belief. Our celebration was mostly about food and tradition (though we were not, as with the converted dentist in an episode of Seinfeld, only "Jewish for the jokes"). Whether you're keeping kosher or not, the unleavened bread called matzo (also spelled matzah or matzoh) is a mainstay of the festival—and not just for schmearing with chopped liver or charoset.
Here are five ideas for taking matzo beyond the seder:
1. Matzo Brei. Matzo brei, broken pieces of matzo dipped in egg and fried, is Jewish comfort food, delicious in its simplicity. It's good for breakfast with maple syrup (hmm, is that kosher? Brian?) (Ed. -- yes) or cinnamon sugar, or you can get fancy with savory versions. Melissa Clark at A Good Appetite has added lox and onions to sate her Passover longing for bagels. Or take a cue from Mexican cuisine with matzah chilaquiles, a twist on the fried tortilla dish—try Jewish Fusion's version or just replace the tortillas in a standard recipe (this Guadalajara style chilaquiles recipe sounds promising).
2. Savory Pies and Bakes. Last night I tried a recipe for spinach and matzoh pie from Gourmet magazine (via Epicurious), and it was as advertised: an easy variation of spanikopita, with matzo instead of phyllo dough and tangy feta cheese and dill. That got me thinking that matzo could probably also stand in for lasagna noodles; sure enough, I found a number of recipes. Albion Cooks recommends a spinach and ricotta filling; Cooking Light adds eggplant and mushrooms; Jamie Geller, of Joy of Kosher, offers a recipe for whole wheat butternut squash matzo lasagna that sound good.
3. Grilled Matzo Sandwiches. Just because you're observing Passover doesn't mean you can't simultaneously celebrate Grilled Cheese Sandwich Month. The blog Cheese and Champagne found a simple version with cheddar to be lacking in comparison to the standard, so maybe this is the time to get creative—Grilled Shane combines charoset and brie, which sounds like a perfect flavor combination, and Doves and Figs soaks the matzo in Passover wine before grilling with cheddar, for a "drunken Passover grilled cheese." You could also interpret it as a matzo-dilla, adding veggies, beans and salsa.
4. Matzo Salad. A lighter idea comes from Diets in Review, a variation on panzanella—a salad of tomatoes, cucumbers and basil with matzo pieces in place of the traditional bread cubes. Even better, it can replace the flatbread in the Middle Eastern salad called fattoush, as offered by Two Lazy Gourmets.
5. Dessert. The Kitchn calls this caramel and chocolate–topped matzo candy "matzo crack." My aunt makes a similar, delicious recipe with only chocolate and nuts (I don't know if the link goes to the same recipe she uses, but it sounds similar), and I can only imagine the addition of caramel would make it even better. If you like the flavor combination of wine and chocolate (and if you don't, who are you?), Cooks.com shares a chocolate matzo torte recipe that should fill the bill.