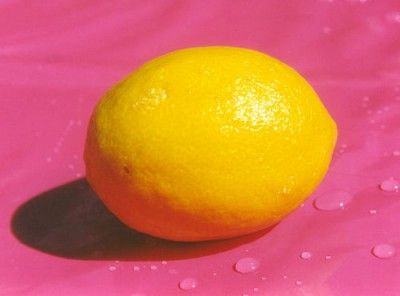 In spring a Northerner's fancy turns lightly to... anything other than the same old starchy winter vegetables I've been eating for months. I don't remember if this used to happen to me when I lived in a snow-free climate, but now that I live up north the only things I'm craving more than balmy breezes and flowers at this time of year are bright, sunny flavors to perk up my palate. Lemon fits the bill nicely. Not only does it add zippy flavor to everything it touches, a bowlful of lemons doubles as both cheerful table decor and subtle home fragrance. I've never seen anyone use rutabagas as a centerpiece, and I'm pretty sure parsnip-scented dishwashing liquid would be a commercial flop.
Plus, lemons have been curing scurvy since the 1600s—and providing entertaining videos of pucker-face babies since at least the dawn of YouTube.
If life hands you lemons, say, "thank you," and don't limit yourself to lemonade. Here are five ideas:
1. Breakfast. The best time to wake up your taste buds is first thing in the morning, no? You could go sweet, topping your favorite morning bread product with lemon marmalade, a sophisticated alternative to orange. (If you're going to make it yourself, you might want to hold out for Meyer lemons—they're a little sweeter and have thinner, tenderer rind). Or try fluffy lemon-ricotta pancakes, which use only the zest (squeeze the juice to use later, or mix up some Bloody Marys, if it's that kind of morning). If you're more a savory breakfast type, go for the whole classic New York bagel schmear: cream cheese, lox, capers, red onions and thin lemon slices (tomatoes are also a possibility, if you can find good ones at this time of year).
2. Soup. A recent Inviting Writing essay (with recipe) by a reader who tried to perfect her mother-in-law's avgolemono soup may have sparked my latest round of lemon obsession. The ultra-lemony soup is one of Greek cuisine's many delicious uses of the citrus fruit. Lemon also brings lentil soup into new and exciting territory (a squirt of lemon juice can even—almost—rescue bland, over-salted canned lentil soup, I find).
3. Main dishes and sides. The possibilities here are endless—chicken or fish piccata (I like this variation using miso paste); lemon pizza; lemon risotto (Giada de Laurentiis serves it in a lemon cup, if cute presentations are your thing); sole meunière, the French dish that Julia Child said changed her life; and Lee Lum's Lemon Chicken is one of the recipes I've been wanting to try from Amanda Hesser's The Essential New York Times Cookbook (originally published in the paper in 1969), but I haven't been able to find water chestnut flour.
4. Desserts. For people like me who like their sweets cut with some tartness, this is the category where lemon truly shines. Last year I made a lemon tart from Cook's Illustrated that came out brilliantly, if I do say so myself (the link is blocked to non-subscribers, so you can sign up for a 14-day trial or try this one with a pine-nut crust, from Epicurious.). Nigella Lawson's lemon polenta cake sounds good. And for the true lemon lover, Smitten Kitchen offers a recipe for Shaker lemon pie that uses macerated thinly sliced Meyer lemons, peel and all. Those Shakers sure had some interesting ideas for baked goods. Of course, I would be remiss if I didn't mention an American classic, lemon meringue pie.
5. Drinks. Now, I've got nothing against lemonade, especially on a hot summer day. But why not at least jazz it up with basil, mint or—though I can't advocate it—cilantro? It certainly wouldn't be out of the question to add some vodka to any one of those concoctions. Even better, do as Tyler Florence does, and make icy lemon-ginger vodka cocktails or, if you can wait 80 days, make your own limoncello. And did I mention the Bloody Mary? Well, it bears repeating.