Five Ways to Eat Cabbage
It's versatile and found in cuisines throughout the globe. Stuff it, fry it, shred it and more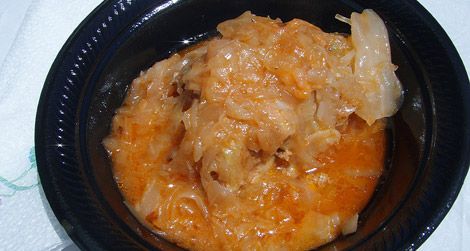 After potatoes, perhaps no vegetable has kept more bellies full in more places through winter than cabbage. It's cheap, it's filling, and it's available long after a lot of other vegetables have gone into hibernation.
It's also versatile and is found in cuisines that span the globe. Whether green, red, savoy or napa, here are a few ideas to keep you inspired through spring.
1. Stuff it. Nearly every country between Poland and Lebanon has its own version of stuffed cabbage rolls, each a little different. In Hungary, they're called Töltött Káposzta and might be stuffed with ground pork and served with sauerkraut, paprika and sour cream. In the Arab countries of the eastern Mediterranean, they're called Mahshi Malfuf; they're stuffed with ground lamb and rice and flavored with allspice, cinnamon, garlic and lemon juice. The ones my mom used to make were probably of Polish-Jewish origin, stuffed with ground beef and cooked in a sweet and sour tomato sauce, similar to this version of Holishkes from Epicurious. For a vegetarian take, this Russian recipe stuffed with apples, dried apricots, raisins and spinach and served with sour cream sounds interesting.
2. Stock your soup. I can't condone eating cabbage soup every day, as one of the crazier (and most intestinally distressing) fad diets has suggested, but the ingredient does deserve a place in your soup repertoire. I like to add shredded napa cabbage, which has thin, frilly leaves, to minestrone soup; this version, from Food52, includes zucchini and green beans, but you could easily substitute fall and winter vegetables. A simple German soup, from Teri's Kitchen, combines shredded cabbage with onions, rice, nutmeg and a garnish of shredded Swiss cheese. And for a recipe that is defiantly not on the cabbage soup diet, try Closet Cooking's creamy cabbage and double-smoked bacon soup, which also includes sausage and grainy mustard.
3. Fry it. My favorite way to prepare cabbage is probably to stir-fry it—it's not mushy or limp, as it can get when boiled, and it's not dry and starchy, as it sometimes tastes when raw. Plus, it absorbs flavors perfectly—from a simple Chinese-style soy sauce, garlic and ginger mixture to a complex, Indian-spiced dish with potatoes, Aloo Patta Gobhi Sabzi. Or go soul food–style, frying up some cabbage with bacon, garlic and crushed red pepper.
4. Shred it. Slaws are usually thought of as a summer side dish, but they also make a good stand-in for green salads in the colder months. I Really Like Food suggests adding apple, celery, red bell pepper and autumn spices like cinnamon, nutmeg and cloves for a seasonal twist on cole slaw. And, as a transplanted Southern Californian, sometimes I've gotta have my fish taco fix, which wouldn't be complete without a little shredded cabbage and lime juice—like these ones from Koko Likes.
5. Pickle or ferment it. Germans and Koreans independently came up with the idea to ferment cabbage, with very different but equally delicious results. If you're ambitious—and patient—you could try making your own sauerkraut or kimchi. Or you can do the shortcut version of either, though they will have a less pungent flavor: A quick kimchi recipe on Epicurious takes only 3 1/2 hours to pickle, rather than days, and Brian Boitano (yes—the figure skater—he now has a show on the Food Channel) improvises a quick sauerkraut to serve with Schnitzel by cooking shredded cabbage with German beer, vinegar and mustard seeds.