First Lady's Inaugural Gown Arrives at Smithsonian
Michelle Obama donates her Jason Wu gown to the First Ladies' Collection at the National Museum of American History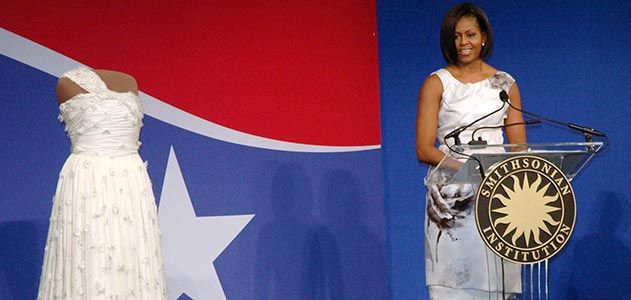 This morning, the National Museum of American History announced via Facebook and other more traditional outlets that it would close for the morning. The occasion was the arrival of first lady Michelle Obama's inaugural ball gown.
The floor-length gown is a white chiffon, one-shoulder affair that sparkles with Swarovski crystals. In fashion circles, it has been labeled everything from "frothy and girlish" to "dignified and elegant." But this morning, it became historic when the museum's director Brent Glass noted the nearly century old tradition that brings the president's wife to the Smithsonian to donate her inaugural ball gown to the much-loved and much-visited collection of first lady artifacts, which dates back to Martha Washington.
But today's ceremony had a decidedly new century flare to it, guided perhaps by first lady Michelle Obama's request to invite 36 students, along with their chaperones, who are enrolled in a fashion program at Long Island, New York's, Huntington High School. Mrs. Obama asked the group to stand and be recognized. They had sent to her, prior to the 2009 inauguration, a portfolio they'd assembled of all of their creations in hopes that one of their designs might be chosen. Certainly careers were in the making as a number of fashion reporters present in the audience asked to see the students' book.
And at her side was the now world-famous Manhattan-based designer, the 27-year-old Jason Wu, who recalled that night in 2009, when Mrs. Obama had chosen his dress. "Frankly, I had no idea my design was being seriously considered until I, along with the rest of the world, saw Mrs. Obama step out on television. Imagine my surprise."
Launching fashion careers seemed to be Mrs. Obama's agenda for the day: from the students in the audience to the young Wu, who noted to the crowd, "to say that she has changed my life is truly an understatement," to the dress she was wearing today by one of her more recent fashion finds—Prabal Gurung, who just this year launched his first runway fashion show.
"So, here we are," she began in a self-effacing style. "It's the dress," she said pointing to the headless mannequin now fashionably attired in Mrs. Obama's former frock and which would later in the morning be moved auspiciously to its glass vitrine at the center of the new gallery that opens March 10.
"I am very honored and very humbled," she continued. "But I have to say that I'm also a little embarrassed by all the fuss being made over my dress." And to laughter, she added, "I'm not used to people wanting to put things I've worn on display."
But of course this was not just any dress and even the first lady knew that. For history, as we know it, is little more than an assemblage of personal stories. Looking at the gowns housed at the Smithsonian, Mrs. Obama recognized that generations of visitors coming to see her dress might ask if the train may have tripped up her husband several times throughout the evening or if the Jimmy Choo shoes caused her feet to ache. The items, she noted, "help us understand that history is really made by real live people."
"When I look at my gown—which I, in fact, have not seen since the day that I took it off—memories of that moment truly come rushing back," she said. "I remember that it was freezing cold in Washington. I know we all remember that. Yet, despite the frigid temperatures, hundreds of thousands of people flooded the Mall. Nothing was going to stop them from being part of history."
Mrs. Obama recalled standing with the president in the reviewing stand at the inaugural parade, waving until "every last band walked by." And then realizing, with mock horror, that she had less than an hour to dress for the night ahead.
But she told the crowd: "I'll never forget the moment that I slipped on this beautiful gown. I remember how just luscious I felt as the president and I were announced onto the stage for the first of many dances. And I'll cherish that moment for the rest of my life."
The new gallery, "A First Lady's Debut" opens tomorrow, March 10, and will include 11 gowns worn by first ladies from Mamie Eisenhower to Michelle Obama. Together the two galleries that make up the "First Ladies at the Smithsonian" exhibition will feature a total of 24 dresses and more than 100 other objects, including portraits, White House china and personal items.