Fallen Star
When Mary Decker crashed to the ground at the Los Angeles Olympics 20 years ago this month, a young photographer was there to catch the anguish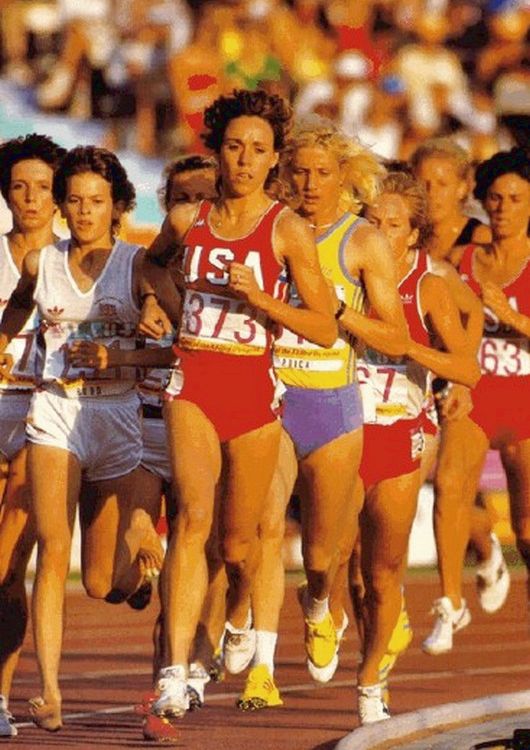 The curse of the sports photographer has always been redundancy. Year after year, city after city, he travels in a pack, following the competitive grind in pursuit of images that rise above decorating the box scores and go on to shape our collective sports consciousness. David Burnett's first shot at capturing that kind of history came in the 1984 Summer Olympics in Los Angeles. Mary Decker, a world-class runner and an American sweetheart in the tradition of Peggy Fleming and Chris Evert, was competing in the 3,000-meter race on the last day of the track-and-field events. No longer "Little Mary Decker," the pigtailed girl-wonder from New Jersey who'd set her first American record at age 14, she was now 26 and fresh from victories in 1,500- and 3,000-meter races at the World Championships in Helsinki the year before.
Her spitfire appeal promised to make the race a highlight of the Games 20 years ago this month. That she would win was a given. But the beauty of sports, of course, is that no conclusion is ever really foregone.
Burnett, then 37, was on assignment for Time magazine through Contact Press Images, the photo agency he co-founded nine years earlier. "I had been covering track and field for about a week," he recalls, "and I was surrounded by all these photographers with eight billion lenses and motor-drive cameras up the wazoo." Frustrated, he broke from the group assembling at the finish line in Memorial Coliseum, where the track circled a football field. "I thought, The hell with it, I'll find someplace where I don't have to fight to sit or stand. So my assistant and I wandered down the track and found a great little spot opposite the 30-yard line. The light was falling nicely in the afternoon, and it was very quiet. The funny thing is, all the photographers I knew were finding a place to be—a sun shot, or with Decker's mother for a tearful moment—to get a special picture." Then, one of the most unforgettable events of the Games happened right in front of him.
Zola Budd, an 18-year-old South African known for racing barefoot, had gained notoriety for joining the British track squad under questionable circumstances, her native country's apartheid policies having led Olympics officials to ban it from the Games. With less than three laps to go and Budd leading Decker, the two made contact, and Decker tripped, crashing to the ground. "My first thought was, 'I have to get up,'" Decker would later tell Sports Illustrated. "It felt like I was tied to the ground."
Tom Jordan, a track-and-field promoter, was in the coliseum stands. "I was in a state of shock," he recalls. "It was a feeling like, Stop the race. We have to do this over again."
Budd finished seventh in the race, in tears before the more than 85,000 fans, most of whom, it seemed, were booing. Track officials initially disqualified Budd for obstruction, then reinstated her after viewing films of the race. Her career would never quite fulfill its potential. These days, Budd lives in Bloemfontein, South Africa, where she raises a family and reportedly runs for pleasure, without the stress of competition.
The year after the Los Angeles incident, Mary Decker Slaney—she married British discus thrower Richard Slaney in January 1985—defeated Budd in a heralded rematch in London, and she would defeat Budd in their two subsequent meetings. But injuries plagued Slaney, and in 1997 she was alleged to have used a banned performance-enhancing substance. She served a two-year suspension from competition before track officials exonerated her. All told, she set 36 U.S. running records and about 17 official and unofficial world records. In 2003, she was inducted into the National Distance Running Hall of Fame.
Meanwhile, track and field, it might be said, has grown up. "The sport has become much more professional in the past two decades," says Jordan, who is meet director of the Prefontaine Classic, an annual track-and-field event in Eugene, Oregon. "The pay is better, and athletes have agents, massage therapists, psychologists, as well as coaches." Success, once measured in wins and margins, is now as much a matter of shoe endorsements and movie cameos. And yet track stars don't garner the sort of attention they once did. From 1980 to 1985, Decker graced the cover of Sports Illustrated four times, a number matched by just one other woman—supermodel Elle Macpherson, whose bikini'd appearances don't exactly celebrate athleticism. Track-and-field athletes have appeared on the magazine's cover 100 times in its 50-year history—but only five times in the past decade.
Slaney, who did not respond to requests to be interviewed for this story, lives in Eugene, Oregon, and continues to train. "I think '84 is probably the Olympics that I should have won, or that I could have won, I guess, had I not fallen down," she told Eugene's Register-Guard this past year, adding: "I look at it as history, Olympic history, and it truly feels like it was another lifetime ago."
What remains vivid in the memory of that August afternoon is Burnett's picture of a crumpled and inconsolable Decker straining toward a victory that seconds before had hovered within reach. The photograph, an instant classic, has shaped, if not replaced, our memory of the event and come to be regarded as a painfully precise representation of dreams dashed. "That was the day," Burnett says, "I really became a sports photographer."