Exploring the Video Art of Fiona Tan
Take a tour of the contemporary artist's innovative work in a new exhibit at the Sackler Gallery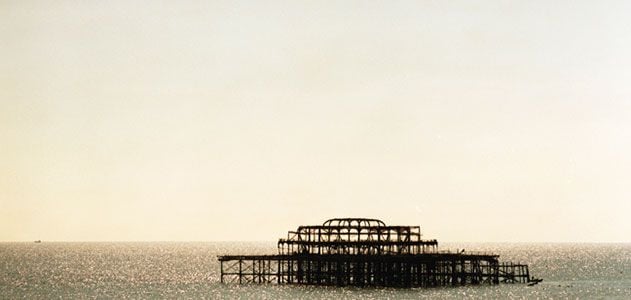 On a recent dismal Thursday, I took refuge from the rain in the underground chambers of the Smithsonian Institution's Arthur M. Sackler Gallery of Art. There, I met up with the museum's curator of contemporary art Carol Huh and was introduced to the exhibition, "Fiona Tan: Rise and Fall," a one-woman film and photography show of portraiture bridging time, memory, identity and culture.
Fiona Tan's work is shown around the world, with exhibitions in Washington D.C., London, Tokyo, Vancouver, São Paulo and Venice in 2010 alone. In 2009, she represented the Netherlands at the prestigious Venice Biennale contemporary art exhibition, for which she created the video installation Disorient, which explores Marco Polo's 25-year journey across Asia. Tan was born in Indonesia in 1966 to a Chinese father and Australian mother. She grew up in Australia and moved to the Netherlands in 1988 to study art, where she has lived ever since. As a child of mixed heritage, Tan has long explored identity and memory in her art.
It's the visage of the tousled-haired artist that confronts the visitor in the exhibition's first piece, a video entitled n.t. (Leidsestr.), named after the Amsterdam street where the work was filmed. The video depicts Tan standing stoically, eyes on the camera in the middle of a bustling street. She appears isolated as life flows around her in dizzying, fast-motion. Daylight moves from one side of her face to the other, indicating that a not insignificant amount of time has passed.
Wizarding Portraits
Inside the exhibition, the galleries function as screening rooms with visitors settling comfortably on the divans to experience Tan's photo ensemble Provenance. The enchanted portraits of Harry Potter lore come easily to mind, as Tan's six subjects move around in the image and sometimes even leave the frame. They are people from Tan's life—her mother-in-law, a neighbor, her grocer and his son, the daughter of a friend, a filmmaker, and her own son.
Tan, says Huh, is inspired by a charming earlier tradition in which "there was a belief that if you commissioned a painting of your children, that it somehow protected them."
Sweet Sentiment 
In Tan's book, also called Provenance, she writes of her hope that the portrait of her son "will in turn be a talisman for my children—something to forever protect them from ill health and from evil, and that will bear witness to my love for them when I myself no longer can."
According to Huh, Tan was strongly influenced by the Dutch masters, choosing to use black and white and focus on "the essence of light." In the portraits, the camera lingers on her subjects and their immediate surroundings like an awkwardly extended gaze. "In those uncomfortable moments, stuff happens," says Huh. "The subject changes on you, and your perception of that subject changes. There may be a slight expression change, a moment where the gaze is returned to you."
Rise and Fall 
The 22-minute video Rise and Fall, the exhibition's centerpiece, was filmed in Canada, Belgium and the Netherlands. Shown on two long screens suspended from the ceiling in the middle of a darkened room, the images float in space. The film and its soundtrack are saturated with the sound of water. "A container for memories," Huh says, adding that water can be soothing and still or turbulent, roiling and unstable. The delicate sound of bath water softly dripping from long, wet hair competes with the roar of the waterfalls at Niagara. The narrative winds in and out like a temporal Mobius strip. It follows two women—one eager and young, one reticent and older—through their daily activities. The visitor is left to ponder if perhaps these two women are actually one.
The intertwining of the two women's lives and daily activities rouses a phrase from a long-ago college lecture: the subjective reflective corrective perspective. This tongue twister is another way to say that just as your present self was shaped by your past, your past may be worn and shaped by the currents of time and experience. It may hurt the brain, but Huh simplifies the idea: "remembering is creative, because you can never completely recapture that past.… We try with photographs, we try with film, but there's always an element of subjectivity."
Look for Henry 
Tan also explores what happens when someone becomes unmoored from their past, setting their identity adrift. In her film A Lapse of Memory, she presents a lush and lingering portrait of a man lost in a fog of senile dementia. The film is set in the Royal Pavilion in Brighton, the seaside retreat of England's King George IV, described in the exhibition guide as "an extravagant manifestation of the Western fascination with the East." The fictional "Henry" is shown roaming the halls and performing small acts of daily living in this beautiful but crumbling relic.
Huh suggests that after visitors see A Lapse of Memory, they can "get a sense of that space and surround themselves with that time and that era of Asia mania" by visiting James McNeill Whistler's Peacock Room in the Freer Gallery. She points out that the painting, The Princess From the Land of Porcelain on view there was last publicly exhibited at the Royal Pavilion, "a nice link that's a little less expected."