Eunice Kennedy Shriver Portrait Unveiled
At the National Portrait Gallery, artist David Lenz pays tribute to a champion for the intellectually disabled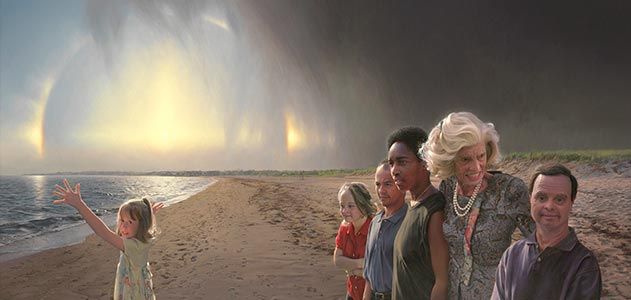 Editor's Note: Eunice Kennedy Shriver, champion for children with special needs, died on August 11 at the age of 88. In May 2009, Smithsonian reported on the unveiling of a portrait of the American icon and sister to President John F. Kennedy, and Sens. Robert and Edward Kennedy.
Seventy-five bowling lanes are jammed with spectators and families at the December 2008 Special Olympics state bowling competition in Milwaukee, Wisconsin. Eleven-year-old Special Olympics athlete Sam Lenz, who has Down syndrome, picks up his bowling ball, aims carefully and throws a strike. His arms raised in victory, he high-fives his wildly cheering teammates. After the competition, Sam works his way through an adoring crowd of family and friends and stops to hug each and every one.
Sam's joy can perhaps be attributed in part to the tireless crusade of the now 87-year-old Eunice Kennedy Shriver. In July 1968, Shriver and her husband, Sargent, opened the first national games of the Special Olympics in Chicago. As a child growing up in the famous Kennedy household, she was imbued with a passion for competition and sports. But it was from her sister Rosemary, born with an intellectual disability, that she would ultimately form her vision for the Special Olympics, which has changed the lives of millions across the world. Eunice Shriver wrote of Rosemary's heartbreaking tragedy in the Saturday Evening Post in September 1962. "To transform promise to reality, the mentally retarded must have champions of their cause, the more so because they are unable to provide their own," wrote Shriver. The article did much to change people's negative attitudes about intellectual disabilities. Some say it was one of the most important contributions the Kennedys made to the nation.
Eunice Kennedy Shriver's portrait made by Sam's father, Milwaukee artist David Lenz, goes on view at the National Portrait Gallery this week. It represents the first time the museum has commissioned a portrait of an individual who has not served as either a president or first lady. The portrait's prominent location, adjacent to the Smithsonian's much-loved Hall of Presidents, pays homage not only to Mrs. Shriver, but to people like Sam Lenz.
"Mrs. Shriver has made the world a better place for Sam, and by celebrating her life," says David Lenz, "I'm shining a spotlight on the remarkable work she's done."
Lenz, a photo-realist painter whose large-scale portraits of inner-city children and rural farmers have been garnering critical acclaim, won the National Portrait Gallery's 2006 Outwin Boochever Portrait Competition. The artist's prize included not only a cash award of $25,000, but also a commission from the museum to paint a "remarkable" American.
His winning entry, "Sam and the Perfect World," depicts his son Sam in a Wisconsin field staring intently at the viewer. An enormous haloed sun shines brightly, a symbol of the divine. A barbed wire fence behind Sam separates him from the "perfect world," says Lenz. "God is looking down on the world we've created, at the fence we've built," explains Lenz. "Sam is not society's accepted definition of perfection, but in spite of that, or perhaps because of that, he has an important message for everyone to hear."
Mrs. Shriver was chosen by Lenz and Gallery staff to be his subject. Sam provided the connecting link between them. The painting was unveiled on Saturday, May 9 in a private ceremony with many of Mrs. Shriver's family in attendance.
"I feel very honored to be recognized at the National Portrait Gallery among so many people who have made such great contributions to our nation," says Shriver. "I hope this portrait will go beyond an image of me to become a symbol of the value and gifts of people with special needs who themselves are a great treasure to our country and who deserve much greater recognition than they ever receive."
The painting exemplifies Lenz's intimate and highly realistic portraits of unsung people who society has taken for granted, forgotten or overlooked. "I paint with small, round sable brushes that come to a very fine point," says Lenz. "Applying straight oil paint over a warmly tinted canvas, I don't mix the paint with varnishes, glazes or mediums. In many ways, the techniques and materials I use are very traditional. Closely observing everyday life, I rely upon it when deciding what to paint. I spend an enormous amount of time on each painting. Starting with small pencil and oil sketches to rough out an idea, I then photograph many of the different elements of a painting individually. These images, these bits and pieces, are refined, changed and modified as I use them as reference material to make a painting."
Smithsonian associate curator Brandon Fortune calls Lenz's work visual poetry. "David distills and crystallizes images the way poets distill and crystallize words," she says.
"David combines the highest standards of craftsmanship and design—the quality is painstaking and laborious and uncompromising—with subject matter that is deeply humane," adds University of Wisconsin-Milwaukee art history professor Jeffrey Hayes.
In Lenz's painting, Mrs. Shriver is at her Cape Cod, Massachusetts, home surrounded by four Special Olympics athletes and a Best Buddies Ambassador—(from left to right) Airika Straka of Wisconsin Rapids, Wisconsin; Katie Meade of Des Moines, Iowa; Andy Leonard of Reynoldsburg, Ohio; Loretta Claiborne of York, Pennsylvania; and Marty Sheets of Greensboro, North Carolina. With a broad smile on her face and her arm draped over Sheets' shoulder, she is clearly enjoying being with him. "The very act of inviting people with intellectual disabilities into the painting mirrors the essence of Mrs. Shriver's work: understanding and inclusion," says Lenz.
Each of the athletes has a special story to tell. Straka saved her mother's life by answering a cell phone at her home for the first time. The school called to check on why she and her sister, who also has special needs, were not in school. Her mother had gone into diabetic shock. She gave enough information for the school to call an ambulance. Straka is a tiny girl with a lot of spunk who always tries her best at bowling, snowshoeing and track and does not give up.
Meade introduced the Irish rock band U2 at the Special Olympics World Games in Ireland and spoke at a Special Olympics conference in Panama. She is recognized across Iowa as a Best Buddies Friendship Ambassador for the state. Meade has made friends from around the world and spoken to countless people about people with disabilities. She was recognized at the Annual Best Buddies Ball with the Spirit of Friendship Award for her dedication to the mission of friendship for people with intellectual disabilities.
Leonard is one of the strongest men in the world in his powerlifting weight class and has carved a niche for himself in the Special Olympics record books. He's a charter member of the Pennsylvania Special Olympics Hall of Fame and the only Special Olympics athlete to hold a non-Special Olympics national title in the American Drug-Free Powerlifting Association. As a child, his Vietnamese village was destroyed during the Vietnam War. Leonard and his four brothers and sisters were put into an orphanage. His siblings soon left and he never saw them again. He was evacuated just before Saigon fell to the Viet Cong and taken to the United States, where he was adopted by a couple in Lock Haven, Pennsylvania. His story continues to inspire people all over the country.
Claiborne is the subject of a Disney movie, "The Loretta Claiborne Story." She appeared on "Oprah" to promote the film and introduced President Clinton at the Special Olympics World Games. She was inducted into the Women in Sports Hall of Fame. A medical and educational facility in York, Pennsylvania was named in her honor by the community. She has competed in six Special Olympic World Games and won gold, silver and bronze medals in running, bowling and figure skating. She was the first Special Olympics athlete to run the Boston Marathon and has participated in more than 25 marathons.
Sheets was chosen to sit in the Presidential Box with President Bill Clinton at the 1995 Special Olympics World Summer Games. He's met many celebrities and world figures, including tennis player Arthur Ashe and boxer Evander Holyfield. He received the 2006 PGA Tour Volunteer of the Year award, the highest honor the PGA Tour can bestow upon a volunteer. A golf and powerlifting athlete, he has won more than 150 medals at local, state and international Special Olympics competitions. For 15 years, he's volunteered at Greensboro's professional golf tournament, where players remember him from year to year.
Today, Shriver is still working—every day—as an advocate for people with intellectual disabilities. Her vision to provide sports training and athletic competition for people with intellectual disabilities has grown from 1,000 special-needs athletes from the United States and Canada competing in Chicago into an international movement with 2.8 million athletes competing in 30 sports in more than 150 countries worldwide.
It was gratitude for Mrs. Shriver that Lenz felt as he worked on the portrait. "I am so thankful for all the work she has done over the years. The world is a more welcoming place for people like Sam because of her," says Lenz. "It's my hope that this painting, with its message of Mrs. Shriver's life and legacy, can continue to help the world understand and include all people with intellectual disabilities."
"She could have done anything with her life, but she rolled up her sleeves, saw injustice, and did her best to fix it," says Lenz. "She's still energetic at 87. She's not done yet."