Esperanza Spalding Took on Bieber, Now Takes on Jazz
The innovative bassist and winner of the Smithsonian American Ingenuity Award for performing arts is taking jazz to a whole new place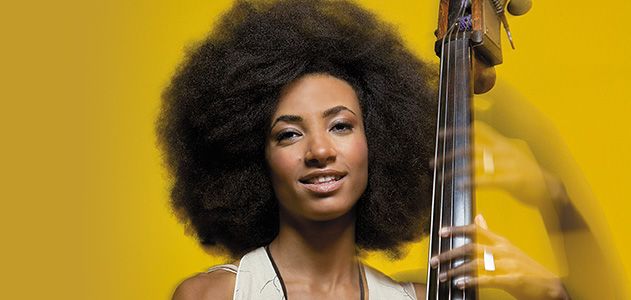 Esperanza Spalding, the 28-year-old bassist, composer and vocalist, is shushing her audience - many of whom have paid good money for the privilege. During the middle of her set at Chicago's City Winery, a trendy restaurant and music venue, she holds the microphone close and admonishes: "Sssshh." Her virtuoso bass playing and spellbinding vocals had the audience in the palm of her hand for the first half of her show. But an extended instrumental interlude showcasing her band has been marred by talking in the crowd. "I wanna hear them," she tells her listeners, gesturing toward her 12-piece ensemble.
There's nervous laughter from the audience. A woman near me indignantly objects that this is a supper club - but does so only in a whisper. The entire moment lasts no more than ten seconds. The audience immediately complies, obliging the performers with attentive silence.
In 2011, Spalding found herself onstage and on millions of television screens, collecting a Grammy Award in the Best New Artist category (and sending fans of pop post-teen sensation Justin Bieber, who lost out, into irate Twitter rants).
Her youth and beauty and progressive fashion-she accepted her Grammy in a deconstructed citron chiffon dress and a very intentional afro coaxed into a pompadour-were also an undeniable part of her appeal. Village Voice music critic Greg Tate calls Spalding the "sexiest and best thing to happen to jazz since Wynton."
Her latest release at the time of the Grammy, Chamber Music Society, was actually her third album. She had already dazzled critics with her 2008 major-label debut, Esperanza, recorded when she was 23; it stayed on the Billboard jazz chart for 62 weeks, peaking at No. 3. In 2009, she performed twice at the White House and, at President Obama's request, at the ceremony when he was awarded the Nobel Peace Prize in Oslo that year. "I wanted to offer something important from our culture, from our music," she says. "It seemed significant to play jazz there." (She donated the dress she wore to the Smithsonian National Museum of American History.)
Spalding went on to elicit praise for this year's Radio Music Society, executed, according to Los Angeles Times music critic Chris Barton, "with disarming assurance." The new album, wrote jazz critic Larry Blumenfeld in the Wall Street Journal, "celebrates sophisticated musical structures that ride accessible grooves."
Her work is grounded in original compositions and performances moored artfully in jazz, but incorporating influences as varied as soul, Brazilian pop, funk, contemporary classical, blues and hip-hop. Spalding's vocal compositions range from "Little Fly," a William Blake poem set to music, to "Land of the Free," based on the exoneration of Cornelius Dupree, recently released from prison after a wrongful conviction, and "Radio Song," a paean to the serendipitous pleasure of discovering a song over the airwaves.
Legendary bass player Ron Carter, who collaborated with Miles Davis, helping him shift the music from bop to cool, says Spalding is "on the right track, she's got a great voice and a great sound. I like the combination of her lyrics with the sound she gets from her bass. I can't talk and play at the same time, let alone sing, so she's a step ahead of me." Electric bassist Meshell Ndegeocello-known for her own capacity to rap while she plays-is also impressed with the scope of Spalding's gifts. "What makes her so phenomenal is she can speak so fluidly with her bass and her vocals."

Spalding seems to have developed a healthy relationship with her still emerging fame. She's often a tour headliner, as she is this evening in Chicago, where onstage she is radiant in a diaphanous ivory dress. In four-inch stilettos, she alternates between playing an electric bass and her mammoth upright bass. (Her website features a collection of dresses produced by designers concerned with creating sustainable couture.) "I feel like whenever I end up in some high-profile place like the Oscars or the Grammys, it's a fluke," she told me earlier that day. "I feel like I'm already there representing the underrepresented." After answering typical red-carpet questions at those events about who she was wearing, she asked a friend to help her locate eco-friendly designers. "Since people are talking about fashion, I want them to also talk about the fact that there's an alternative to sweatshops, synthetics and toxic dyes."

Spalding is equally likely, however, to perform in a supporting role with someone like multi-instrumentalist Joe Lovano. She has given a great deal of thought to collaborative accomplishment. "There's a cultural myth that's rampant in the entertainment industry that minimizes collaboration, that overemphasizes soloists and stars and focuses on the individual," Spalding says. "I don't ever want to cater to that myth in our culture. Because, inevitably, there are people who aren't written into history; you know, the teachers, all the teachers that Bird [Charlie Parker] studied with? The bands that he first started playing with? Aren't they just as integral as his gift?"

Spalding considers collaboration to be a kind of learning lab, where musical ideas and life philosophy are explored. "When I play with Terri Lyne Carrington or Geri Allen or even Prince, yes, what we're doing musically is one element of what we've come together to do, but 95 percent of it is hanging around and talking about everything from buying a house to leading a rehearsal. I learn so much every day from those kinds of interactions." Inside the music, where instrumentalists are communicating new ideas in the moment, she insists, innovations are still part of the larger group's exchange. "Particularly in any music that revolves around improvisation, the magic and the beauty of it is that every night something new and different happens. Because we're inviting the question 'What will we do tonight?' 'What will we do right now?'"

At the same time, Spalding acknowledges that the individual creative process also sustains her. How and when does inspiration strike? "Something new, a melodic idea, will come to you," she says. "You wonder, 'Wow, where'd that come from?'" That is the moment, she adds, when it's important to "stop and take notice."

She and her older brother grew up with their mother, a single parent, in Portland, Oregon. Spalding dropped out of her magnet school at age 16 because high school, she says, "wasn't so much about learning, it was about social programming, which can be fun, if you aspire to reign over the social strata of the school." Eventually she completed her GED. When she wasn't losing herself in a book, she volunteered at environmental conservation organizations or homeless shelters. "I got that from my mom, she's a conscientious person," Spalding says. "She doesn't like the talking part but the doing part, which I appreciate." Her bass teacher at the time encouraged her to audition for a scholarship at Portland State University. Later, she moved cross-country to Berklee College of Music in Boston.

She still seems to be discovering who she is onstage as the main attraction. In the tradition of the best blues women, she's comfortable telling stories as preludes to songs. These conversational moments likely serve to help her audience, who may or may not be well versed in jazz, connect to the music. Spalding and backup singer Chris Turner in- voke the name of slain Florida teen- ager Trayvon Martin as they introduce the song "Black Gold," her meditation on the hopes and fears of African-American boys. Before performing "Land of the Free," she alludes to Dupree, who was incarcerated for decades before being cleared by DNA evidence. "I'm not 30 years old yet, I can't wrap my head around...30 years in prison for a crime I didn't commit." She announces that part of her merchandise sales will be donated to the Inno­cence Project, the organization dedicated to exonerating the wrongfully convicted.

It's the music that Spalding thinks most about. "An idea announces itself and it seems like there's something meaningful to be found by exploring that idea," she says of the imaginative habits that underlie her creation of original material. "It's a process of sitting down over days, or hours, months, sometimes years, and trying to coax that idea into its full state of beingness."

In that same way, she hopes to push jazz into the future. "I'm searching for the most beautiful version of ideas that I receive, leaving the windows open for influences outside jazz," Spalding says. Ultimately, she adds, she aspires to "create an invitation to explore the music for a larger cross-section of listeners."