Endless Summers
For almost 50 years, surfing legend LeRoy Grannis has been shooting the curl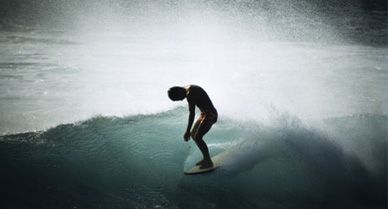 There is an old surfer taunt: You should have been here yesterday. LeRoy Grannis was there in the 1930s and '40s, when a few hundred young men in California and Hawaii with heavy redwood boards represented surfing's Camelot. Portrait photography had Felix Nadar and Mathew Brady. Fashion photography had Baron de Meyer and Edward Steichen. Surfing photography had Grannis and his friend John "Doc" Ball; they set the standard for all the pictures that followed.
Not many sports photographers are major players in the sports they cover, but Grannis was an exception. Born in 1917 a block from the ocean in Hermosa Beach, California, he began surfing in 1931 and became one of the state's top surfers. When I asked recently if he and Ball began their camera careers at the same time, he replied that Ball had started much earlier. "A lot of the time," he added, "he was photographing me." Grannis is featured in more than a half-dozen photographs in Ball's classic 1946 book, California Surfriders.
That volume might be considered the Old Testament of surfing photography. Doc Ball (1907-2001)—born John Heath Ball, he acquired the nickname in dental school—started surfing in 1929, when there were, by his estimate, about 20 surfers on the entire California coast. He started taking surf pictures seriously in 1931, capturing the kinetic excitement of the sport. But if Ball was the granddaddy of the genre, "Granny" Grannis would become more than a chip off the old board.
Had it not been for Ball, and a medical doctor recommending, in 1959, that Grannis take up a hobby to relieve the stress of his job as a telephone installer, he might never have bought a 35mm East German camera and started recording the people and places he knew best. The timing, though coincidental, could not have been better.
The novel Gidget had come out in 1957, followed two years later by the movie of the same name, with Sandra Dee in the title role. With the Beach Boys singing "Surfin,'" Jan and Dean making Surf City a mythic destination and lightweight boards putting more people on the waves, the early '60s began a surfing boom that has yet to end. "The American dream had relocated to the beach in Southern California," says Matt Warshaw, author of The Encyclopedia of Surfing. "In the old days, surfing was a small world, but in the '60s it became the world where everybody else wanted to be."
This enviable situation was not, perhaps, something that most surfers thought much about. "We had that life for years," Grannis says, "and didn't know how lucky we were."
Warshaw notes that Grannis came to photography late and was never a full-time professional, but adds that "he had a good eye, he knew how to compose, and he was totally plugged into the surf scene."
This intimacy gives his pictures of the boys, the girls and the boards the joyful feeling of family photos taken by a particularly talented brother. "He loved what he was doing," says Warshaw. That love can be seen in Grannis' pictures of both the big-wave thrills and the familial comforts—a realm beautifully assayed in the book LeRoy Grannis: Surf Photography of the 1960s and 1970s, published last year in a collector's edition and just republished in a popular edition.
"I worked the evening shift at the phone company and surfed in the mornings," Grannis says. Later, when he was able to devote more time to photography and to magazines such as Surfing Illustrated, where he was photo editor, and International Surfing, which he co-founded, his work became the window on a small world that the wider one found fascinating. Says his photographer colleague, Ben Barnett: "There was a texture about Grannis' shots that for me took them into another realm."
Grannis is now within whispering distance of 90. He had to give up surfing five years ago after a hip replacement, but he still lives near the beach in Carlsbad, California, a little north of San Diego, and he goes down to check out the waves almost every day. When I suggested that he must be a legend among the young surfers he meets these days, he responded, simply: "Yes."
Owen Edwards, a frequent contributor to Smithsonian, is the former exhibitions critic for American Photographer. (Click here to read an interview with Edwards.)