Eating the Colors of the Flag for Mexican Independence Day
The patriotically colored chile, walnut sauce and pomegranate seed dish was invented by nuns in Puebla to honor a visiting general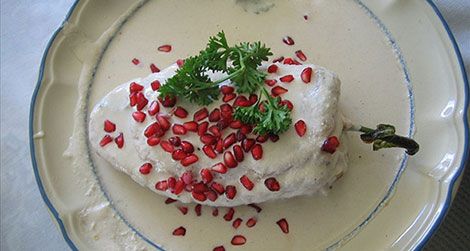 Sometimes I'm reminded of how shallow our depth of knowledge of Mexican cuisine generally is in the United States and how much more there is to discover. A case in point is chiles en nogada, the patriotically colored red, white and green dish—stuffed chiles blanketed in a creamy walnut sauce and sprinkled with pomegranate seeds—traditionally eaten around September 16, Mexico's Independence Day.
Pomegranates and walnuts are a combination you'd expect to find in Middle Eastern food—but Mexican? According to Karen Hursh Graber, the author of several cookbooks on Mexican cuisine, pomegranates spread from ancient Persia across the Mediterranean and were brought to Mexico by the Spanish padres, who cultivated the trees in dry areas with a short but distinct rainy season. As for the dish itself, the Mexico-based writer Lesley Téllez explains on her blog The Mija Chronicles that it was invented by nuns in Puebla in 1821 (the year Mexico's independence from Spain was recognized) to honor a visiting Mexican general. As she describes, this is a dish that takes a lot of work even in the age of food processors—back then the women must have spent days grinding the walnuts to a paste by hand in metates.
Mexican pomegranates are available only in late August and September, part of the reason for their strong association with Independence Day. Imported California pomegranates, which have a slightly longer season, can also be found in Mexico. (Growing up in Southern California, I used to love trying to extract the tart/sweet, finger-staining seeds from pomegranates I would pilfer from a neighbor's tree.) Aside from in chiles en nogada, the juice of the ruby-colored fruit is used elsewhere in Mexican cooking—Graber offers recipes for game hens in pomegranate and honey sauce and pomegranate vinaigrette, as well as the chile dish.
The name chiles en nogada comes from the Spanish word for walnut, nogal. The chiles used are typically poblano (meaning "of Pueblo"), the large, mild dark green peppers that are also used in chiles rellenos, another Pueblo dish that has made its way onto some Mexican-American menus. In fact, chiles en nogada are really a variation on one style of chiles rellenos, which means stuffed chiles. Instead of the cheese filling more familiar to Americans, these are stuffed with picadillo, a chopped meat, spice and fruit mixture, then battered and fried. The only difference is that chiles en nogada are topped with a smooth walnut, goat cheese and sherry sauce and sprinkled with pomegranate seeds instead of the red sauce that usually tops chiles rellenos.
The finished dish, draped in velvety white and studded with glistening red, looks like a work of art. A very tasty one.