Dress Codes and Etiquette, Part 1: What Not to Wear to High School in the 1960s
Before the Age of Aquarius, there was the age of administrators and their button-down rules about students' wardrobes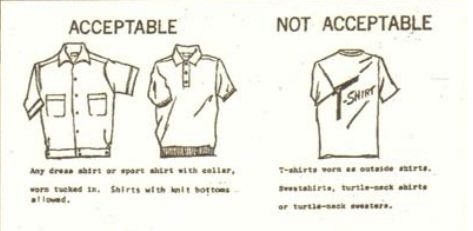 Stories about dress code enforcement have continued to pop up in the news. For work, school and leisure, strict rules about proper etiquette are bulleted on website after website. No trench coats to high school. No low-backed dresses to prom. No visible tattoos and piercings on teachers. No hooded sweatshirts if you're going out dancing. No zippered jackets when visiting a magic castle. No satin (unless it's from Betsey Johnson or Dolce & Gabbana) to pledge a sorority. Lots of regulations from the powers that be—some with explanations, others just because.
When it came to dressing for high school in the early to mid-1960s, the clean, neatly shorn and well-pressed conformity of the student body, with its tucked-in shirts and shined shoes, was expected. I came upon a handful of strongly worded dress codes from the '60s itemizing what was acceptable and unacceptable—from clothes to hairstyles, accessories and makeup—and I've excerpted my favorite bits or reprinted full guidelines. What could get you sent home from school reflected the cultural trends on the cusp of '60s counterculture revolution. Perhaps square school administrators were pulling in the reins in anticipation of the bell-bottoms and long hair that were just on the horizon.
From Pius X High School in Downey, California: no "flat tops" or "duck tail" haircuts!
1. The clothing and grooming of the student should reflect his serious attitude toward school and his own person. Two extremes are to be avoided: both a careless, untidy appearance, and a vain, effeminate use of extreme fashions. What the school seeks to promote in a student is a clean, neat, neat , well-groomed, manly appearance.

3. The student may not wear: tennis shoes, sandals, shoes with taps or cleats (they mar the tile in the building), Levis, jeans, denim, pegged or draped trousers, a vest except under a coat, a shirt as a jacket, insignia of other than Pius X High School organizations, dirty or torn clothing.

5. The hair may not be worn in the following styles: "flat top" (any haircut with the hair shorter on the top than on the sides and back), upswept, "duck-tail", or unusually long.
At Broward High School in Hollywood, Florida: no sun glasses may be worn in the classroom without permission!
GIRLS–
1. Are to wear skirts, blouses, or dresses.
2. Shirt tails are to be tucked in.
3. Extreme sun dresses or culottes are not to be worn and bare mid-riffs are not allowed.
4. May not wear hair scarves, curlers, clips or other hair setting paraphernalia in the classroom.
5. Socks or peds must be worn with sneakers.

BOYS–
1. Must wear shirts properly buttoned and long trousers.
2. Belts are required if trousers have belt loops.
3. All shirt tails must be worn inside trousers.
4. Faces must be clean shaven.
5. Extreme or unusual haircuts are not permitted.
6. Socks must be worn.

ALL STUDENTS– Sun glasses may not be worn in the classroom without written permission from the Dean.
Thong sandals are not to be worn.
At Timberlane Regional High School in Plaistow, New Hampshire: no "Beatle-boots" for boys!
For Boys:
1. Dungarees, shorts, and Beatle-boots are not acceptable.
2. Faces are to be clean-shaven.
3. Sport shirts may be worn, but fully buttoned.

For Girls:
1. Make-up is to be kept in moderation.
2. Skirts and dresses shall be worn at a proper length for teenagers.
3. Slacks and shorts are not acceptable as regular school wear.
Stay tuned as we continue to look back at dress codes and clothing etiquette. In the meantime, do you remember abiding by a dress code at school?  Were you ever sent home for wearing the wrong thing?