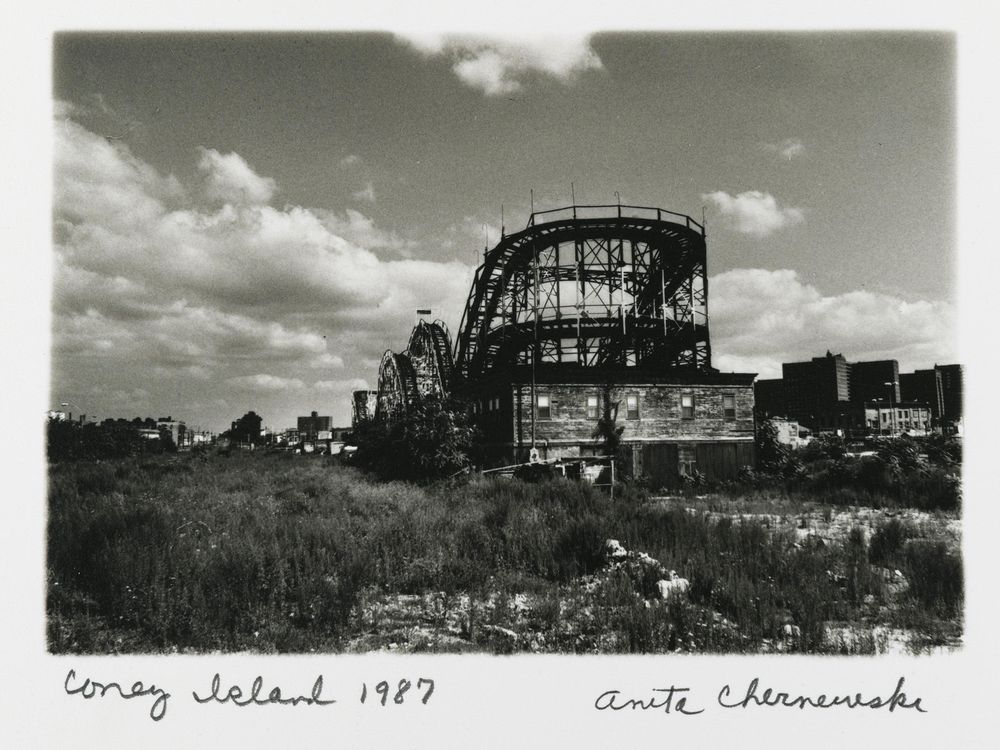 I've never been to Coney Island myself, but I'm enchanted by its visual history. The small photographic exhibition dedicated to this vacation spot at the Brooklyn Museum has only reinforced these unfounded nostalgic sentiments. With relatively few photos the show captures the essence of a place that has become shabby and frayed over time, but shined quite brightly in its heyday.
Photos from the turn of the twentieth century remind viewers of the once gentrified resort atmosphere of Coney Island, when men bicycled in suits and the opening of the Cycle Path was a well-to-do affair.
Anita Chernewski's 1987 black and white shot of a rollercoaster known as the Thunderbolt contrasts the ride's kitsch and overblown presence on the grassy dunes of the beach with the ride's redeeming structural fluidity and sinuous line.
Stephen Salmieri's photographs from the late 1960s capture fortunetellers and try-your-luck gamesmen at times when there is no one around to put on a show for. In one photo, a boardwalk madam sits disillusioned and weary, in no condition to read palms or dispense spiritualist advice. In another, a young man tending the "2 In—Wins" booth stares defiantly, even confrontationally, at the viewer. His cocksure stance and gesture—he holds the game balls that need to be tossed into the baskets behind him out toward the viewer—all but dare us to play.
The exhibition's title—Goodbye Coney Island?— questions whether or not we have seen the last of this Americana stopover spot. But the query is largely rhetorical. A place so well preserved on film will never disappear altogether.
Photo credit: Anita Chernewski (American, b. 1946), Coney Island (Thunderbolt), 1987, Gelatin silver print (Sheet: 6 X 7 1/2 in. (15.2 X 19.1 cm), Image: 3 1/4 X 5 in. (8.3 X 12.7 cm)), Gift of the artist, Brooklyn Museum.