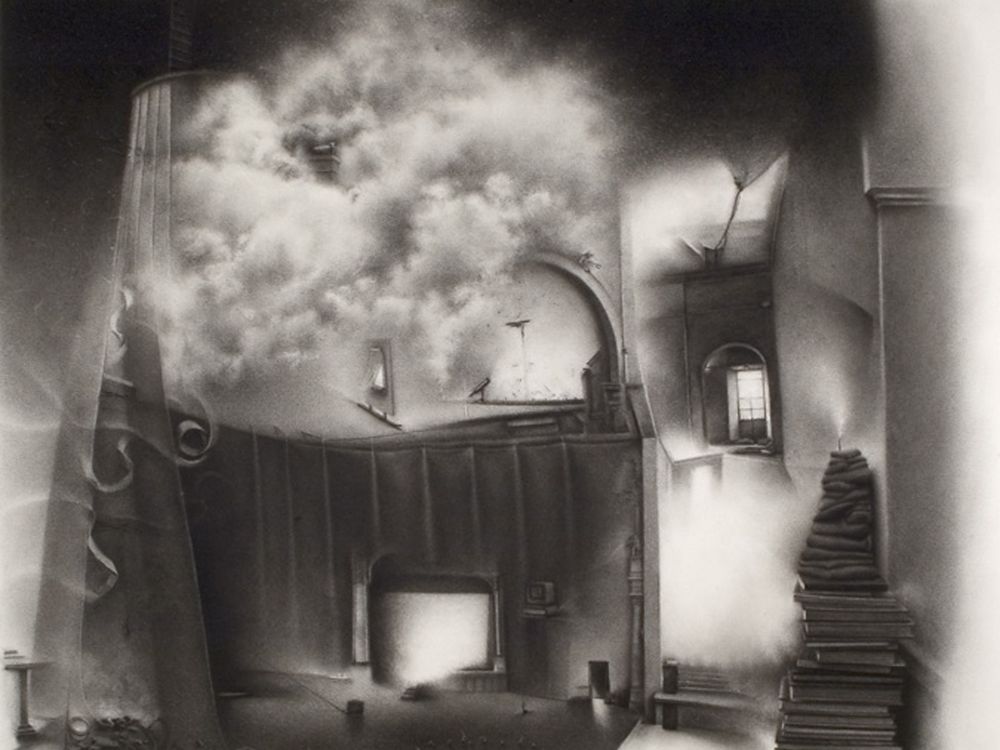 Charlotte Schulz is a young artist with a small show at the Aldrich Contemporary Art Museum that goes on through June. I was searching around the museum's website, looking for upcoming events, and was surprised that an image of one of her drawings caught my attention and single-handedly convinced me to make a trip to the museum to see her work.
Schulz has a good command over her chosen medium. To really get the most out of charcoal on paper, an artist needs to understand that form isn't created with line but with varying degrees of shadow. Schulz creates pools of light and murky shadows that are robust, substantial and perfectly balanced.
The scenes depicted in the drawings are peculiar. Spaces seem simultaneously indoors and out of doors. They are stark and mostly abandoned spaces, but are occupied by strategically placed objects like fighter planes, Corinthian columns, computers, tickertape, and floodlights. These nonsensical environments are then folded into, over and around other dreamlike settings drawn on the same page. None of them relate to one another thematically, but they are literally moored together by cordons that the artist has seen fit to draw throughout the scenes.
The whole affect is one of mild claustrophobia or panic. You feel jumpy and uneasy like you have just walked into the aftermath of something really horrible but you don't know what. All you want is to get out as fast as you can. But your eyes can't find a logical exit point. So you stick around, getting more and more disturbed, but sucked into one never-ending interior after another. It was an uncomfortable stay to be sure, but definitely worth the trip.