Designs for Living, from A to Z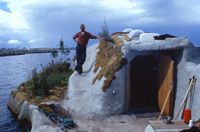 If your initials span the alphabet, can you be blamed for thinking that you can do it all?
Andrea Zittel seems to have been destined for self-sufficiency. The 42-year-old artist's work positions her as the lovechild of Buckminster Fuller and Martha Stewart. Her achievements include manufacturing customizable living units and "escape vehicles," crafting carpeting that doubles as furniture, designing a uniform of seamless dresses from alpaca and felted wool (very Rick Owens), breeding chickens (which required registering herself as a hatchery in order to procure the requisite supplies) and creating a 45-ton island (a "Pocket Property") anchored off the coast of Denmark -- adventures that she documents in writings, drawings, photographs and PowerPoint presentations. She is her very own lifestyle brand.
Zittel's creations are the subject of "Andrea Zittel: Critical Space," an exhibition that opened last Sunday at the Museum of Contemporary Art, Los Angeles (MOCA) and runs through May 14. The first comprehensive U.S. survey of Zittel's work, the exhibition includes 21 of Zittel's living units and environments, making it an abridged version of last year's incarnations of this show at the Contemporary Arts Museum Houston and the New Museum of Contemporary Art in New York.
A native of Escondido, California, Zittel supplants the modernist utopian drive with grand schemes that are optimistic yet wholly self-involved. Autonomy or bust. "People are so caught up in the nuances of their own personal realm that they've lost real civic relationships with one another," said Zittel in a 2001 interview with BOMB magazine. "In that same sense, I am interested in how design is reflective, and how we have become so capsulated."
It is this interest that led her to create Pocket Properties, which stretch the frontier isolationist mentality to its limits, aspiring to combine the world contained in one's piece of property, house, and automobile. "Basically those three capsules are everything," says Zittel. "And then what if someone could morph all three of those things into one perfect and infinitely reproducible capsule?"
For Zittel, it's a pleasant thought, even with the isolation that accompanies an encapsulated life. But once you've had work in a few biennials (two Whitneys, one Venice, and counting), privacy can be elusive, even on a concrete island in the North Sea. "When I got out to the island, it seemed like every single boat owner in Denmark came out to circle my island while drinking a six-pack of Danish beer," says Zittel of the time she spent living on her Pocket Property. "Every time I came out, they would all wave and ask what I was doing. After a while I just felt so overexposed that for the next project I've chosen a piece of land out in the desert, where no one will see me and I can finally be completely alone."