Delicious Moments on Film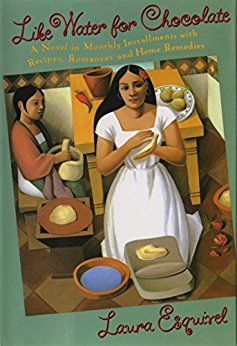 Movie award season kicked off recently with the Golden Globes, and continued Saturday night with the SAG awards, and Meryl Streep already added another trophy to her case. She won best actress in a musical or comedy for her comedic (and, you might say musical, considering her sing-song voice) portrayal of Julia Child in Julie & Julia.
Of course, the real star of that movie is food, and the joy of both cooking and eating it. Its scenes of culinary victory and defeat, pleasure and horror, join a long line of classic movie food moments. I scoured my memory—and that of Smithsonian staffer and cinephile, Erik Washam—for other great food scenes on film. Here are a few I think merit  a Food & Think "FaTty" Award:
Outstanding Use of Magical Food Like Water for Chocolate: In the Mexican movie based on Laura Esquivel's novel, Tita expresses her forbidden love for Pedro through a dish of quail with rose petals (recipe adapted here) that sends everyone at the table, especially Tita's sister Gertrudis, into a sensual frenzy that ends with Gertrudis galloping away, nude, on the back of a soldier's horse.
Chocolat: Same title ingredient, different country. This time, Juliette Binoche shows some uptight French villagers how to enjoy life with her charmed confections, which have peculiar effects on those who eat them.
Best Food Fight Animal House: This one's a no-brainer. By which I mean both that it is an obvious choice for the category, with its famous cafeteria food-fight scene featuring John Belushi squirting mashed potatoes from his cheeks, and that it is not exactly cerebral. But a classic nonetheless. The Public Enemy: James Cagney's character proves he's a dirty rat when he smashes a grapefruit in Mae Clarke's face. The scene caused quite a stir when the film was released in 1931.
Of course, we have to give an honorary FaTty to silent-film director Mark Sennett, whose Keystone Cops movies popularized the pie-in-the-face gag.
Best Use of Food as Personality Signifier The Breakfast Club: You don't need to know anything more about the five characters in this classic 1980s high-school flick by John Hughes than what they eat for lunch. They are a jock (a bag of chips, chocolate cookies, three sandwiches, milk, a banana and an apple), a nerd (soup, PB&J with the crust cut off and apple juice), a criminal (nothing), a princess (sushi, which was considered très chic at the time), and a basket case (a Pixy Stix and Cap'n Crunch sandwich).
Best Ordering Scene Five Easy Pieces:  A young Jack Nicholson gives voice to dissatisfied customers everywhere when he tells his unaccommodating waitress, who has informed him he can't have a side order of toast with his breakfast, to bring him a chicken salad sandwich on toasted bread, hold the chicken, mayonnaise and lettuce. Runner-up: If the waitress above is an example of poor customer service, Sally (Meg Ryan) in When Harry Met Sally is the other side of the coin. Her fussy and complicated order, with multiple contingencies, drove Harry nuts (and, in true romantic comedy form, became one of the things he grew to love about her).
Outstanding Performance by a Crustacean Amy Adams in Julie & Julia wasn't the first actress to wrestle onscreen with a lobster. Thirty years earlier, Diane Keaton and Woody Allen had to wrangle a whole kitchen full of escapees, in Annie Hall.
​Best Use of Egg Consumption to Establish Character's Virility This one is a toss-up. Which is manlier: gobbling down 50 hard-boiled eggs in a row, as Paul Newman did in Cool Hand Luke, or slurping down raw eggs before a training run, as Sylvester Stallone did in Rocky? I don't know, but both scenes make me queasy.
Most Poignant Demonstration of Passion for Cooking Big Night: Brothers Primo (Tony Shalhoub) and Secondo (Stanley Tucci) try to revive their failing restaurant with a sumptuous feast. You'll be rooting for them to succeed, and wishing you could reach into your television to taste the timpano.
I could easily keep going, but I'll hand it over to you readers (who proved very creative with your contributions to the food lessons in children's books comments). What are your favorite movie food moments?