Day 1: The Stage Is Set at Cannes
Filmmakers Michael Parfit and Suzanne Chisholm watch preparations in Cannes and prepare to take on the festival known as the Marché du Film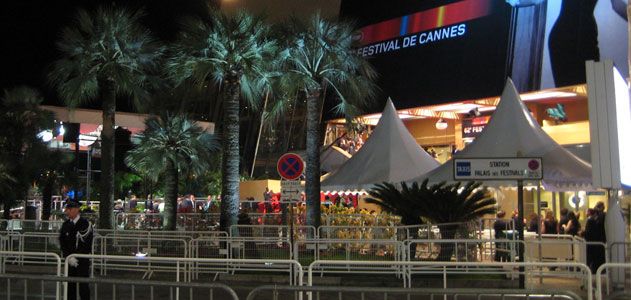 It's the day before the opening of the fabled, fabulous Cannes Film Festival. Everything is in disarray. The halls of the Palais des Festivals, the building at the heart of the festival, are full of packing boxes and big blue refuse containers with poster tubes sticking out of them. On one wall is a huge photograph of a bunch of men on bicycles, nude. On wide stone staircases there are inexplicable drifts of chunky sawdust, as if someone has been chain-sawing the banisters. There seem to be shards of automotive window glass scattered down one upper-level flight of stairs, and I can't figure that out, either.
Finally it dawns on me with the warped insight that sometimes seems to drive the whole process of making and distributing films, at least as far as I've experienced it. Why of course – they've been filming a logging-camp cyclist-vs.-cop car chase scene in here and they haven't cleaned it all up yet.
It's Cannes, and you'd better not make any assumptions about what is real or imagined. This is the ultimate celebration of the movies, a marriage of Hollywood creative dealmaking and French glamour, spun out over 12 days in May in air like cotton candy. Here what you think you know might turn out to be imagined, and the crazy things you dreamed about might come true.
In a way, that's a bit why my wife, Suzanne Chisholm, and I are here.
A little backstory: A few years ago I got an assignment from Smithsonian Magazine to write an article about a baby orca nicknamed Luna, who was separated from his pod in a fjord on the coast of Vancouver Island and started trying to make friends with people. That was in the early spring of 2004.
As I wrote in the article, the little whale's story got completely out of hand with controversy, conflict, funny things, and sad things. After we turned in the story (it was published in November, 2004), things got even crazier, and Suzanne and I wound up making a movie about the little whale's extraordinary life.
Completely unexpectedly, what we thought was going to be a little TV show turned into a full-length feature documentary, "Saving Luna," which went to festivals, won awards in various parts of the world, and is ready for a possible US theatrical release this fall. Now, at the culmination of all these things, it is about to be shown in, of all places, Cannes.
But here's the part that most people don't know about the Cannes Film Festival. Our film is not exactly in the festival. Instead it is to be shown as part of what's called the Marché du Film. This is the largest single market for movies in the world, a hidden festival behind the Festival, which in many ways is just as important to the fate of the movies as the festival itself.
Eighty-four films are shown as official selections for the festival, including only 20 feature films in competition. Many of them are magnificent and artistic, but esoteric, and they will not come to a theatre near you for some time if ever. But a lot of the films you have seen and actually will see – in theatres, TV specials, movie channels, your rental store, and through pay-per-view and video on demand, pass through the Marché.
As of today, 4,257 films are listed here by sales agents, and there are a total of 1,576 screenings of some of those films during the festival. (Some films are screened more than once.) So films like ours are herded through many elegant theatres on and off the festival ground like racehorses in various states of enthusiasm or exhaustion, to be bid on by cantankerous distributors from all over the world.
Our film is one of the thousand. It'll be screened in a 60-seat theatre early in the festival, and our sales agent has been busy for the past weeks inviting distributors to come. We have no idea if any of them will show up at all.
This might seem depressing, to have spent five years of our lives making a movie only to find it hidden among thousands far behind the flashiness of the big festival. But it isn't. That's because this is Cannes.
Some films are made like commercials, by skilled, cold hearts for commerce alone, but many are people like us, who care about both the craft of the medium and the story they have told. And if nothing else, Cannes is a place that recognizes and honors that fundamental piece of this industry.
The main festival officially values individual creativity in film, and often makes unexpected picks for its big award, the Palme d'Or, which can bring new filmmakers out of obscurity to a lifetime of prominence and achievement. The Marché du Film is a bit more pragmatic; no Cinderella stories here. Nevertheless, the buzz of good storytelling floats through the Marché as well, and this is the place where the most profound magic outside of the actual making of a film happens: It makes it possible for your film to be seen.
We are as hungry for that as for anything in our lives. And so are all the hundreds of other filmmakers here. We are all like a bunch of storytellers gathered around the world's campfire, ready to amuse, scare, move, or, we hope, enlighten. But when a film first comes to the Marché, the fire isn't built and the listeners have not yet come around.
Cannes and the Marché are places that can build the fire and gather the people. But will it happen to us? Will distributors come around? Only maybe. It's a tough business in a tough time. Documentaries are selling these days about as fast as used videocassette recorders, and it will take more than just a great salesman to plant "Saving Luna" on the world map. We'll also have to be lucky. But that's the crazy dream, and this is Cannes.
So today we navigate around the open boxes and poster tubes and watch throngs of French workers sweep up the sawdust and the glass and roll out green floor cover. Then we head back to our relatively cheap hotel room (very relative), which Suzanne has called "The Stateroom" to give it a nautical flavor and get us used to its size.
We stop on the curb of the Boulevard de la Croisette outside the Palais des Festivals and look at the place where the celebrities from the film world will walk upward tomorrow on a red pathway in a haze of strobe sparkle. But right now a bunch of men who will never be famous are building the foundation of that rise, the stairs.
"I have a new saying," Suzanne says as we turn to leave. "Underneath red carpet there's always plywood." She smiles. Enigmatically.
It sounds like a line from a film. I guess you have to figure it out for yourself. I'm still working on it.