Daredevil
Evel Knievel took risky behavior (and showboating) to new heights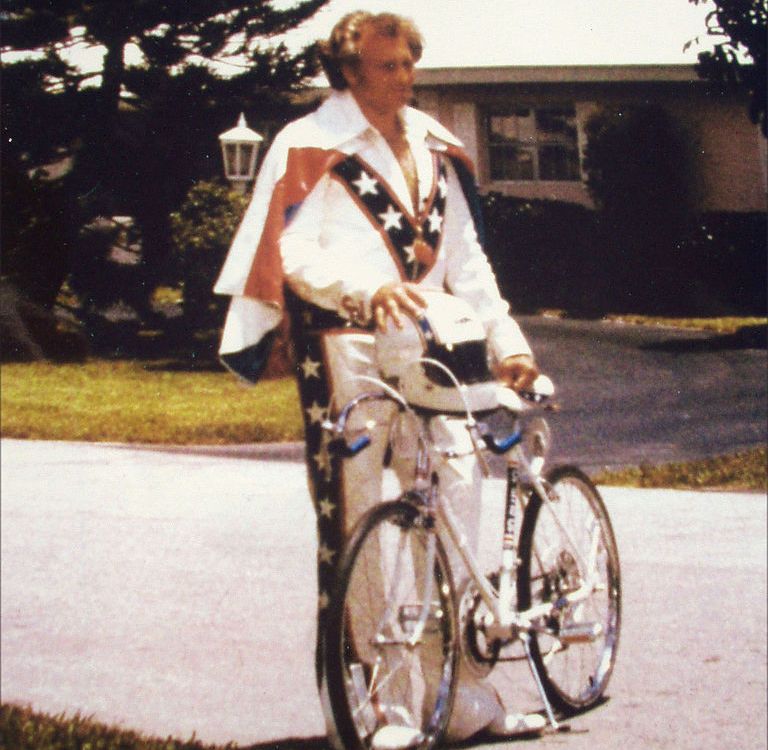 In his red, white and blue leathers, motorcycle stunt rider Evel Knievel was an accident waiting to happen, and his audiences rarely had to wait long. For almost two decades, from the mid-1960s until 1981, the man on the flying two-wheelers turned America into a nation of rubberneckers as he soared over—or not quite over—everything from mountain lions to Mack trucks. Using wooden ramps, true grit and a series of Hondas, Triumphs, Nortons and Harley-Davidsons, Knievel—who died of pulmonary disease this past November at age 69—relentlessly sacrificed his body to the unyielding gods of physics. However dauntless his takeoffs, his landings were often less than happy, causing the Guinness Book of World Records to acknowledge his very dubious achievement as the survivor of "most bones broken in a lifetime." (The total—433—hurts just to read, although Knievel claimed far fewer.) After he retired, according to an obituary in the New York Times, he described himself as "nothing but scar tissue and surgical steel."
Within the collections of the Smithsonian National Museum of American History (currently closed for renovation), one of Knievel's bikes, a 1972 Harley-Davidson XR-750, is the appropriate monument to a man who could be described as America's last true daredevil. Knievel made several jumps on the Harley, most notably over 14 Greyhound buses at the Kings Island theme park near Cincinnati, Ohio, in October 1975. Today's riders on vastly superior motorcycles turn somersaults in midair; recently an Australian rider leapt 320 feet, twice. But Knievel had about him the garish magnetism of the carnival crazy. On motorcycles that by today's standards were dinosaurs (Tyrannosaurus wrecks?) he would risk just about anything—leaping farther and landing harder—to amaze an audience. And amazed we were; five of his jumps are among the top 20 most-watched programs on "ABC's Wide World of Sports." As Roger White, a curator at the museum, puts it: "Evel was a marvelous sportsman and showman who came along with a very positive message at a time when America was dealing with a lot of difficult problems." Ty van Hooydonk of the Motorcycle Industry Council puts it another way: "Evel was the two-wheel equivalent of Elvis."
As a young high-school dropout in Butte, Montana, Robert Craig Knievel seems to have zigged and zagged from one side of the law to the other with prescient agility. While he was doing time for petty crimes, a warden gave him his rhyming nickname (after dubbing a cellmate "Awful" Knofel). Knievel later changed the spelling from "Evil" to "Evel" to avoid a Hells Angels image but to not lose a marketing asset entirely.
In 1965, he began stunt riding for small crowds and small change. His most famous jump, on September 8, 1974, was a failed attempt to span the three-quarter-mile Snake River Canyon in Idaho in his SkyCycle X-2, a small rocket with two vestigial wheels necessary to qualify it as a motorcycle. A parachute slowed his landing, and he walked away without serious injury. But one of his early showpieces was another snake jump—a 20-foot hop over a box of live rattlers. In the first minutes of the new year 1968, he leapt into national prominence, literally, when he vaulted the fountain in front of Caesars Palace in Las Vegas, badly injuring himself on the landing but acquiring a celebrity that was half attraction and half traction.
Knievel was inducted into the Motorcycle Hall of Fame in 1999. Mark Mederski, director of the museum in Pickerington, Ohio, credits him with an important contribution. "He lived in a time when motorcycling was looked on askance," Mederski says. "When people rooted for him, they were also changing their minds about motorcycles. We don't need that kind of image building now, in part because we had Evel. He was our Wright brothers."
Owen Edwards' stable of bikes includes a Ducati, Kawasaki, Triumph and Honda.