Dana Chladek's Guide to Watching Canoe Slalom
The silver medalist explains the ins and outs of her sport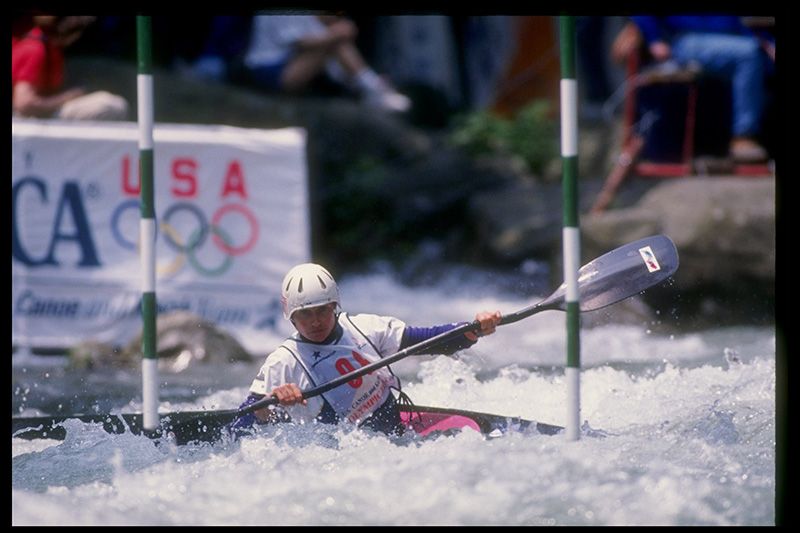 Introducing the Expert
Name: Dana Chladek
Games and Medals: Barcelona 1992 (Bronze, K-1); Atlanta 1996 (Silver, K-1)
Key Quote: "Canoe slalom is a blend of precision and grace combined with a high level of strength and conditioning."
Favorite Olympic Moment: "The hardest move of my second run at the 1996 Atlanta Olympics was a right to left cross at the edge of a huge hole, through a big drop called "Humongous." I heard the roar of the crowd and then paddled perfectly through the drop and the last few gates. I still remember the exhilarating feeling."
Equipment
Kayak: 11.5 feet long and 19 pounds, a kayak is paddled seated and with a paddle with a blade on both ends.
Single Canoe: Also 11.5 feet long and 20 pounds, a single canoe is paddled kneeling and with a single-bladed paddle.
[Pro Tip: Slalom kayaks and canoes look very similar. To identify which is which, look at the paddle the athlete is using: one blade=canoe, two blades=kayak.]
Gate: Two striped poles, dangling from a wire that crosses over the course, that a competitor must pass through
Upstream Gate: The gates with red poles are placed in eddies and must be negotiated in an upstream direction. The top athletes can get in and out of the gate in only one or two strokes.
Offset Gates: The green downstream gates are placed in a zigzag formation. The best paddlers turn tightly in the gates with their bodies just inches away from each pole. Sometimes you will notice paddlers spinning their boats around and running an offset gate backwards. This is a safer and slower way to negotiate difficult offset gates and is permitted as long as the paddle is moving downstream through the gate.
Maneuvers
Surf: Often a gate is placed on either side of the river with a wave and hole in between, and the kayaker must "surf" across the water from one side of the river to the other.
Roll: When they flip, paddlers get back up using an "eskimo roll." They reach up to the surface of the water with their paddle blade and with their hips flick the boat back up. While there is no penalty for rolling during a race run, as long as one passes through each gate right side up, a roll costs valuable time and energy.
Slang
1. Clean Run - a race run with no pole touches
2. Stopper - In British English, this refers to a hole. A hole is water flowing steeply over an obstacle; the water flows back over itself and creates an exciting, white, frothing feature.
3. Boof - "lifting" the bow up and over a hole with a well-timed stroke to keep the boat gliding smoothly instead of getting stopped by the white of the hole
Rules
Classes: There are currently four: men's and women's C-1 (single canoe) and men's and women's K-1 (single kayak).
Time: Slalom is a race against the clock through a series of 18 to 25 gates suspended over a section of whitewater.
Penalties: Two seconds are added to a racer's raw time for any pole that is touched (by the body or any equipment).
Missed gates: Any missed gate, gate negotiated upside down or gate run in the wrong direction adds 50 seconds onto the racer's time, effectively putting the athlete out of the race.
Game Changers
1972: Canoe slalom was introduced to the Olympics in Munich in 1972. The course was among the first "artificial rivers," with huge pumps to pump the water from the finish back up to the start and movable Lego-like obstacles attached to the river bottom to create obstacles such as eddies, holes and waves.
1992: After a 20-year hiatus (host cities have some latitude as to a sport's inclusion in the Games), canoe slalom became a permanent Olympic sport.