Cy Twombly's Scattered Blossoms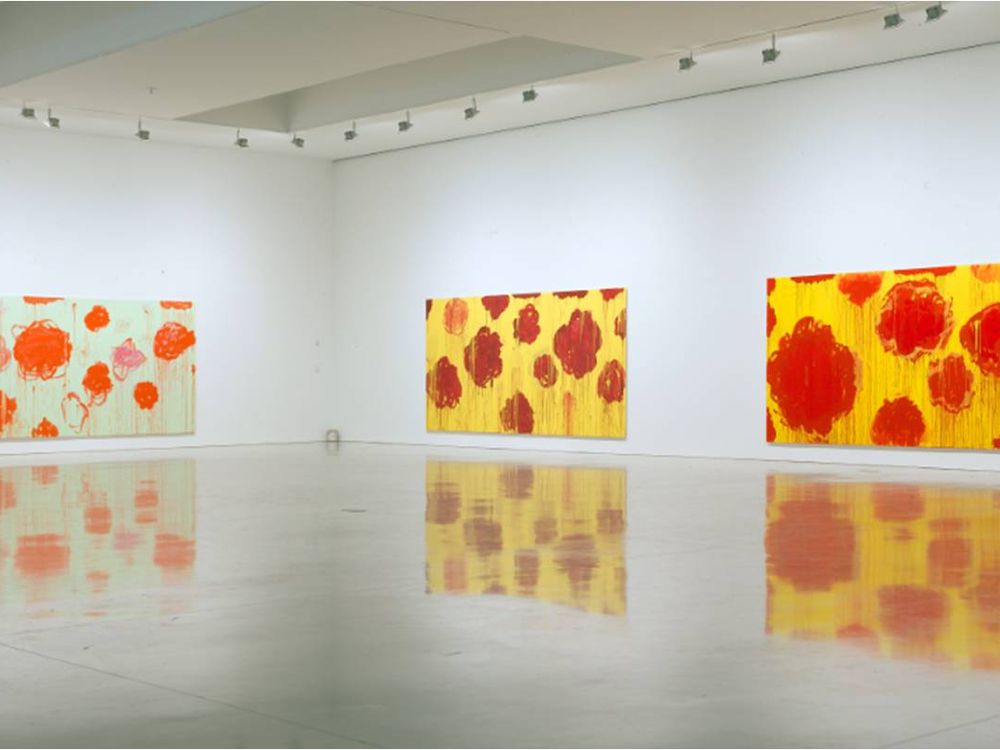 One rainy Friday afternoon in 1964, a 24-year-old Richard Serra, then wrapping up his studies at Yale, hopped a train from New Haven to New York City. Upon arriving, he headed uptown, to an East 77th Street townhouse, where he first encountered the work of Cy Twombly. "They gnawed at me," Serra has said of the paintings he saw that day at Leo Castelli's gallery. "I couldn't forget them."
Forty-three years later, Twombly, now 79, remains a master of the unforgettable, creating ever larger and more exuberant paintings that gnaw at you even after you've scrutinized them from every angle and tried to memorize their colors. And so it is fitting that an exhibition of recent paintings by Twombly now on view at Gagosian Gallery in New York blooms with that most enduring, enigmatic, and temperamental of flowers: the peony.
Any gardener will tell you that the most important thing about planting peonies is selecting a site, ideally one that gets at least a half day of sun. Long-lived but initially slow to grow, peonies sulk if disturbed. Try to move them and they'll punish you by not flowering for several years. Leave them alone and they'll bloom forever.
The cultivation of artists can be just as tricky. In the history of art, there's no easy place to put Twombly. Today he is typically lumped with Robert Rauschenberg and Jasper Johns in a catch-all category of second wave Abstract Expressionism, but the label is an awkward fit. Site selection was critical for Twombly. A Virginia native who studied in Boston and New York before matriculating at Black Mountain College, he escaped the go-go New York art world in 1957 for a place in the sun — Rome — where he still lives for most of the year. There he managed to meld abstraction and antiquity, painting and drawing, lament and reverie.
Gagosian's 21st Street gallery — sprawling, high-ceilinged, and impeccably finished — is an excellent venue to show off the ten paintings and single sculpture (all untitled and executed in 2007) that comprise "A Scattering of Blossoms and Other Things." The main room is ringed with the six large horizontal paintings on wooden panels, each measuring about eighteen feet wide by eight feet tall. Entering the rectangular space, the viewer is stunned by epic constellations of peony blooms that appear to bob, weave, and punch triumphantly through fields of pencil and wax crayon scribbles, handprints, and haikus scrawled in Twombly's shaky cursive. Where stems should be flow layered trails of thin acrylic paint, downward drips that wash the panels in verticals as if attempting to tether the buoyant flowers to the foreground.
Twombly's color palette, in his last exhibition at Gagosian restrained to a suite of blazing, saturated reds on canvas, is here remarkably varied. On one wall are two paintings that pit orange blooms (here burnt almost to red, there swirled with bubble gum pink) against a minty celadon ground. The gallery's longest wall is hung with three paintings with backgrounds of bright yellow, their blossoms ranging from Twombly's long-favored burgundy — a merlot spiked with blood — to red orange. The middle one of these three is the star, with blooms that seem to flash and whirl, shaded to have the dimensional sulci and gyri of a human cerebrum.
In the exhibition catalogue essay, historian and critic Robert Pincus-Witten describes the translated Japanese haikus inscribed on some of the paintings as examples of Twombly's unique brand of "flirtatious iconography." The artist has a way of toying with literary and historical references, such as Kusunoki Masatsura, the 14th-century samurai and poet whose death inspired the peony haikus, so that they are suggestive, not oppressive.
While appearing hastily written (Roland Barthes once said that Twombly seems to write with his fingertips), the words that appear in these works are carefully chosen for their ability to excel at sensory games: "quiver," "kikaku," "spilling out yesterday's rain," "from the heart of the peony a drunken bee." These words invite you to decipher their meanings, all the while resisting interpretation. Meanwhile, their murmuring resonates in your ear and their scribbles in your hand. You can't help but roll them around on your tongue.
For Pincus-Witten, peonies are "impeccably Japanese in association," but it's tempting to look to China, where the peony has an even longer history and where the flower was first bred. The Chinese word for peony is mutan, a name that contains the word for cinnabar (tan), the medicine of immortality. Like the work of Twombly, they are true originals, impossible to forget.