Curves Ahead
At the Smithsonian's Cooper-Hewitt, National Design Museum, Rococo experiences a revival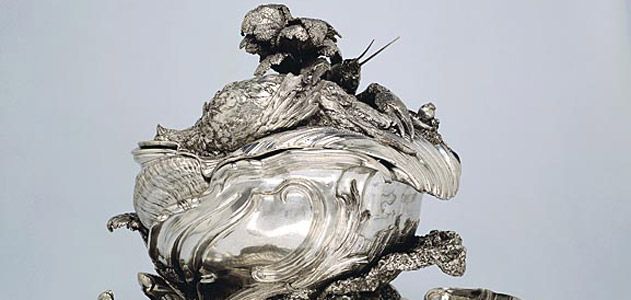 Among his collections of birds' nests, seashells and gnarled sticks in artist Ted Muehling's Manhattan studio is a white porcelain sea horse crafted from an 18th-century mold. With its curling tail and grinning teeth, the creature is sensuous and playful; it is Rococo at its finest.
"You can tell people were having fun," Muehling says. Though the designer is known for his minimalist jewelry, he has lately been drawing on Rococo's lighthearted shapes for inspiration. "There's a tendency for people to head toward Rococo now," he says, "because minimalism has hit the wall."
That's the idea behind a new exhibition at the Cooper-Hewitt, National Design Museum—"Rococo: The Continuing Curve, 1730-2008," through July 6. "I was aware that many contemporary designers were experimenting with Rococo forms as a way out of modernism," says curator Gail S. Davidson. She says she sees this exhibit as a way to get "people interested in Rococo through the back door, so to speak." Based on natural forms like water and seashells, Rococo emerged during the reign of French King Louis XV (1710-1774)—a deliberate reaction to the stiff, symmetrical designs popular under his predecessor, Louis XIV. A book featuring the designs of silversmith Juste-Aurèle Meissonnier, published circa 1748, helped spread the style throughout Europe and to America. A Meissonnier silver tureen, a highlight of the Cooper-Hewitt show, epitomizes the style's exuberance, with its curling leaves and vegetables, crowned with a crayfish and a partridge.
"I completely fell in love with his designs," says Muehling, who was inspired by Meissonnier when he created his 2003 "branch candlesticks," one of which is included in the exhibition. The pieces, made at a Munich porcelain factory that has been in operation since 1747, were cast from wind-twisted cedar sticks.
Muehling and other contemporary artists whose works are in the exhibition can be said to be rebelling against 20th-century modernism, as typified by Ludwig Mies van der Rohe's "Barcelona Chair" or the paintings of Piet Mondrian. With its disciplined lines, modernism rejected ornamentation and focused on simplicity and practicality. Or, as Davidson puts it, "modernism had no sense of humor."
Though Muehling is a long way from the 18th century, he shares the aspirations of that era's craftsmen, who sought to transform functional objects into art. "Design can enhance something as small as drinking a glass of water," he says. To that end, one of his next projects is an elaborate chandelier. Pointing out a prototype made of cheap plates screwed together, he says he envisions tiers overflowing with porcelain gods and goddesses, with animals peering down over the edges. Like the crayfish and partridge on Meissonnier's silver tureen, their only purpose will be to delight.