Coming Attractions for 2012: The Great Gatsby in 3D!!
Films both new and old that we look forward to in the coming year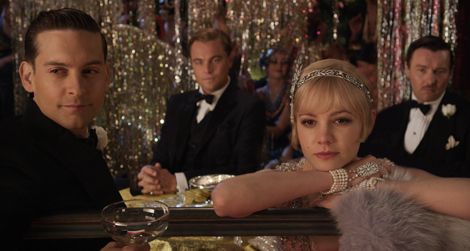 With the movie industry chasing dwindling audiences, studios are discovering that tried-and-true methods of the past no longer work the way they used to. That doesn't stop executives from repeating themselves, or copying from rivals. The list of 2012 titles from major studios is dominated by sequels, spin-offs, and virtual clones of past successes.
Gaining increasing prominence in 2012: 3D, an added element for around 30 features. In fact, four major titles are getting rereleased in 3D: Beauty and the Beast, Star Wars Episode I: The Phantom Menace, Titanic and Finding Nemo. 3D means increased revenue for studios, since theaters can charge more per ticket. Two perhaps unintended corollaries: 3D forces theater owners to spend more to upgrade their screens. 3D is also a digital process, further reducing screens that show projected film.
Along with sequels and spin-offs, 2012 will see more comic book movies. Sometimes they are both: Ghost Rider: Spirit of Vengeance, sequel to Nicolas Cage's earlier Ghost Rider; The Avengers, which brings together Iron Man, Captain America, the Hulk, and Thor while adding at least two more superheroes with franchise potential. The latter is the first Disney film to feature Marvel characters since the studio purchased the venerable comics company. The Avengers is written and directed by Joss Whedon, which is reason enough to raise expectations.
Expectations are pretty low for The Three Stooges, an updating by the Farrelly brothers of a once-popular comedy franchise. Work began on the project back in 2000. At one point Sean Penn and Benicio del Toro were attached to star; the trio is now portrayed by Chris Diamantopoulos, Sean Hayes, and Will Sasso.
Among other head-scratching choices: a new Dredd, "unrelated" to the earlier Sylvester Stallone Judge Dredd although based on the same comic book; yet another Texas Chainsaw Massacre, this one in 3D; John Carter, a Disney production taken from novels by Edgar Rice Burroughs—and a film whose budget is reputed to top $275 million; reboots of the TV series 21 Jump Street and Dark Shadows; and new versions of Total Recall, Red Dawn, and the Jason Bourne character (in The Bourne Legacy).
Several current and former big-name directors are releasing titles in 2012, including (in roughly chronological order) Steven Soderbergh (Haywire and later Magic Mike), Ridley Scott (with an Alien-linked Prometheus), Madonna (W.E.), Tyler Perry (Good Deeds and later The Marriage Counselor), Lasse Hallstrom (Salmon Fishing in the Yemen), Walter Hill (Bullet to the Head), Lawrence Kasdan (Darling Companion), Boaz Yakin (Safe), Tim Burton (Dark Shadows and Frankenweenie), Peter Berg (Battleship), Barry Sonnenfeld (Men in Black III), Christopher Nolan (concluding his Batman trilogy with The Dark Knight Rises), Oliver Stone (Savages), Sam Mendes (a curious choice for the James Bond entry Skyfall), Alfonso Cuaron (Gravity, with Sandra Bullock and George Clooney), Judd Apatow (This Is Forty), Ang Lee (The Life of Pi), Kathryn Bigelow (whose Osama bin Laden film has had its release postponed to after the Presidential election) and Peter Jackson (The Hobbit).
And then there's The Great Gatsby, already inspiring as much grousing as Tom Cruise's casting as Jack Reacher in an adaptation of Lee Child's One Shot. Earlier versions of Gatsby—including a 1974 version with Robert Redford and Mia Farrow and a 1949 version with Alan Ladd—were not critical successes, to put it kindly. (A silent version released in 1926 is one of the more lamented of lost features; only its trailer remains.) This version, in 3D and starring Leonardo DiCaprio, Tobey Maguire and Carey Mulligan, is directed by Baz Lurhmann, whose last film was the widely derided Australia.
All in all, a pretty exciting lineup, even with the clunkers I deliberately included.
2012 also marks the centennial of both Paramount Pictures and Universal Studios—or at least it's the date the firms have chosen to celebrate. While it's true that Paramount founder Adolph Zukor started the Famous Players Film Co. in 1912, Paramount did not exist as a legal entity until 1914. Some feel that Universal should date its beginnings from the opening of its Universal City studio in 1915; others cite founder Carl Laemmle's 1906 film exchange and his IMP Studio in 1909 as potential starting dates.
Both studios plan major celebrations; I'll be writing about the restoration of Paramount's Wings next week. In the meantime, the studio offers Paramount 100 for iPad, which raises the question: Why would you write an iPhone/iPad app with Flash content? Universal promises restorations of titles like To Kill a Mockingbird, All Quiet on the Western Front, Jaws, The Sting, Out of Africa, Frankenstein and Schindler's List. (There's even an official Universal Centennial website.)
Complementing new releases is the alternate universe of festivals and conventions devoted to older films. I hope to write about some of them in more depth later on, but here is a quick list of the more notable gatherings:
Cinefest 32 in Liverpool, New York (outside Syracuse), from March 15 – 18. Highlights include Mr. Fix-It (1918) with Douglas Fairbanks, Sr., and Mamba, "not seen in the U.S. in 81 years."
The TCM Classic Film Festival in Hollywood from April 12 – 15.
Cinevent 44 in Columbus, Ohio, from May 25 – 28.
The 17th San Francisco Silent Film Festival from July 12 – 15.
Capitolfest, held at the Rome Theatre in Rome, NY, from August 10 – 12. This year's festival features a tribute to Warner Oland, the screen's most famous Charlie Chan.
Cinecon 48 at the Renaissance Hollywood Hotel, August 30 – September 3. According to Bob Birchard, the president, "Cinecon is the oldest and the grandest of the movie-related fan festivals."
Cinesation, at the Lincoln Theater in Massillon, Ohio, September 27 – 30.
And for those with deep pockets, the Pordenone Silent Film Festival runs October 6 – 13.
For film buffs, the most eagerly awaited restoration is Napoleon, playing for four nights this March and April at the Paramount Theatre in Oakland, California. The culmination of Oscar-winning film historian Kevin Brownlow's fifty-year obsession with Abel Gance's epic, this version of Napoleon runs over five hours, and will be screened with a full orchestra playing a score by Carl Davis. Do not wait for this to appear on DVD, as Mr. Brownlow has stated repeatedly that it is too expensive to commit to a home video transfer.
2012 actually looks like a pretty promising year for movies, both old and new.