China's Artistic Diaspora
For sixty years, upheavals in Chinese politics have not only remade the country's economy–they have remade Chinese art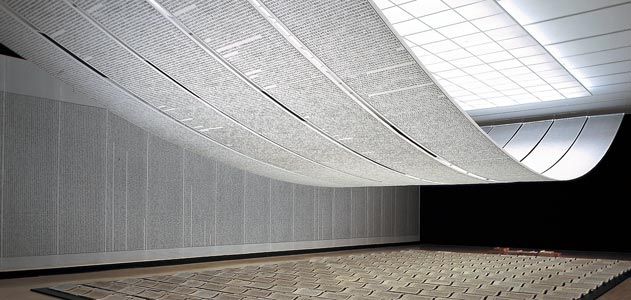 Xu Bing's sunny art studio in Brooklyn, with spacious ceiling-to-floor windows and reassuring domestic touches—including a purple plastic slide in one corner for his seven-year-old daughter—is worlds away from the desolate labor camp where he toiled as a teenager during China's Cultural Revolution. Yet, as the 52-year-old artist told me when I visited his studio earlier this year, the tensions and turmoil of recent Chinese history continue to fuel his artwork.
Like many artists and intellectuals of his generation, Xu left China shortly after the 1989 crackdown in Tiananmen Square. After moving to the United States in 1990, he began to explore the theme of "living between cultures," as he puts it. One of his first stateside exhibits showcased his invention of something called "New English Calligraphy," an elaborate system of writing that fuses the linguistic and visual conventions of Mandarin and English. In 1999, he won a prestigious MacArthur Foundation "genius" grant, which firmly established his standing in the international art world.
Throughout history, periods of religious and political repression have provoked an exodus of creative and entrepreneurial talent from various countries—from 17th century Huguenots fleeing France (after the king revoked religious freedoms), to 20th century Russian writers evading the Kremlin, to Jewish intellectuals escaping Nazi Germany. Likewise, many prominent Chinese artists and intellectuals who came of age during the Cultural Revolution later left China to garner fame and fortune abroad. Artists such as Xu Bing constitute what Melissa Chiu, the Museum Director of the Asia Society in New York, refers to today as "the Chinese artistic diaspora."
For sixty years, upheavals in Chinese politics have not only remade the country's economy—they have remade Chinese art. During the Mao era, Soviet-inspired "socialist realism" was the only acceptable style in the strictly controlled authoritarian society. However, in 1979 Deng Xiaoping's monumental economic reforms also paved the way for the emergence of contemporary Chinese art. Over the next decade, Chinese artists had much greater access to international news and scholarship, allowing them to take inspiration from a panoply of global art movements.
The 1980s saw the advent of Chinese versions—and subversions—of everything from Renaissance portraiture to Andy Warhol-esque pop art to Dada philosophy. In the city of Xiamen, for instance, painters burned their canvases after exhibitions to enact "creative destruction." In this period, Xu became active in Beijing's new bohemian art scene. As he told me, "Like someone who was starving, suddenly we feasted—we ate everything, at once, almost until we were sick. It was a very experimental time."
After this period of relative openness, 1989 marked a turning point. Following the crackdown in Tiananmen Square, state-run museums imposed new restrictions on free speech and public art exhibitions. Subsequently, many avant-garde artists and curators left China to form new creative communities abroad, particularly in Sydney, Paris, and New York. In the United States and elsewhere, legislation in the wake of the massacre made it easier for Chinese citizens to obtain refugee status and work abroad.
But the fact of geographical separation did not constitute psychological detachment for most artists. In fact, something like the reverse occurred. While living overseas, many actually felt a heightened need to define and distill "essential Chinese identity" through their art. For a plurality of diaspora artists, "historical and cultural references to China are more overt in their work today than when [they] lived in Beijing," observes the Asia Society's Chiu.
In New York, a fifteen-minute drive from Xu Bing's workspace is the studio of another prominent Chinese artist, Zhang Hongtu. Zhang moved to the United States in 1982, deeply disillusioned with the propagandist art of the Cultural Revolution. Initially he hoped that living abroad would allow him to "avoid mixing politics and art." ("I wanted only to paint things because they were beautiful," he told me, "not to have a message.") However, the Tiananmen crackdown touched a nerve, and Zhang's international reputation gave him a platform not available to artists inside China. During the 1990s, he completed a series of politically charged portraits of Chairman Mao—including a famous painting of Mao sporting Stalin's mustache, and another in which Mao is depicted with Cubist multiple faces.
Today another era in contemporary Chinese art is beginning. After two decades in which artists primarily left China, the Middle Kingdom is starting to exert a greater gravitational pull. In recent years, Beijing has stopped enforcing some restrictions on public art displays, and a growing number of regional governments now see creative industries as potential economic engines. The government of Shanghai, for example, recently gave avante-garde artist Cai Guo-Qiang the opportunity to do something impossible in virtually any other major metropolis—to stage a massive pyrotechnics display on the downtown waterfront—for the purpose of impressing visitors to that year's APEC summit.
International galleries, meanwhile, are now deliberately showcasing the work of more artists who reside inside China. In February, the Chinese Contemporary Art Gallery in Manhattan hosted an exhibit opening for Tu Hongtao, a 31-year-old painter from southwest China. When Tu explained his work to prospective collectors, he didn't talk about politics, but instead about the cultural ramifications of how "China's cities are growing so quickly." (Pointing to one painting of a woman lying on a steel-frame bed in a vast snowy landscape, he said, "I try to understand how we can find ourselves inside the city, and outside the city.") The gallery's director, Ludovic Bois, refers to younger Chinese artists interpreting the country's current social and economic upheavals as members of the "cartoon and chaos generation."
Indeed, the exhilarating pace of cultural combustion in modern China is even luring some diaspora artists back home. In January, Xu Bing accepted a post as a vice president of his alma mater, the Central Academy of Fine Arts in Beijing. Although he will still maintain a studio in New York, he says he will now spend the majority of his time in China. Reflecting on his time abroad he told me, "I've been able to do things outside China that I couldn't have otherwise done," but now it is time "to return to Chinese soil … that is where the energy is, where history is happening. There are so many multiple cultural layers—it is something really new."