Chile Earthquake Strikes a Blow to Wine Industry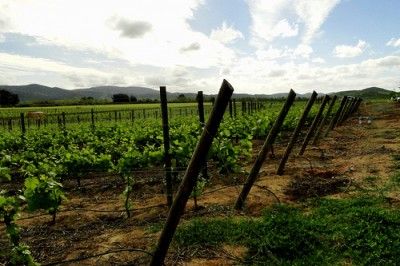 On Saturday, one of the strongest earthquakes in recorded history struck Chile, killing more than 700 people and destroying the homes and livelihoods of many more. In addition to donating to relief organizations, another way to help some are suggesting is to buy Chilean products, including wine, one of its biggest exports.
Chile is the world's fifth-largest exporter of wine (after France, Italy, Spain and Australia), and its wine industry has been badly affected by the 8.8 quake. Damage is still being assessed, and it's too early to know what the extent of the long-term impact on the wine industry will be. But James Molesworth, an editor for Wine Spectator magazine, has been tweeting reports from wineries in the quake zone, and early indications are that many have lost inventory, buildings, or both (but, thankfully, so far, no loss of life among employees has been reported). One witness described the smell of wine along the roads in front of wineries.
Power outages, road closures and general upheaval will further complicate this season's harvest, which, since it is late summer in the southern hemisphere, was scheduled to begin soon. As Eric Asimov writes on the New York Times wine blog The Pour, even if the grapes can be harvested, wineries that have sustained damage may not have the necessary resources to produce wine.
Even before the earthquake, Chilean winemakers were having a bad year. As the Los Angeles Times reported just two weeks ago, the wine industry there has been suffering the effects of the global economic crisis. Although foreigners have been drinking more Chilean wine than ever, they have been shifting to cheaper wines just as Chilean producers were trying to make inroads into the fine wine category.
Chile, which has a topography and climate similar to California's in many ways, has been producing wine for more than 500 years. Only since the end of the dictatorship of Augusto Pinochet in the late 1980s, though, has Chile become a force in the international wine trade, establishing a reputation for good-quality, affordable wines.
Of course, climate and topography are not the only similarities between Chile and California—both are prone to earthquakes. Although the famous wine regions of Napa and Sonoma counties mostly escaped damage from the 7.1 Loma Prieta earthquake of 1989, the lesser-known wineries in the Santa Cruz mountains, close to the epicenter, were not so fortunate; many buildings and inventories were lost. Silver Mountain Winery was completely destroyed, but within five years had rebuilt and was back on its feet.
Here's hoping that the Chilean wineries, and the country as a whole, are able to do the same.