Channel Islands Foxes; Eddie Grant…
Readers respond to the October issue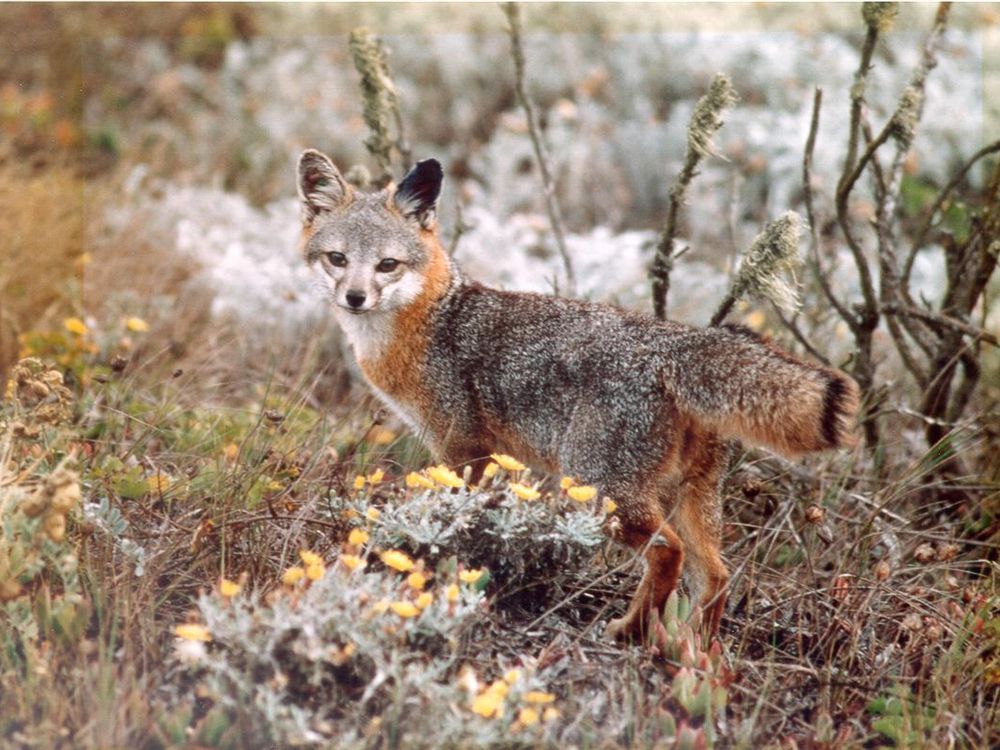 Universally Noted
At last count, more than 285 readers have written to point out that in the story "Kilroy Was Here," the "mysterious poem" scrawled on a canvas berth on a Vietnam-bound troopship was adapted from Buffy Sainte-Marie's antiwar song "Universal Soldier." Both the National Museum of American History, which holds the artifact, and the magazine thank readers for the lyrical detective work. —Ed.
---
I was fascinated by "Magnificent Magnifications," which shows beautiful microscopic images. As an art teacher who incorporates science into the visual arts curriculum, I have students paint watercolors based on cell systems and structures. The microscopic world is a rich source of inspiration. Artists spend great energy composing aesthetic images; nature does this effortlessly on an unimaginable scale.
---
In "Fighting for Foxes," about the effort to restore endangered foxes on California's Channel Islands, the statement that "scientists are relocating the golden eagles to the mainland and plan to rid the island of pigs by killing them" made me ill. The pigs may not be endangered, but surely a better solution could be found.
Jean Busby
Manassas, virginia
How does one justify completely exterminating one guiltless species from an area in order to benefit another? The pigs have not caused the problem; man, as usual, has. If it were the pigs that were endangered, would we kill off the foxes? Surely, if we truly wish to conserve nature, we must seek out humane solutions that respect the natural rights of all creatures concerned.
Ken Randall
Hebron, Connecticut
---
While on the subway reading Robert Darnton's article, "All the News That's Fit to Sing," about the ways 18th-century Parisians kept informed, I found myself saying "Ha!" out loud when I read how Mme. Doublet's servant would separate rumors into those that were substantiated and those that were not. And even without the Bibliothèque Nationale de France's illustration, I would have had no trouble, thanks to Darnton's colorful descriptions, imagining the setting surrounding the Tree of Cracow, where Parisians gathered to hear gossip.
Michelle Olveira
Brooklyn, New York
---
As a high-school ballplayer, I played many times at the old Polo Grounds in New York City. I can recall seeing Eddie Grant's plaque but never knew the story of why he was so honored ("Ultimate Sacrifice"). Thank you for making this hero come to life and reawakening wonderful memories.
Howard Tannenbaum
Boynton Beach, Florida
The touching story about Eddie Grant mentions other American athletes who made the "ultimate sacrifice" for their country, but it omitted Al Blozis. After a career at Georgetown University where he was a champion shot-putter, Blozis played tackle for the New York Giants for two outstanding seasons. At 6 feet 6 inches and 245 pounds, he was big for that era. While in the Army, he set a record for throwing a hand grenade more than 94 yards. Lieutenant Blozis died in the Vosges Mountains in France in January 1945 when he set out alone to find two lost members of his patrol.
Murray Farber
Fresno, California
Correction:  As we reported, Elmer Gedeon played for the Washington Senators in 1939 and was killed in World War II. But the photograph on page 80 is of Elmer Joseph "Joe" Gedeon, who played for the Senators in 1913 and 1914. We regret the error. —Ed.
---
I couldn't help but chuckle at art conservators James Coddington and Michael Duffy's "mild enzymatic" cleaning solution—spit—in "Cleaning Picasso." In our family, the saying "spit works wonders" has long been applied to the cleaning of soiled cheeks and stained shirts. And as most painters know, spit is also a wondrous "solution" for keeping paintbrushes in shape. So it seems only fitting that a little spit is being spilt on Picasso.
Mary J. Lohnes
Bellingham, Washington