Captivating Photos of the Survivors of the Nepal Earthquake
Photographer Sara Hylton visited the central Asian nation once the 7.9 tremor shook the earth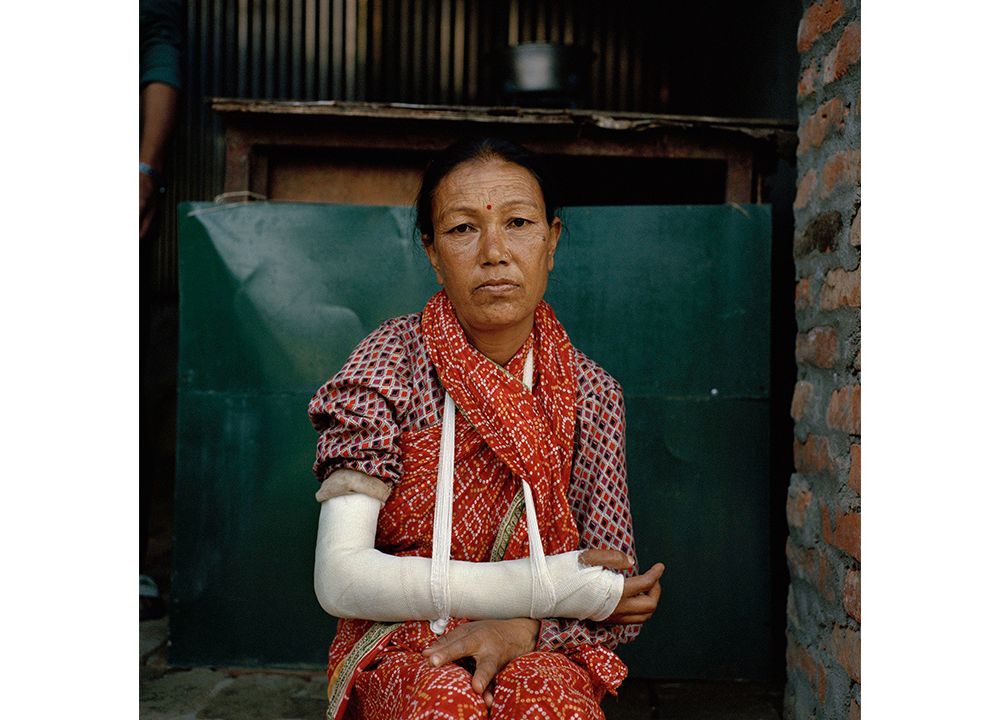 I first traveled to Nepal in 2012. I was still mourning the sudden death of my father, and went on intuition. The country was an oasis of beauty and tranquility, and the moment I arrived I felt held. I hiked Nepal's mountains, photographed its historic sites, drank chai with locals, and went through cleansing rituals with holy men.
When a 7.9 earthquake struck Nepal on April 25, 2015, and a powerful aftershock followed, I stood in shock and heartbreak, as did much of the world. My intuition again told me to return, and within days I was on a flight to Kathmandu.
Nothing could have prepared me for what awaited. The historic sites I once relished were rubble and dust, and death filled the air with a constant reminder of what once was. Astrologers preached that another quake was coming, this time one more destructive. I awoke several times at night to real and perceived aftershocks.
I began to understand the aftermath by slowly observing and connecting with my medium-format film camera. I documented still-lifes and made portraits while listening to people's stories. From the families who were once strangers now sharing a home under a small tent, to the Irishmen who survived the earthquake on Mount Everest and fundraised to personally distribute relief materials, I felt like I had a window into a kind of humanity that no one else knew about. It was still Nepal.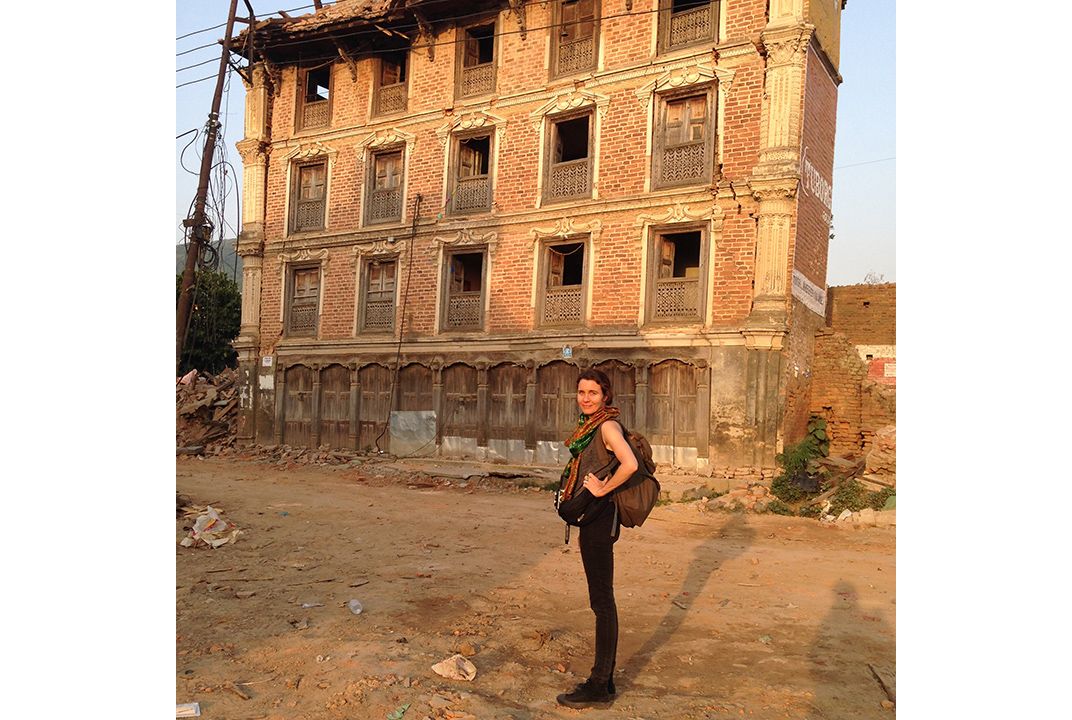 An Act of God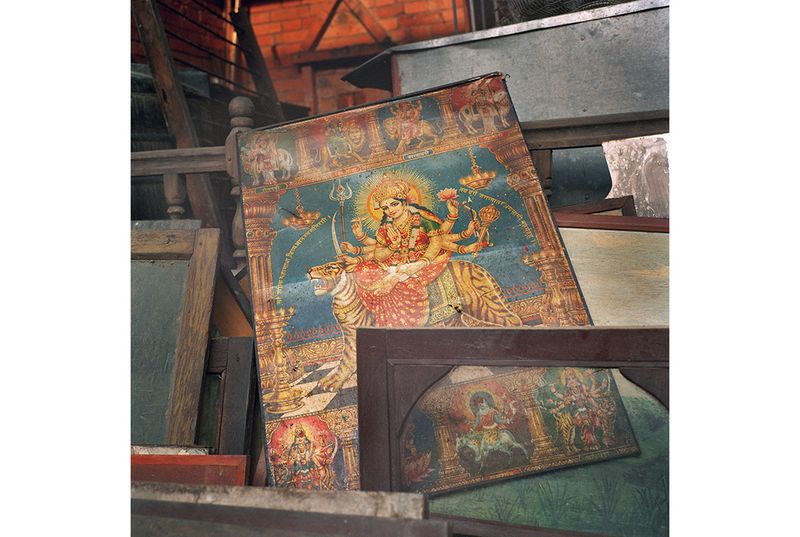 "Durga, Durga," a woman repeated, as she pointed at the destruction of her village. Durga, the Hindu Goddess of creation, preservation, and annihilation, is widely worshipped among the Nepalese. Durga was a consistent theme in the way the Nepalese hypothesized what happened to their land and their people. Many believe it was an act of God.
Disaster Awaits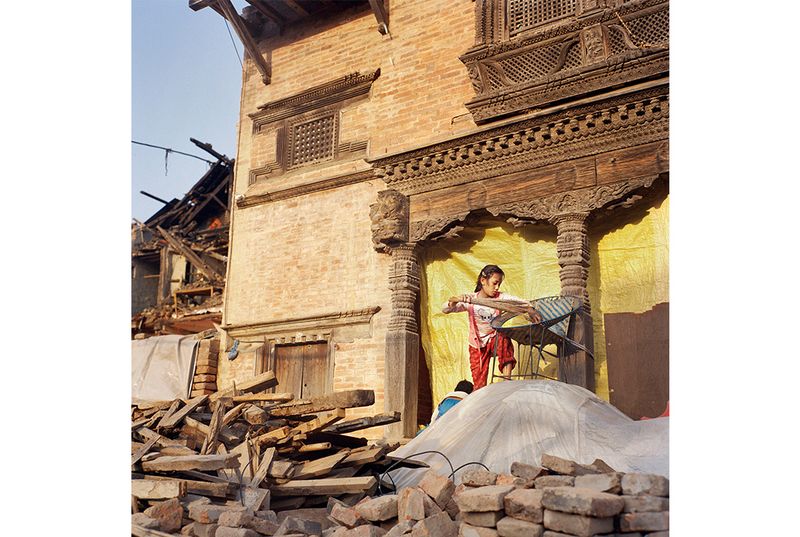 A little girl attempts to clean her destroyed home in Shankarpur, a village just north of Kathmandu one month after the 7.9 earthquake hit Nepal on April 25, 2015. Many believe that the lack of basic building design and proper electrical wiring made Nepal susceptible to disaster. The earthquake is said to have caused over $2 billion in economic losses, which could have been less destructive due to better oversight.
Meeting a Jhankri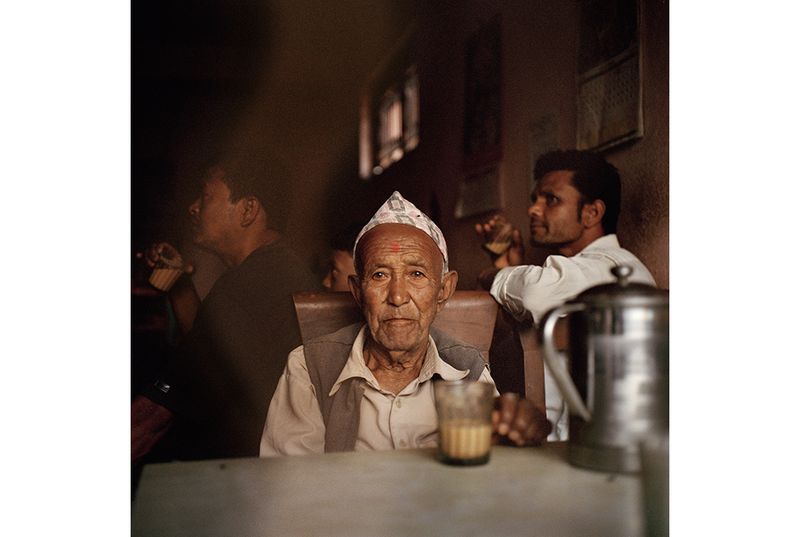 Jagannath Shresthra was sitting in a local chai shop in Shankarpur, a village north of Kathmandu. I knew there was something special about him, the air around him and the way he calmly sipped his chai despite the surrounding destruction and devastation. After I photographed Jagannath, I learned that he was a Jhankri, a kind of shaman who many people turn to for emotional and physical healing and protection against natural calamities.
Personal Effects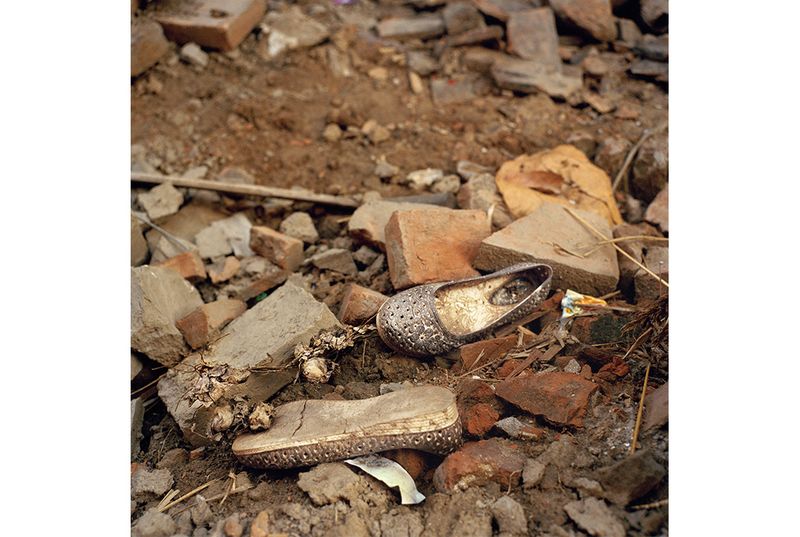 A little girl's shoes lie in the rubble in the ancient city of Bhaktapur in the Kathmandu valley. More than a month after the earthquake, personal items remained scattered everywhere along the streets. I found myself particularly drawn to photographing these items and seeking them out. They were haunting and a constant reminder of what was lost, yet there was also something intimate and beautiful in what remained.
High Casualty Count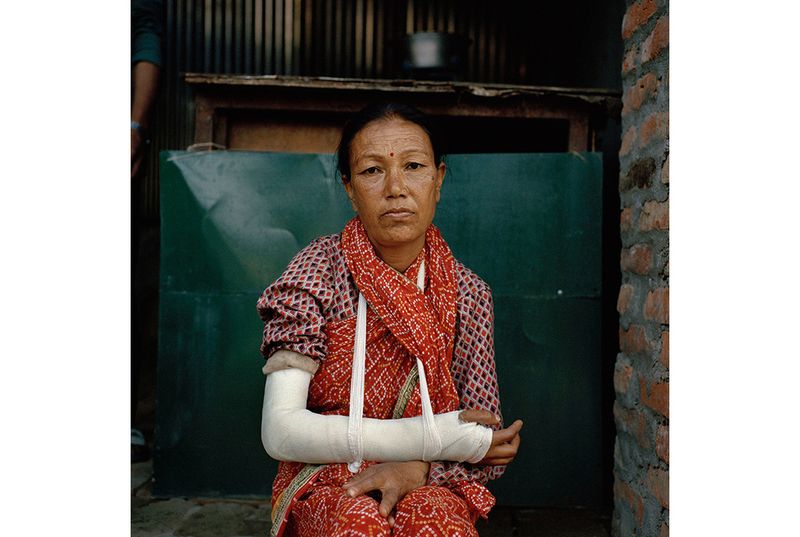 Bina Silwal, 45, of Bungmati was hit by rubble during the earthquake. Bina was one of approximately 22, 493 people who were injured from the earthquake in addition to 8,702 who were killed. Lack of preparedness and poor building structures resulted in widespread devastation in certain parts of the country.
Prayer Session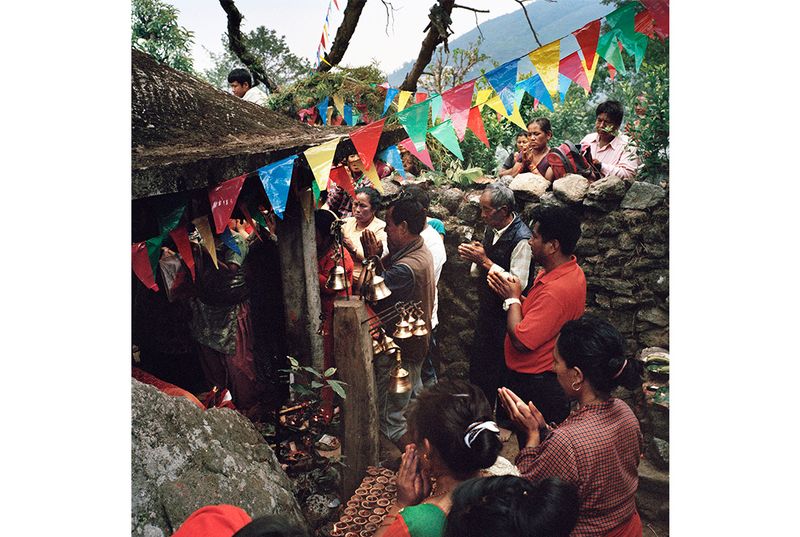 Villagers of Haibung in Sindhupalchowk participate in a puja (prayer) and celebration at the village temple. Before the earthquake, the small temple was covered and protected by a very large tree. When the earthquake hit, the tree split in half, fell directly on top of the temple but left it unharmed and untouched. Villagers believe this is a sign and pray to the tree to keep them safe from another earthquake.
More Tremors?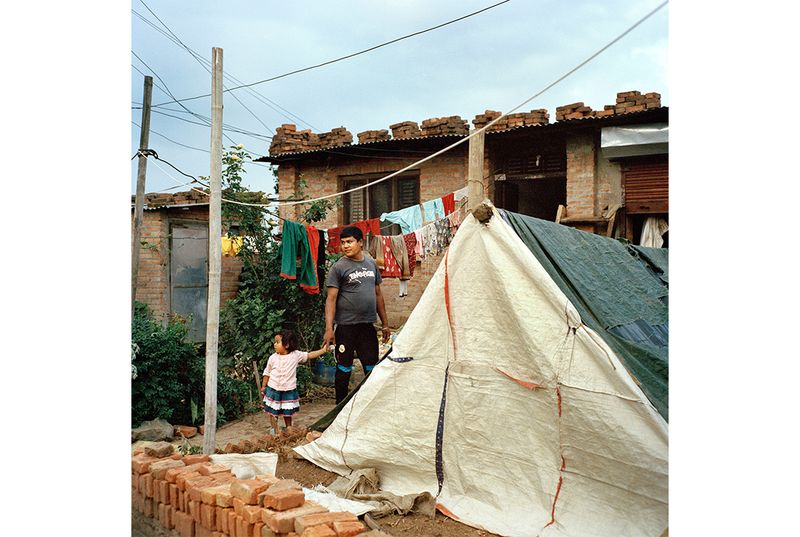 Karna Deshar stands outside of his home with his daughter, Sabia Deshar in Bungmati, Lalitpur. They are two of eleven members of the family who sleep in the tent outside of their home. Their home was not destroyed by the earthquake, but like many families, they fear another earthquake is coming. Since the earthquake, many holy men and astrologers have been falsely predicting more powerful earthquakes, leading to widespread fear and tension among residents.
Warmth and Hosptiality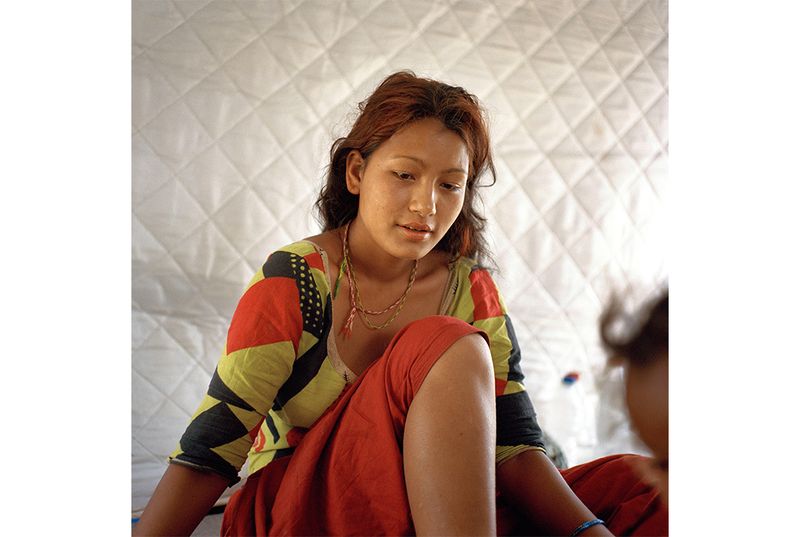 I walked the grounds of Tundikhel when I first arrived to Nepal, a large space in central Kathmandu where many families sought temporary shelter. I walked past Bipna where she was sitting with her young baby. She smiled at me and invited me in to the tent that she and her family shared with another family. Despite having lost all of her possessions, Bipna was incredibly warm, open and graceful, qualities I admired and consistently witnessed among the Nepalese.
Vast Devastation
A view from the home of Hari Krishna, a resident whose home was one of the few old homes remaining in Shankarpur, Nepal. Shankarpur is a village located in Janakpur Zone in South-Eastern Nepal, just north of Kathmandu. Hari Krishna estimated that 95 percent of old homes in the village were destroyed by the earthquake.
The Impact on Children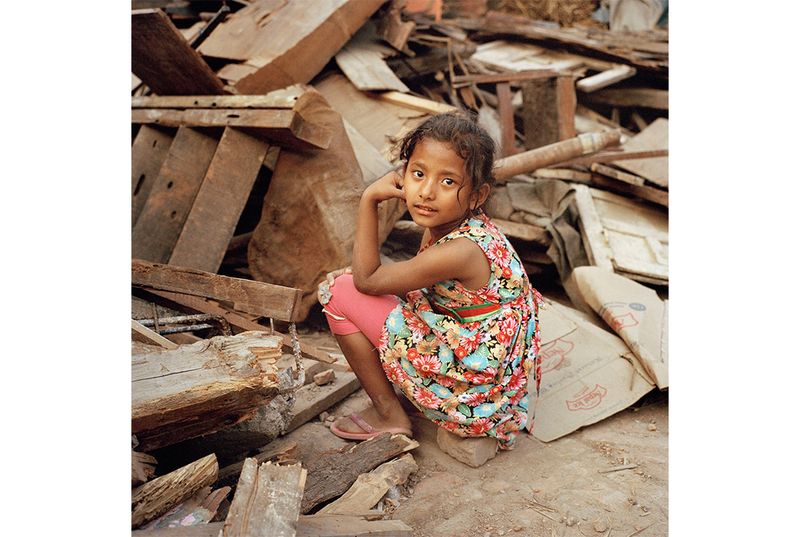 Subina sits in her village of Bhaktapur. When I met Subina, her family was busy attempting to clean the extensive rubble around the once ancient Nepali temple town. Yet there was an ease to Subina, she sat observing her surroundings, as if accepting her fate. I often reflect on how the children of Nepal will be affected by the devastation; they will be forced to take on even more responsibilities.